Guest post by WPMUDev
If you have more than one website you know the struggle I'm about to describe already. Not only do you have to keep content up-to-date on each of these websites, you also have to manage site updates and upgrades, approve updates to plugins and themes, perform security updates, and more.
All that on top of keeping track of passwords for each site and building out the actual functions of your business(es).
All of this is to say that if you're managing more than one website, you need a tool to keep tabs on everything in one place.
Setting Up a Multisite Dashboard
First thing, you need the right tools on hand. One of the best ways to manage multiple websites from one spot is with The Hub.
This WordPress site management tool takes the guesswork out of handling more than one website at a time by offering up a cohesive dashboard with all the things you need in one spot.
What is The Hub?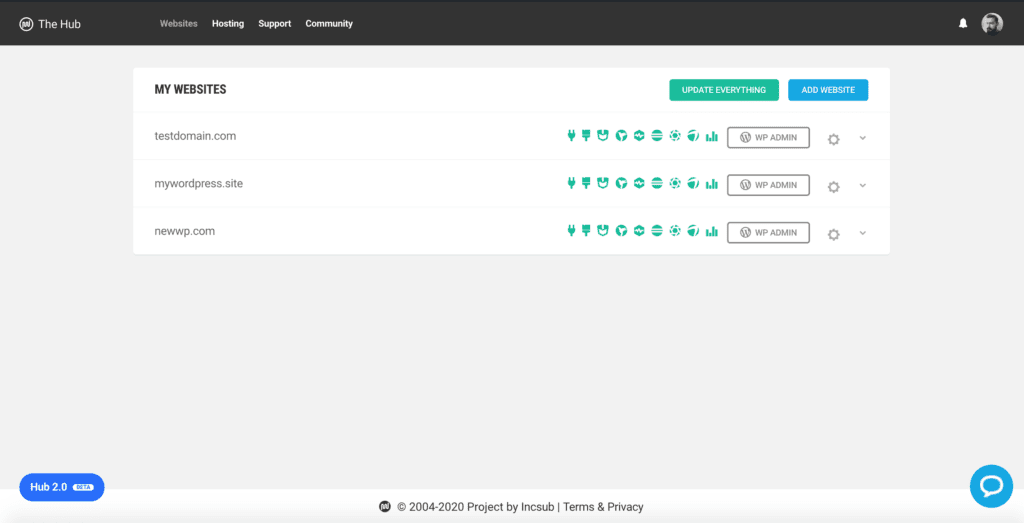 The Hub is a WordPress site management platform that you can use to manage multiple websites. It consists of a set of tools that work together for maximum effect. Some of these tools include:
Automation
The "Automate" feature makes it so your site's core files, themes, and plugins can be updated automatically on either a schedule you determine or as they become available.
Security & site monitoring
Having your site update automatically also means increased security as you won't be running outdated themes or plugins, which can leave your site open to malware and brute force attacks.
However, The Hub also includes a robust site monitoring feature which scans your site on a regular basis for hacks, blacklists, malware, and other nefarious actions. It can also be used to scan user activity. And should you discover an issue, you can address it immediately with a security fix, bumping a user who misuses permissions, and so forth.
Uptime monitoring
Along with regular site scans, you can keep tabs on how your sites are performing. The Hub monitors uptime for each of your sites constantly and will send you a message if they go down at any point. You can also view graphs of site speed over time, which gives you a better idea if you need to optimize further.
Backups
As you might imagine, managing backups for multiple websites can be a pain as well. So if the process is automated, all the better. The Hub comes with 10GB of secure managed backup storage. And if this isn't enough space, you can upgrade.
Support
Finally, you can count on robust support from this management tool. So whether you're having an issue with The Hub itself or with WordPress in general, you can reach out and get the help you need. If you're really stumped, you can even grant WPMU DEV developers temporary access to the site with the issue so they can fix it for you.
Best of all, you can manage an unlimited number of sites. And if you're managing websites for clients, you can use the white labeling features to customize the look of reports regarding security, uptime, performance, updates, and more so everything is always branded and professional.
How to Set up The Hub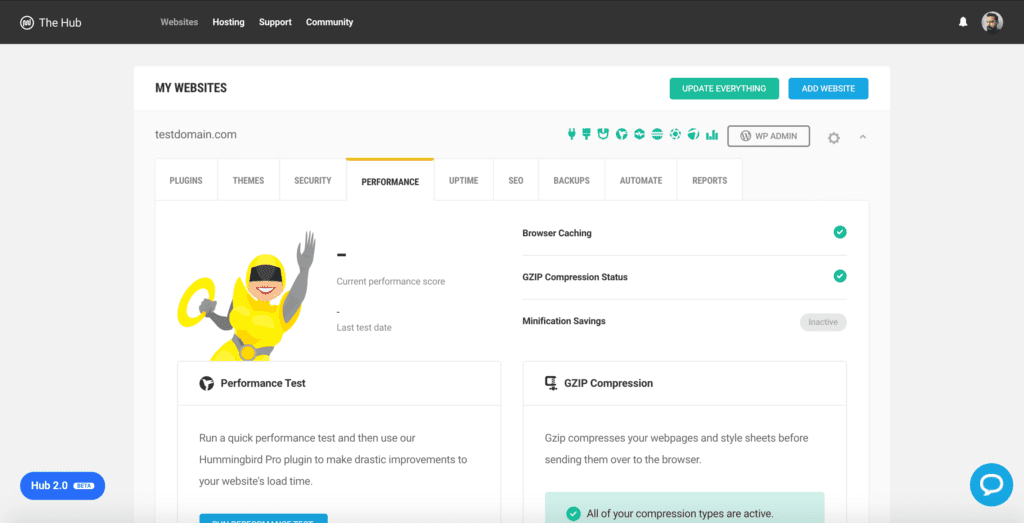 Should you decide to manage your WordPress sites with The Hub, you'll need to sign up for a WPMU DEV account. Once you do that, you can install the WPMU DEV Dashboard plugin. You can do this by logging into your WPMU DEV account, clicking Plugins and then downloading the dashboard plugin.
Once you've uploaded this .zip file to one of your WordPress sites, you can set up the plugin from the plugin installation menu. Once this is installed and activated, you can then connect your website to The Hub. Login normally and click Connect.
Repeat this process for each of your websites and you'll then be able to access and manage updates, backups, and security for all of your WordPress sites from within The Hub.
Add in Your Email Marketing Platform
Users of Sendinblue will be able to easily adapt to using The Hub as a part of their website workflow. After all, Sendinblue encapsulates a variety of marketing tasks including email marketing, SMS marketing, chat support, and CRM.
Depending on the plan you choose, you'll gain access to many different features including unlimited contacts, A/B testing, white labeling, statistics, Facebook ads, marketing automation, and more. And each of these features can be adjusted, monitored, and controlled all from within the Sendinblue dashboard.
This is actually similar to other email marketing platforms but has the added (significant) bonus of covering wider territory like FB ads and such.
So, if you're already signed up here and manage your email marketing in this way, adding in a full spectrum plan for managing your websites is a no-brainer.
Email marketing is so often an integrated part of a website maintenance strategy. And sometimes you can even manage the details within your CMS. Regardless, it's vital that you're able to manage each of your email campaigns in one place as well.
Multiple Site and Multiple Campaign Management Made Easy
Combining the power and versatility of Sendinblue with The Hub means a robust approach to maintain your web presences, online stores, and outreach. It's a pairing worth celebrating.
Otherwise, you stand to waste a lot of time on website maintenance when you could be spending it on building out your content strategy, reaching out to customers, or planning your next big marketing push.
Streamline your workflow in any ways you can. From websites to emails to social media, the right tools will prepare you to tackle the strategy parts of your business rather than the in-the-trenches day-to-day management tasks. And that is ultimately the ticket to success.