Reading time about 10 min

Let's face it. Designing emails from scratch is no walk in the park. Luckily, there are tons of free email templates out there to make the process a whole lot easier and faster. We've rounded up 9 reliable sites where you can find over 600 responsive email templates at zero cost.
Free email templates are THE go-to resource when…
You have limited coding skills
Using an HTML email template allows you to create beautiful responsive design emails without the frustration of writing all the code yourself. That means you won't have to ragequit at 3AM after failing for the 30th time to get your email HTML to render correctly.
You want to save time ⏰
So you want to get your email campaign out quickly. Why re-invent the wheel? Using a ready-made email template is a whole lot faster than designing and building an email from scratch.
All you have to do with a template is change the content and branding elements to match your brand. What's more, with a responsive email template you'll have peace of mind knowing the email will render correctly on different screen sizes.
You need to save money
Hiring an email developer to create custom templates is a great investment but comes with a price tag. If you want to keep costs to a bare minimum, then free email templates will be your best friend.
Customizable email templates give a professional look-and-feel to your emails without having to splash out on a designer or developer.
So now you're probably wondering where to find the free email templates that are going to save you all this time and money.
Without further ado, here's our list of the top resources for free responsive email templates.
Where to find the best free email templates
1. Sendinblue (40+ responsive email templates)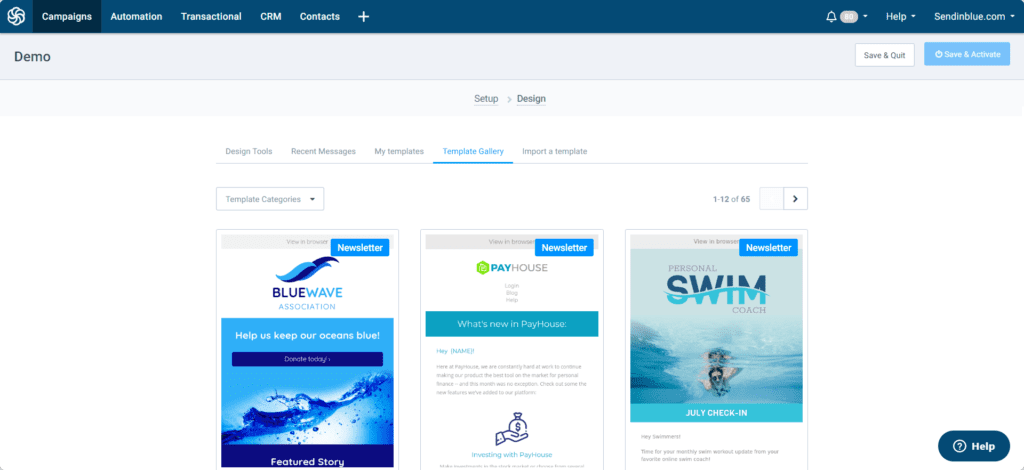 When you create a free account with Sendinblue you get full access to our template gallery and email editing tools. Choose from 40+ beautifully designed and fully responsive email templates.
You'll also get access to a range of features on our email marketing platform including email signup forms, advanced reporting, and unlimited contact storage. Test-drive Sendinblue's free plan and send up to 300 emails/day at zero cost.
So, how do these free templates work?
With Sendinblue, you have two options when it comes to creating email campaigns using ready-made templates:
Responsive Design Email Builder
Sendinblue users have access to our library of email templates through our drag and drop responsive design tool. This makes it super easy to create well-designed emails without any technical or design experience.
All you have to do is choose a template from our library of over 40 free email newsletter templates. Simply drag the elements to rearrange them or add new elements. Then, you can edit them directly in the tool without any HTML or CSS knowledge required.
WYSIWYG HTML Email Editor
The WYSIWYG HTML editor is for the more advanced users looking to write their own HTML, or use a downloaded template.
If you plan on using an HTML email template, then you just need to follow a few quick steps:
Find the template you want to use
Download the template to your computer
Open the template in a text editor (make sure that you set the preferences to view plain text)
Copy and paste the HTML from the text editor to the WYSIWYG editor
Make any necessary changes to the template (swap images, change colors, etc.)
When using templates, it is very important to send a test email to make sure that the template renders correctly for both desktop and mobile. That way, you can be sure that your subscribers are not having a bad experience if they're using a certain type of device.
2. Stripo (300+ HTML email templates)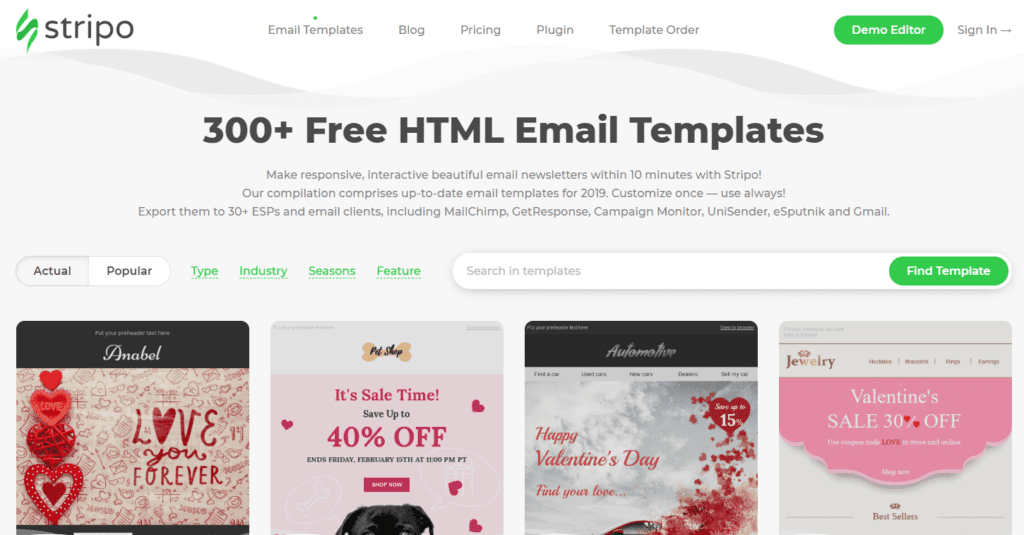 Stripo gives access to a huge collection of awesome free HTML email templates. No coding skills are necessary for its drag and drop template builder. You can also play around with features like CSS-animated buttons, image rollover effects, and other interactive elements.
Once you create your email with Stripo, you'll need to export it to your ESP (Email Service Provider) for sending. If you're a Sendinblue customer this is super easy thanks to Stripo's Sendinblue integration. The Stripo free plan allows 4 exports per month to ESPs.
3. Klenty (120+ email templates)

Klenty is a sales engagement platform that lets you personalize your sales outreach and follow up with prospects, at scale. It has native integrations with the most popularly used CRMs like Pipedrive, Zoho, Hubspot, and Salesforce. They host an array of resources like comprehensive blogs that can be bookmarked, email templates that can be easily copied and pasted to your email inbox, and downloadable e-books that you can read at your own pace.
In their free resources here, you can choose from over 120 unique cold email templates. The cold email templates have been written for the multiple scenarios reps often find themselves in.
They also provide over 40 email templates for those who are relentlessly following up and have run out of creative juices to fill up their follow-up emails. The follow-up email templates can be used for different situations like when you want to send a follow-up email after a networking event, or after a trigger event, or even when you want to break up with prospects.
4. Email on Acid (6 free email templates)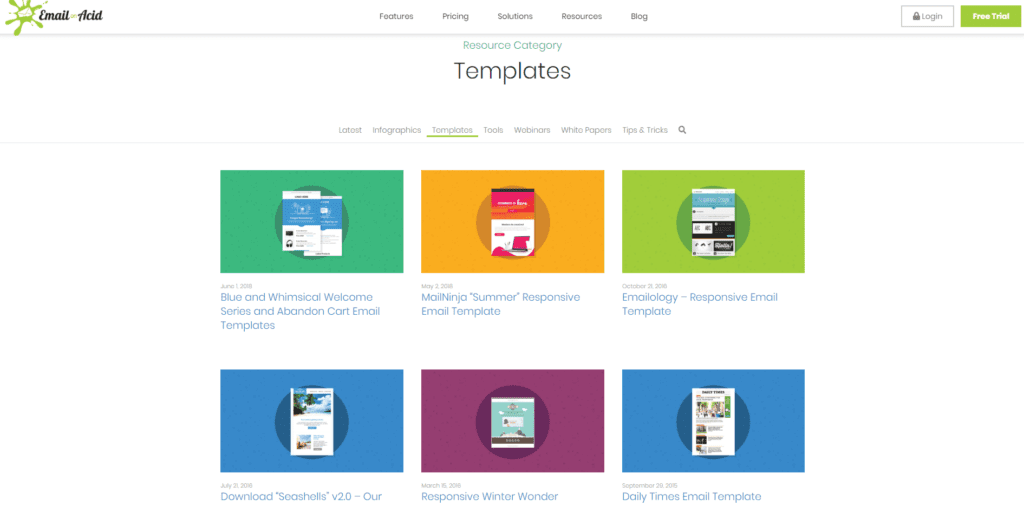 Email on Acid is an online email testing platform that allows users to test emails and make sure that they render correctly across all email providers and devices. The platform also includes many other resources such as an email editor, spam testing, enhanced email analytics, and more.
In addition to the tools mentioned above, email on acid has several free responsive email templates that are available to users at no cost.
5. Litmus (36 free email templates)
Litmus is another company that offers software to test emails across all different type of devices and email providers. They also offer several additional free resources to help with your email marketing.
One of the resources offered is a community gallery of HTML email templates that you can download for free and use in your campaigns.
The community templates cover email templates for 4 main areas:
Product launch update email templates (7 total)
Ecommerce email templates (10 total)
Account management email templates (6 total)
General marketing email templates (8 total)
You can also download the "slate" email template package. This includes 5 additional templates ranging from newsletter to ecommerce receipt.
6. Dyspatch (free open source email templates)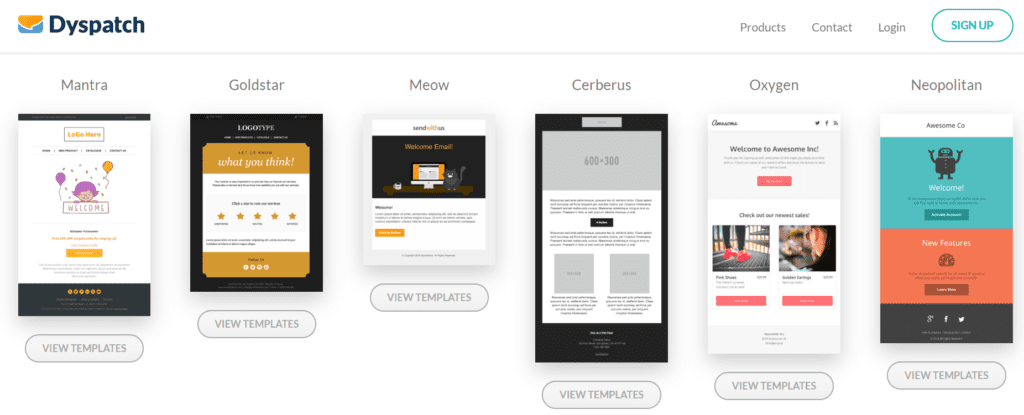 Dyspatch is a visual email editor that lets you create mobile-friendly interactive emails. Any email created there can be downloaded and used with your current ESP.
As a resource, they offer a free email template gallery that consists of 12 different themes, with each them having between 1 and 9 email templates choose from.
7. BEE (200+ email templates)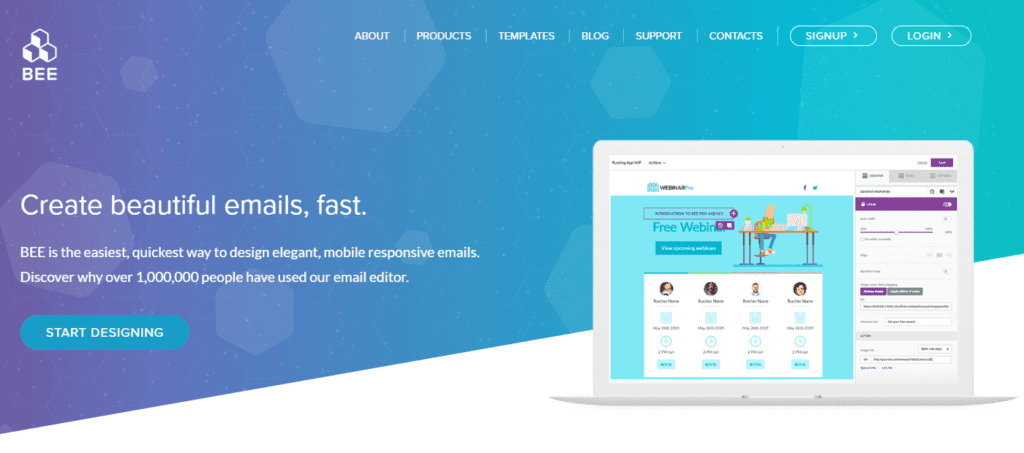 BEEFree is an email editor with over 200 professionally designed email templates. Choose your template and customize it to match your brand. Then simply download a ZIP file containing the email HTML to be sent from your ESP later.
If you're a Sendinblue user, you can export templates directly to Sendinblue once you upgrade to BEEPro.
8. 99Designs (45 free responsive email templates)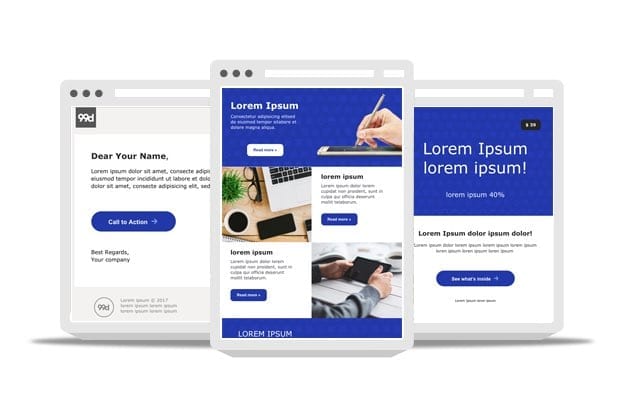 99designs is an online graphic design marketplace that works to connect businesses with freelance designers.
As part of their resources, the site offers a gallery of free email templates that you can download from their blog.
The gallery consists of 3 different themes with 3 types of email templates for each theme. Each type of template also comes in 5 different color options.
9. Antwort (3 free email templates)
Antwort is a series of 3 email templates that were created by freelance designer Julie Ng.
The theory behind the design of these templates is that you shouldn't sacrifice the look of your emails just to optimize for mobile. Most responsive designs just focus on adjusting the width of the message to fit the device, but Antwort adjusts the entire layout.
These emails will render as either multiple columns, or a single column with rows depending on whether the reader is using a desktop or mobile device (respectively). This eliminates the need for design compromise.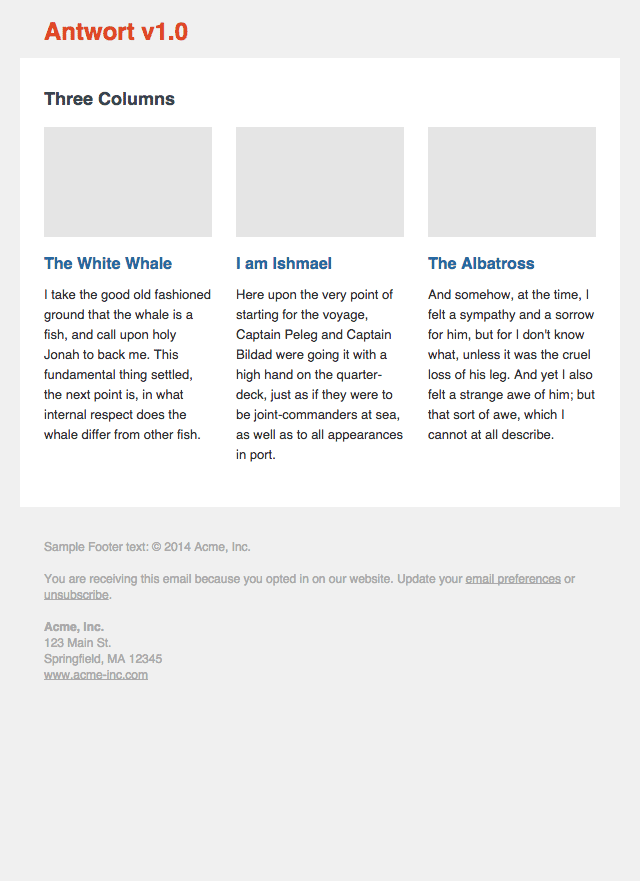 10. Pixelbuddha (15 free email templates)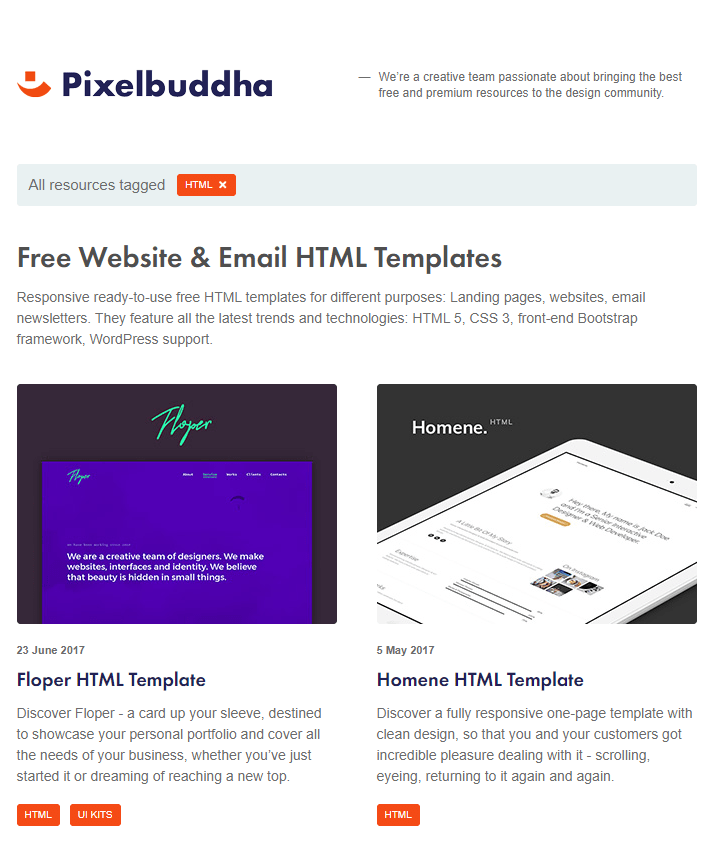 PixelBuddha is an online community dedicated to providing free and premium design resources all in one place.
In addition to the website templates and other graphic design assets available, the site also has 15 email templates in their 'freebies' section that you can download.
Over to you: Use email templates for your next campaign
Now that you have all the resources you need, there are no more excuses to send boring emails. Whether you're using downloaded email templates or a drag-and-drop design tool, you're ready to start sending beautifully-designed emails that convert!
After creating the design that you want to use — whether using a template or creating your own email — don't forget to use email list segmentation and personalization tactics in your message content to achieve the maximum amount of engagement.
And, if you're creating a newsletter, be sure to think of the user's needs first.
For more content like this, subscribe to our newsletter and follow us on Twitter and Pinterest!