Reading time about 15 min

You can't overlook the power of Google Map results. Nearly 40% of consumers who search for a local business on their mobile phone call or visit that business within a day. If your listing doesn't appear with the rest, you're missing out on those sales.
If you're running a small business, you count on those sales. If you want your business to have a high place in the map results (or if you want to appear at all), you need to optimize your Google My Business profile.
There are tactics you can use to optimize Google My Business listings in just a couple of weeks. In this guide, you'll learn about eight of the best tactics you can put to use right now. First, it may help to understand what GMB is and why it matters.
What is Google My Business (GMB)?
GMB refers to a set of tools and features that Google has released to help businesses like yours manage their online presence. You'll need to create a GMB account to sign up. The account is free and gives you access to your public listing, tracking tools, and account control options.
Your public listing is what most searchers will come in contact with first. It appears at the top of any local search, just below the map. Let's look at how your listing might appear if you were a top store, service center, or restaurant in New York.
Example 1: Stores
Listings for the search "New York Furniture Store."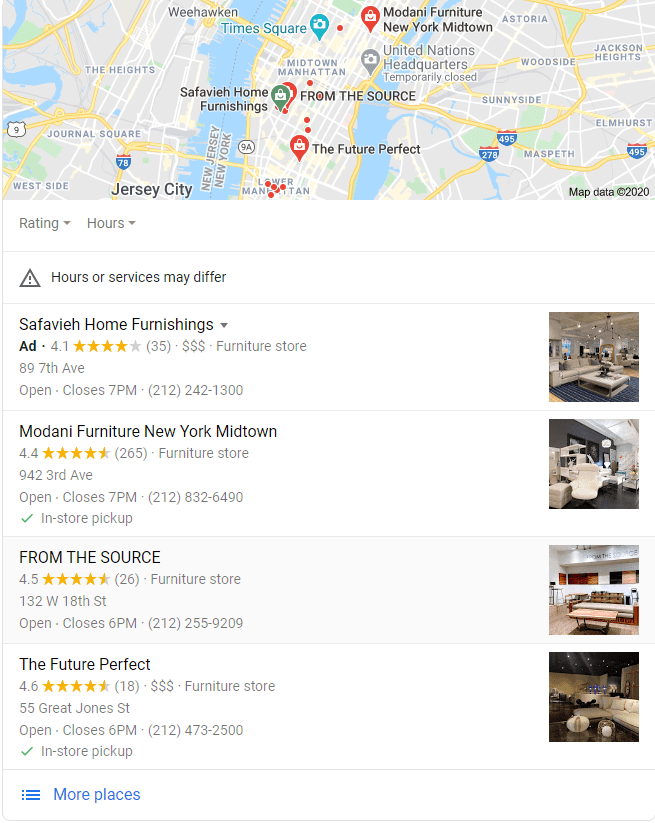 (Image source: created for this article)
Example 2: Services
Listings for the search "New York Air Conditioner Repair."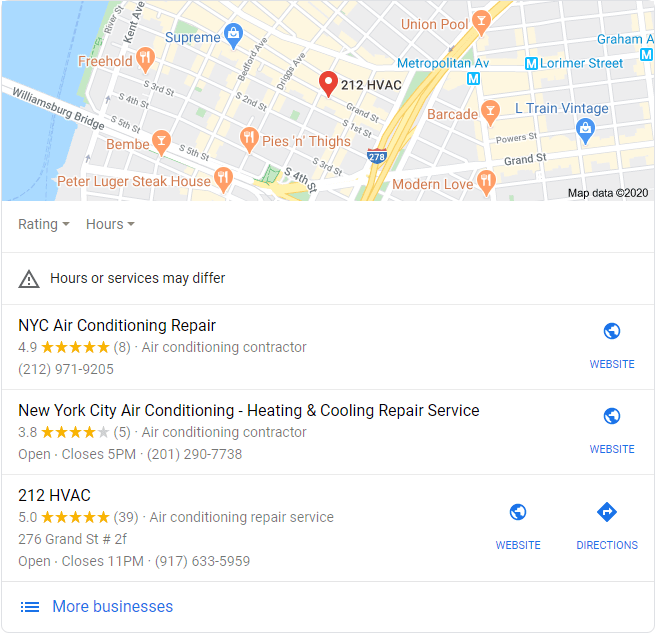 (Image source: created for this article)
Example 3: Restaurants
Listings for the search "New York City Pizza Places."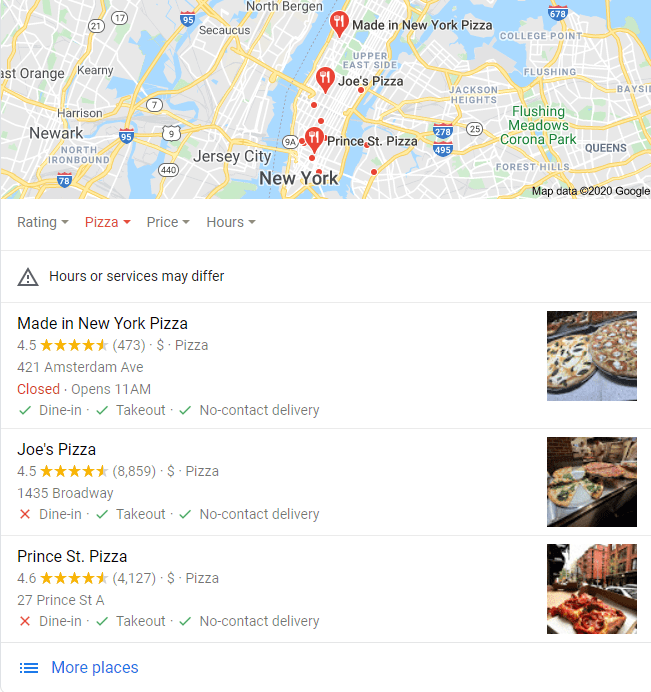 (Image source: created for this article)
You may have already noticed some significant differences. For example, did you see that both the furniture and pizza place use the left side of listings for product images while the service center listings used that space for immediate contact information?
That will be discussed in more detail further on. For now, here's a review of some of the standard ways GMB helps you out.
What does GMB do for a business?
Lists store hours and information
Provides a platform for customers to leave reviews
Clarifies services (In-store pickup, delivery)
Provides visual snapshots of products
Provides one-click contact (on mobile searches)
These are essential features. For years, marketers have developed Local SEO practices that allow them to claim spots in the Map and other search features more reliably. These practices have become known as Local search engine optimization (Local SEO).
Why is GMB Optimization Important?
GMB optimization is vital because appearing in the map results is a short path to the top of the SERPs page. Map results appear above most ads, most search features, and all other organic results in SERPs.
By claiming this position and adequately taking advantage of it, you can use Local SEO principles to:
Improve engagement
Boost local rankings
Convert more customers
Only businesses featured in the map pack will be able to show off all the information that customers can use to make a decision. The small businesses that get this chance are the ones that earn it by optimizing their listings. You're ready to learn how to do that right now.
8 Tactics to Optimize Your Google My Business
The following tactics have been identified as some of the most effective after years of research by local SEOs. For each one, you'll learn what the tactic is, how to do it, and how it can support your small business marketing efforts.
1. Set up (and Verify) Your Google Business Listing
Your first step is the most obvious one. It also might take more time than you expect. You need to set up and verify your Google listing.
How to begin
The registration process starts here. For the first part, you'll simply be entering information such as your name, address in the phone number.
When you complete that part, you'll need to verify your information in one of four ways:
Verify by mail
Verify a business listing by phone (available for select businesses)
Verify a business listing by email (available for select businesses)
Instantly verify a business listing (available for select businesses)
Bulk verification (available for businesses with 10+ locations)
The full instructions for each kind of verification have been provided by Google. Simply select the dropdown button for your preferred method to get every step until completion.
How it helps
Completing this step will help you optimize your GMB. It's what enables the rest of your edits. Your GMB page will often be the focus of your Local SEO efforts, so verification will also allow the rest of your Local SEO efforts.
2. Keep Your Information Updated
The information that you keep on your GMB page is continuously scanned by both crawlers and live readers. Crawlers scrape your information and use the data to build-out citations on directories across the web. It's better to be able to direct this form of local link building, but directories won't ask you before sweeping up whatever information is there.
Outdated information can affect you in unpredictable ways. It could lead to lost sales and traffic. It could even lead to your business being falsely reported as closed. Fortunately, keeping information updated is a simple process.
How to begin
Keep your information updated by setting a weekly or monthly schedule to review your listing. You or a staffer should look for:
Errors (such as spelling errors)
Expired deals, promotions, and coupons that need to be reviewed
Information that is currently missing
For most industries, a single 1hr check a month is enough to review everything and add what's missing.
How it helps
Accurate details will get cataloged correctly by any crawlers. Those details could be used for local SEO ranking signals that deal with the businesses' services and descriptions.
Having up-to-date information saves you from misunderstandings, lost sales, and embarrassment. That's a lot of benefit for something that only takes an hour or so.
3. Upload High-Quality Photos
You have the option of adding photos to your GMB, and you should take it.
How to begin
You can upload photos through the GMB dashboard. Simply log on and watch for the following options:
Logo image
Cover photo
Additional photos
When thinking about the photos you want to use, think about the intent of your customers.
If you have an office where they will come to visit (like dentists do), you want to include photos that show off the best side of your waiting and appointment areas.
If you sell food, then your photos should emphasize the best qualities with beautiful images like this pizzeria is with its GMB photos:
You should think seriously about whether you can handle the business photos, or if you will need to hire a professional. Even if you need to hire a professional, you can manage the expense by only ordering a few professionally shot and edited photos per month.
How it helps
Photos draw eyes to your listings and help set the impression for your business. A massive case study found that businesses with more GMB photos get more clicks, calls, and location requests from visitors.
4. Add Extra Information About Your Products/Services
Information about your business should be as complete as possible. When you're sure that you've added as much as you can to the main sections, it's time to turn your attention on expanding your products and services.
How to begin
There are a lot of fields that can be easy to overlook. Here are some that may also boost your SEO strategy.
Choose a category: Every business can choose a 'category' that defines the business. Make sure you have one, or several, relevant categories selected.
Choose a secondary category: Choose as many secondary categories as you like, as long as they're relevant.
Add a service area: Make sure that you've set the service area for your business. Many searchers check these numbers to make sure they don't waste time calling a business that can't help.
How it helps
Adding extra information about your products and services adds more chances for you to address a visitor's specific needs. That could mean better conversions. Adding additional details can also help you to target terms that aren't easily targeted in other places.
Targeting more relevant terms can allow your listing to rank for those terms in Local SEO.
5. Answer Customer Questions (Before You Are Asked)
Your customers have questions that make them doubt whether you are the right service for their needs. If you're able to answer those questions preemptively, you can claim a sale.
In this listing for a New York Pizza Place, you can see the questions and answers appearing just under the business information.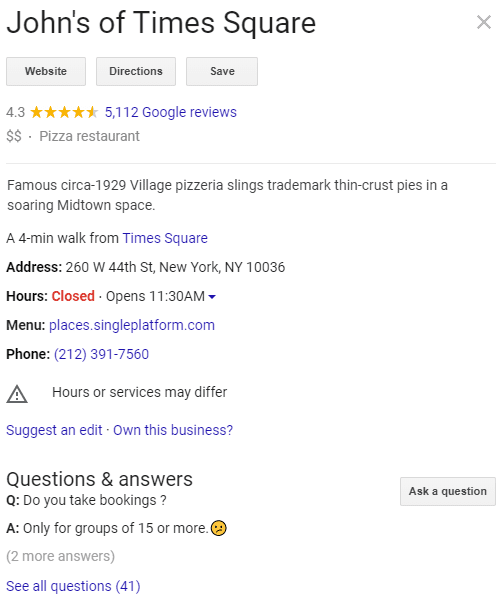 If you click to see all questions, you can scroll through a list of 41 other items that have been answered by both the staff and other visitors to the listing. Your customers may already have made many of them for you to answer.
How to begin
The best way to answer customer questions is by filling out the Q&A section of your GMB listing. This feature, available to most industries, allows you to post Q&As. You can also wait for visitors to submit questions and then answer them.
To answer a question, go to your listing and click the button that reads: see all questions. It will appear just under the questions and answers section. Choose the item you want to reply to and hit the answer button to post it.
How it helps
Q&As help you reassure customers. They also give you extra opportunities to target topics and terms that you haven't covered on your listing.
6. Publish Some Google Posts
If you've struggled with sharing important information that's too detailed to fit in a listing, you can take advantage of Google Posts. This streamlined blog-like feature allows business owners to craft longer messages and post them directly to the listing.
How to begin
To start creating posts, you should first head to Google's help page for posting as a local business. Here, Google provides some helpful guidelines for creating high-quality posts. You'll also find the complete instructions for creating a post on PC, Android, or Apple devices.
Try to choose compelling topics that will show off your offers or credibility:
A big upcoming product launch or promotion
A piece of industry news that might also affect consumers
Review of a piece of equipment that is used on your job sites
How it helps
Google Posts provide one more means for customers to find you through a search. That's a direct benefit to Local SEO. You should build out some posts with topics that are close to the keywords you are targeting.
7. Encourage (and Respond to) Customer Reviews
Reviews are one of the main reasons to seize your GMB profile in the first place. The reviews score appears as stars just under the business name. Any visitors to your listing can also see the number of reviews that have been posted next to the score, like in the example below: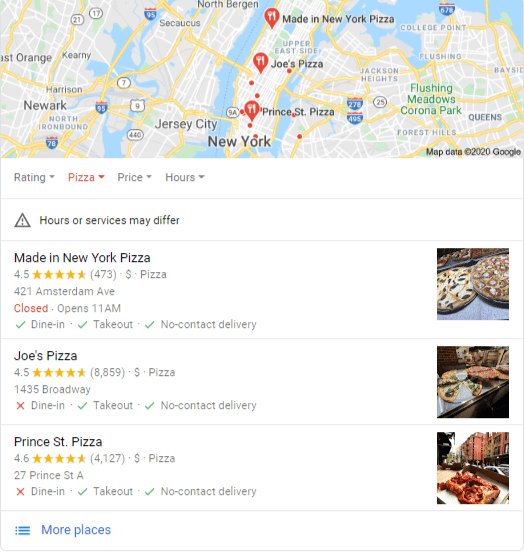 You need to stay on top of reviews because they are trusted by buyers. 97% of people read reviews for local businesses, and about the same number (93%) agrees that these reviews impact their purchasing decisions.
A great review can be a golden goose for your listing, but a bad one can persist for years on end.
How to begin
First, set aside some scheduled time each week to go through your reviews. This is your review management time, and it's necessary if you are pulling in more than a couple of reviews a week.
You should have two goals when you are managing reviews. First, encourage them as much as possible, and then respond to them in an appropriate way.
To accomplish the first goal, you should start creating review incentives within your services. For example, you can reward people with a 5% discount for leaving a review. You can also add "remember to leave a review" on invoices, receipts, or other materials.
To meet the second goal, you need a plan for how you're going to respond. It should cover enough detail that a staffer can use it to make branded responses on the fly.
Set standards for responses. How many days is it appropriate to wait before the reviewer gets a reaction. Is it worth it to offer refunds to avoid bad reviews even when the customer is wrong?
How it helps
There are few more critical signals in all of local SEO than your reviews. Everyone can see your reviews as soon as you make the map pack.
What will they do with what they learn? Well, survey respondents report they won't even engage with small businesses with lower than a 3.3-star rating. That means all of your Local SEO work can be undone by bad reviews.
8. Monitor Your GMB Listing Insights
Insights is a feature that you can find integrated directly into your GMB dashboard. It displays a helpful set of metrics as a series of bar graphs. The tracked metrics include:
How customers find your listing
Where customers find you on Google
Customer actions
Direction requests
How many phone calls you've received from your listing
How many photos have been added
Below, you can see what would appear if you wanted to know where customers find your business:
How to begin
Insights is a regularly-updated feature. The current release includes ways to view:
Insights at a glance
Insights for individual listings
Insights in bulk
A helpful set of procedures has been provided by Google to help you access any of these statistics.
Putting the insights into practice can take a more professional approach. If you don't have an analytics staff, you can just focus on the significant signals. For example, if customers are finding you from one source, in particular, it's a sign that you should focus on that source.
How it helps
Insights help you understand how your listing is performing. While full-size tools will tell you more, these metrics can help you measure the success of your Local SEO marketing campaigns at no cost.
Make the Most of Your GMB Listing
Now, you understand all of the ways that a small business can leverage a GMB listing.
By using more information and more attractive photos, you can increase engagement with your audience. Q&As and Google posts can help you boost local rankings by letting you target more terms. By getting a listing into the Google Map Pack, you can convert more local customers.