Learn how to boost sales on your website by leveraging the power of lead magnets with remarketing.
Boosting sales can be a daunting topic to cover. There are numerous techniques that you can use, but which ones do you think are right for your business?
However, it doesn't have to be that hard. Creating a sales plan to boost your revenue can be accomplished without having to go out of your way.
In this article, I'll cover actionable insights on growing your mailing list, using lead magnets, and harnessing the power of retargeting.
Starting Off – The Definitions
A lead magnet, in the strictest digital marketing sense, is anything that you could give away in return for your client's contact information.
Think of those "special free eBooks" that require you to enter your email address before you can even download them. This is the traditional example of a lead magnet.
On the other hand, retargeting is continuing the lead nurturing process after a client leaves your website.
You know those ads about certain companies that appear after you have left a site without making a purchase? Those are retargeting ads.
Simply put, building a systemic and planned approach using a combination of these two strategies can boost your sales in the long run.
Using Lead Magnets
Ever wondered why bread and peanuts are sometimes given away for free at certain establishments? Or, why companies spend so much time and money giving away SWAG (stuff we all get) — like pens, shirts, and lanyards?
The answer to the first is simple: when we are given something for free, we are more likely to reciprocate in some way. The second is to maintain brand retention and increase recognition.
Lead magnets work in a similar way.
Lead magnets come in different shapes and sizes. They are kind of like a present that comes in exchange for a potential customer willingly entering their email address or contact details to receive "gated content" – content that requires an action to be completed before being released.
Lead Magnets That You Should Be Using
However, some digital marketers don't realize that there is so much more to a lead magnet than just giving away whatever they can find in their digital arsenal for free. They're one of the most effective tools at gathering qualified leads for your business at great scale.
But, digital lead magnets are only effective if you are willing to give away a resource or service that is:
Actually worth something; and
Can solve a problem faced by consumers.
With that in mind, here are a few examples of lead magnets that you can try out for your business.
The Free Trial
It's undeniable that most of us love free trials. But some of us are still more hesitant to register because we know they often require our credit card information, which basically feels like a sneaky way of getting us to sign up for a subscription.
Zapier solved this problem by simplifying their free trial and eliminating the requirement of entering a credit card at signup. This works well because they have a free-level plan that users will be relegated to after the free trial expires.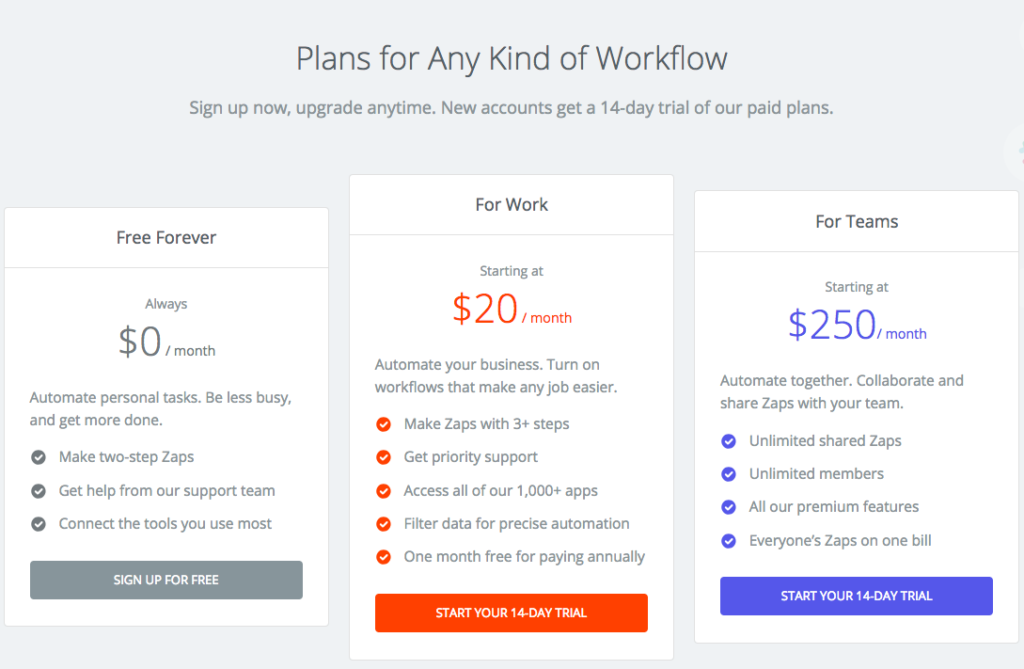 Wait, what?
The great thing about this is that you now can enjoy the application firsthand and are more likely to buy it. Plus, this company has established themselves as a transparent business because they don't need your credit card details.
Calculators
We might not enjoy math, but we love calculators. They make life easier and you can depend on them to solve problems.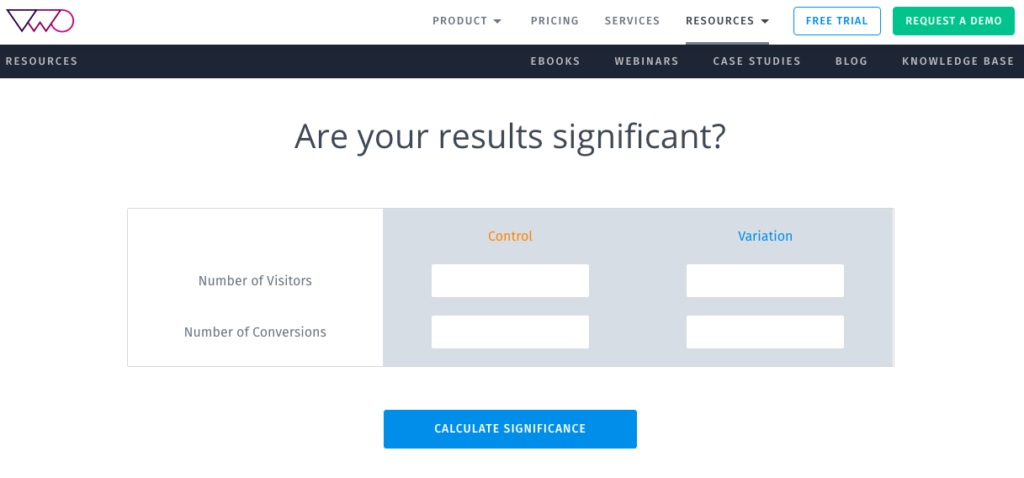 This calculator from VWO is not your typical lead magnet. It does not ask for your email address or anything, you can't really download it, and it's available for everyone.
However, once you've used it, you're most likely to go back to their site and use it again. You might even share it with your friends if you found it helpful. This, in turn, allows them to maintain their brand recognition and eventually grow organically through word of mouth.
Webinars
A lot of people watch webinars, many times paying money to attend. Why not combine the power of a webinar, but instead of asking for money, just ask for an email address.
It does not have to be a live webinar; a recorded tutorial can work wonders. But, once a potential client gives you their email address, that's lead that you can add to your email contact list.
On the plus side, you also establish yourself as an authority in your field by offering valuable resources like this.
The Traditional eBook, Checklist, and Blog Post
There are many beautiful examples of lead magnets that involve reading material (also known as content upgrades), and they are all dependent on the audience that you are trying to target.
For instance, Autogrow gives out this free copy of a checklist and since their site specializes in growing leads, you couldn't expect to see a better example of lead magnet content: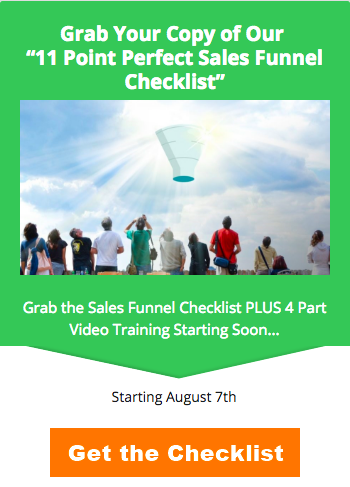 Wait a second now; before you can even access this free resource, you have to enter both your email address and the field that you specialize in.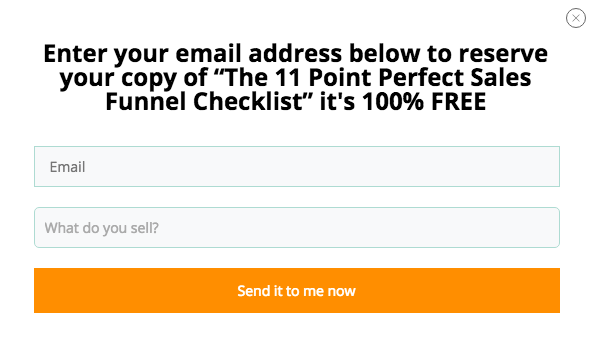 Here's the beauty of this approach, not only do they grab your email address, but they also make sure that they can send you targeted marketing campaigns by asking what kind of industry you are involved in with the help of list segmentation.
The Quiz
Quizzes are another great way to find out about your customers – as long as you're also tracking their responses on the side. However, the main benefit of a quiz is that it is a fun lead magnet that draws people to your site and business.
Remember those old quizzes that we used to do in the older days of social media? We used to love doing those because they were funny, shareable, and occasionally even thought-provoking.
If you design a quiz that's engaging enough, your website visitor will definitely want to know their results. That's when you ask for their contact information so you can send the results by email.
Think of it this way, you won't be spending so much time on a certain activity and accept that you won't get anything in return. Thus, they are likely to give you their email addresses.
The Beauty of Retargeting Campaigns
I want you to remember this: Many of your website visitors are likely just window-shopping. It's said that you can only convert a mere two percent of your first-time visitors into actual customers. But that's okay!
So what do you do about the majority of those who leave your website?
You serve them with remarketing or retargeting ad campaigns.
It's like this: when a person visits your website, you can set a little piece of code that keeps track of the people who visit your site. It does this by placing small pieces of data in their browsers called "cookies." These cookies allow your retargeting vendor to identify and serve them ads after they leave your website.
You can set the retargeting ad to show an advertisement to would-be customers a few hours later while they're surfing the web on different sites that may not even be related to your business. As long as your ad provider has a deal with that website, they can serve your ads to your audience.
Ecommerce statistics reveal that 54% of buyers will buy retargeted products if they're offered at a discount. So, think about coupling your retargeting with a competitive pricing strategy and it'll rain conversions for your online store.
The most important thing is that retargeting is not about getting users to make a purchase immediately. It can also be utilized in order to raise awareness for your overall brand strategy and build trust over time.
Utilizing Social Media Retargeting
One of the most effective retargeting methods out there is social media retargeting. Some people also refer to this as list-based targeting.
To do this, you have to find out what channels your potential clients use regularly and try to get your ads on that channel.
For instance, say you have a list of email addresses, and you find out that a majority of your users use Facebook often. You can place your email list into Facebook Ads and Facebook will directly target these users with your advertising or retargeted ads.
This allows you to still get your brand in front of them on a platform that they are comfortable with. It allows for great brand retention and the "pre-suading" or trust building that occurs before you can convince them to buy your product or service.
Another great thing about social media retargeting is that you can use it to subtly keep your brand in front of potential customers. It works wonders when you are not pushing for a "hard" sell just yet.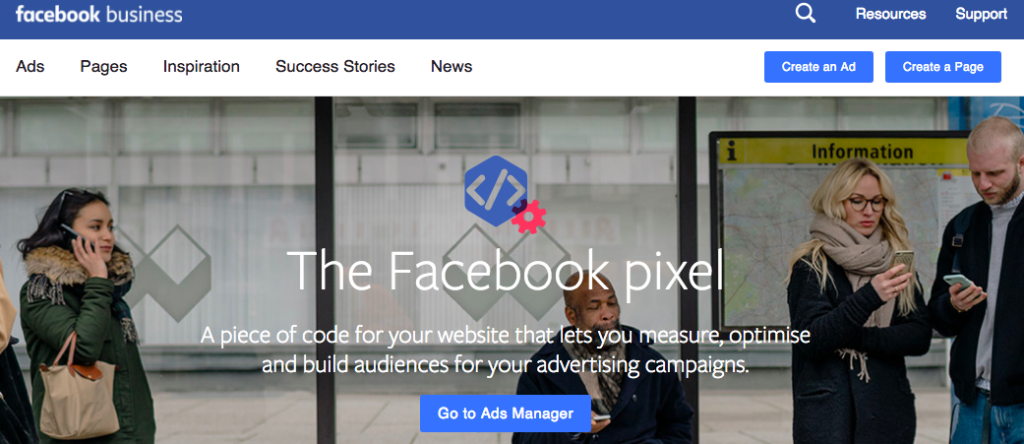 Also, with regard to Facebook, take advantage of the Facebook Pixel, which is their proprietary cookie code that allows you to track conversions on your website that were generated from your ads.
Automation and Emails
If you don't have an email-based customer relationship platform, then I'll advise that you get one at the soonest possible time.
Automation ensures that you do not have to do a lot of heavy lifting when it comes to replying to emails or creating tailor-made email content for different segments of your audience. You can utilize basic workflows, or more advanced tactics like lead scoring, to send the right marketing message to the right person at the exact right time.
---
At the end of the day, boosting your sales and revenue is a continuous process of testing, getting feedback and retesting. Think of it as an experiment. You take the things that work and scrap the things that don't.
By applying these tried and true digital marketing techniques, you can build off of your success and craft your own personalized strategy to boost your campaigns.
About the author:
Catalin is the founder of
Ecommerce Platforms
and Web App Meister. He's a design enthusiast and loves matcha, and is uber passionate about blockchain technology and travel.