Reading time about 11 min

When it comes to turning your email list into paying customers, staying relevant is a priority.
One of the best ways to do that is to keep in touch on important holidays and special occasions. If your Labor Day email can make their life better or easier, you'll win a place in their minds for a long time to come.
Labor Day is when we pay tribute to the workers keeping the American economy strong and stable. For consumers, it's also a final chance to get together with family and friends before summer fades to autumn.
In 2020, Labor Day weekend saw 10 times more travelers on the road than usual. Americans spent more than $2 billion on the holiday. The weekend is also known for massive sales as it marks the bridge between summer and autumn when many retailers need to clear their stock for new season products. Last year in response, credit card usage boomed by 9.9 percent, and debit card spending by 23.6 percent.
What's more, the holiday coincides with back-to-school and back-to-college, with a combined planned spend of $101.6 billion.
That's a whole lot to play for. The challenge is to stand out in an already crowded inbox. Hear from fellow small business owners and marketers on how best to leverage your Labor Day email marketing to win your customers' hearts and boost your bottom line.
Labor Day Email Design
When building your Labor Day email templates, you have a few eye-catching and emotive themes and ideas to play with. Pick the one that feels most appropriate to your brand and your promotion.
Traditional Labor Day theme
A patriotic theme shows your support for the working people of America. Choosing red, white, and blue will deepen your message and stir your reader's pride.
Last days of summer
If you know your email list doesn't traditionally engage with Labor Day marketing or if the holiday isn't particularly relevant to your brand, opt for a 'last days of summer' theme. With nostalgic photography and fading summer colors, your email will be "more appealing and inclusive, and therefore more effective," says Andrew Raso, CEO and co-founder of Online Marketing Gurus. This will create an organic sense of urgency as your customers rush to make the most of the final warm days of the year.
This getaround email has an eye-catching photo background. The image instantly evokes long days of summer with a hint of nostalgia.
Back-to-school
Finally, a fun, back-to-school email banner will speak to the parents and students in your audience who might be feeling a little frazzled as the new school year approaches.
📚 Further reading: Our Best Fall Newsletter Ideas to Inspire Your New Season Emails
Labor Day Email Content
Now that you've nailed your Labor Day theme, it's time to win your readers over with some fantastic content.
Add value
When planning your Labor Day marketing ideas, ask yourself how you can provide the most value to your readers. What about:
A college checklist for the student living away from home for the first time
New picnic recipes for the long weekend
The best tips for successful end-of-season camping trips
If your customers feel they're going to get something out of your email, they're more likely to open it. Once you've earned their trust with your useful content, then you can entice them to visit your site.
Salman Aslam, head of marketing at MuchNeeded says, "A newsletter might feature some historical anecdotes, spending statistics, celebration trends, or even fun facts. It works so long as the information is captivating. If you can tie it all into relevant products or content that's even better."
Overall, aim for lightheartedness and positivity. People have had a tough year and want to have fun.
This Labor Day email example from BioLite focuses on specific relevant products in their camping range. The email effortlessly adds value by reminding the reader what they might have forgotten for their trip. It creates an emotional connection with the beautiful image.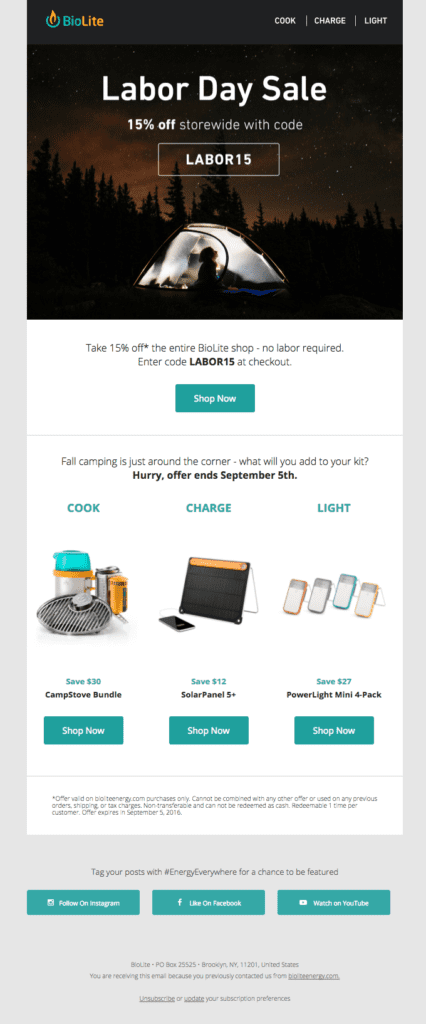 Tell a story
A unique approach to your Labor Day email campaign is to tell a story. Labor Day is a time to celebrate hard workers, so make it all about the people involved in your brand. Give a snapshot of the brilliant employees who work behind the scenes to make your business the success it is. Make sure to remind your readers to take a break this holiday and include a simple link to your website.
Storytelling is engaging as a marketing tool because it helps people feel involved. Maximize this sentiment with a personalized subject line like, "Take a break this Labor Day, <Name>".
Labor Day Sales Ideas
Labor Day is a great opportunity for a sale or promo according to Seth Lytton, COO of The Detroit Bureau. "Make your emails reflect that end of summer urgency. Encourage your readers to make one last fun purchase before the autumn comes."
This Tattly email taps into the celebratory nature of the holiday as well as the fast-departing final days of summer. The imagery and color scheme support the copy in reminding the reader of the fun and hedonism summer brings, reinforcing the message that they don't want to miss out on this Labor Day deal.

When planning your Labor Day sale, start with the products. Special Labor Day discounts or themed sales are always effective. Curate a selection of items around the concepts of family, camping, parties, picnics, barbecues, or back-to-school, for a relevant and eye-catching sale plus a useful angle for your marketing.
If you're offering sitewide Labor Day savings, put that front and center of your communication. Like this email offering 15% off.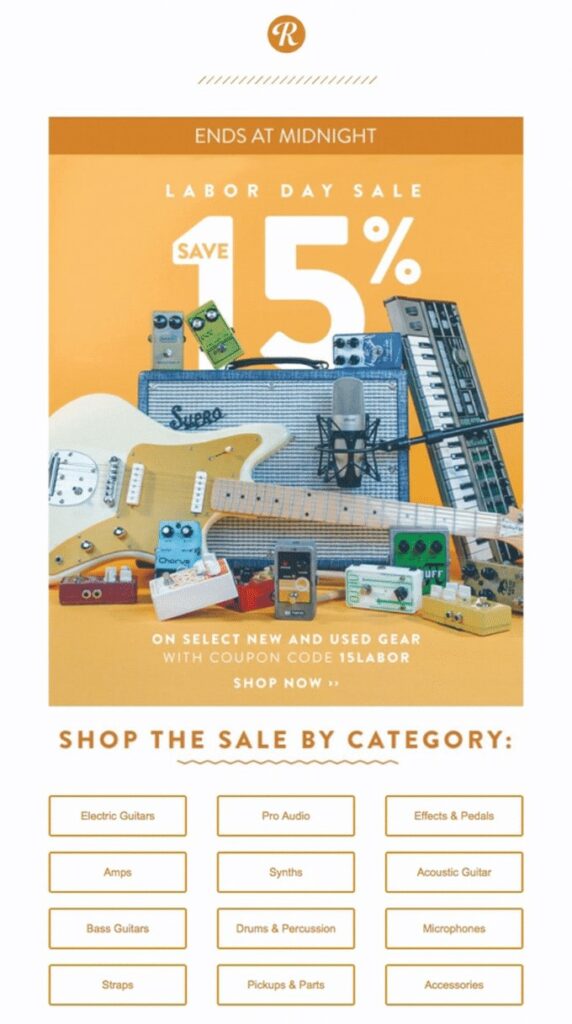 Labor Day Video and Gifs
Video is the perfect tool to create eye-catching pre-sale previews. Demonstrate your sale products in a themed video to pique interest and gather momentum as your sale approaches.
On Sendinblue's email builder, you can insert an image or still into your email with a link to your video. This means no matter your customer's email client they will be able to view your email and easily click through to your video. Make sure to link to the products you're promoting in your video to complete the funnel.
Similarly, gifs add some energy and excitement to otherwise static emails. Think about a setting sun, sizzling barbecue, or party gif to get customers in the mood to celebrate and spend.
Labor Day Email Subject Lines
Your Labor Day email subject line needs to work hard to stand out in a crowded inbox.
Link back to your theme with relevant copy.
Pick one or two relevant emojis to give it personality.
When it comes to subject line ideas, think about creating a feeling of urgency that will encourage your customer to open your email straight away. If you can, pique their curiosity by alluding to what they might discover if they click through.
Don't miss our 2 for 1 deal on BBQ treats this Labor Day
Discover the secret to making your Labor Day party pop🎆🍸
Make this your best Labor Day yet with 50% off everything
For your B2B email campaigns, take a kind approach. Something along the lines of "Happy Labor Day! Do not open until tomorrow". Recognizing the holiday is a day off for many shows your human side and lets clients know you care.
How to Time Your Labor Day Emails
To make sure your Labor Day email marketing campaign gets noticed, it's all about building FOMO, fear of missing out.
Thomas Jepsen, founder at Passion Plans explains: "Before any holiday, we always create scarcity campaigns. They are so powerful. We do a 30 to 40 percent discount and a very narrow time for customers to make up their mind. Instilling the feeling of scarcity usually sees demand skyrocket by 300 to 400 percent."
A countdown timer is a great tool to help enhance that FOMO once your Labor Day event is underway. "We made a 72-hour countdown in our email campaign to instill a sense of urgency. It worked as we've seen more purchases come in as time passed. Letting customers know that they might miss out on something if they don't take action is an effective email marketing strategy," says Andrew of Online Marketing Gurus.
Before you schedule send, check the sequence works together. There's no point sending a "last chance to buy" email if this is the first time your customer has heard about the sale. They'll only end up feeling annoyed you didn't keep them in the loop.
Here's a suggested email series for your Labor Day email campaign:
Email 1: 5 days to go – Announce sale
Email 2: 2 days to go – Sale reminder and exclusive discount code for subscribers
Email 3: Sale launch – Reminder and promote best deals
Email 4: 2 hours left – Scarcity reminder and promote fast-selling products
For help with scheduling and automation, sign up for a free plan with Sendinblue and start sending memorable emails today.
Segmenting Your Labor Day Emails
Email marketing is all about connecting with your customer, giving them personalized service, and showing them you relate. It's almost impossible to do this without segmentation.
As a content marketer, Labor Day is a great opportunity to connect with your customers on a more personal level. No matter your audience, Labor Day marks a shift in seasons. This experience is different for different people making it a great opportunity to segment your email marketing list. Some are looking forward to the cooler weather, others are lamenting the end of summer. Some are preparing for new beginnings, while others need some motivation to make it through to the end of the year.
Create messages and subject lines that speak directly to their experience and how your product or service can help. The more closely you identify with what they're going through, the more effective your marketing will be.
Give your emails the best chance of success with personalized subject lines and opening greetings.
Labor Day Emails for B2B Businesses
If you're selling to other businesses rather than consumers, Labor Day is an important opportunity to build community and demonstrate your business values. Sending out a message to your client list thanking them for their support will go a long way towards building loyalty to your brand.
Equally, now is a great time to show how much you value your employees. "Customers and prospects would love to see the faces behind your company and brand," says Felix Maberly of Tiger Supplies.
Finally, whereas most of the nation will be in their backyards celebrating, spare a thought for your clients who might not get a Labor Day holiday. Let them know what level of support will be available over the long weekend and when they can expect normal service to resume. It's a sign of respect and courtesy they'll remember.
Final Tips on Labor Day Emails
As a turning point in the year, Labor Day is a good opportunity to help your customers celebrate the final days of summer and prepare for the autumn months ahead. Follow these final tips to make sure your Labor Day emails hit the mark.
Create a theme your customers will engage with
Deliver content that adds value or tells a story
Plan your sale around relevant themed products and create an element of scarcity
Use personalization and segmentation to give your customers what they want and need
For more content like this, sign up for our monthly marketing tips newsletter and follow us on Twitter.