Thinking about investing in a CRM system? Want to know more about the advantages of CRM for small businesses in terms of customer experience? Here you'll find five ways in which having CRM helps create a customer experience that's both seamless and engaging.

Increased customer loyalty. Positive reviews. Referrals.

These are just some of the reasons why customer experience is a top priority in 2019, with research by the Aberdeen Group showing that companies with strong omnichannel engagement strategies retain an average of 89% of their customers.

An engaging customer experience is one that delights and satisfies the customer every single time they come into contact with your business. It makes the customer feel valued and understood, establishing strong business relationships.

As a small business owner, the customer experience is one of your biggest opportunities for growth. Delivering great service and meaningful interactions at every touch-point of the customer lifecycle will give you a serious competitive advantage.

If you're looking for the most effective way to monitor these customer interactions and ensure their quality, then investing in a CRM system for your small business is the way forward.

CRM, which stands for Customer Relationship Management, is easily one of the best ways to store customer information and keep track of all interactions between you.

This can include previous communications, purchase history, invoices, and support requests. An up to date CRM ensures communications sent to leads and customers are timely and relevant, and allows efficiency and accuracy in resolving customer problems.

Read on to discover five ways CRM software can help your small business optimize its customer experience.
1. Easily Accessible Customer Information

One of the important advantages of CRM for small businesses is having all customer data available in one system.

To ensure a great customer experience, your interactions with customers need to be as effortless and frictionless as possible. Customers don't like having to repeat information or be passed around to different company representatives when trying to resolve an issue.
In 2018, Gartner revealed that 81% of customers going through a high level of effort were likely to share their bad experience with friends.

With CRM, your employee has all important customer information at the ready. They know what product or service is being used and what previous actions have been taken by colleagues.
This translates into time-savings for both your customer and your team, creating a seamless customer experience.

2. Actionable Customer Insights

Having the right data available and being able to make customer-centric decisions on the basis of that data is crucial for the growth of your small business.

You can use the insights gained from CRM data to put in place an action that directly improves the customer experience.
For example, going through your customers' support requests, highlighting an area where needs aren't being met, and then deciding to develop an extra service or product functionality around that need.

A benefit of CRM for small businesses is that it provides a thorough overview of an individual customer's behavior. You can gather information such as purchasing habits, feedback, and requests for support, all in the one place.

This data is useful for a number of reasons.

You will gain a better understanding of customer needs. You will be well-positioned to spot any opportunities for selling additional services and propose them in a timely manner.

By knowing your customers' needs and pain points, you will be able to continuously improve your product or service, in turn offering an optimized customer experience.

3. Personalized Customer Communications

CRM data is going to help you ensure that the communication your small business sends to its customers is personalized.

For example, you can see in CRM that one of your customers hasn't placed an order in a long time. You can then segment that contact into a separate group and target them with a personalized reactivation email, like in this example by Virgin Experience Days: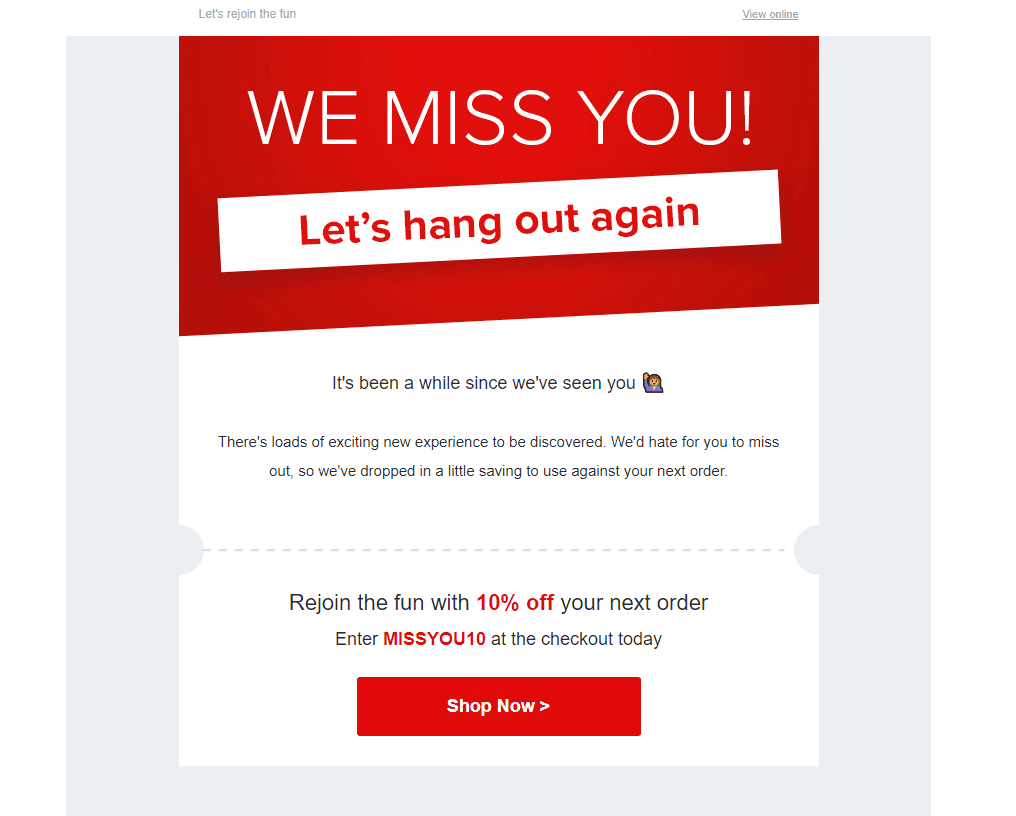 As personalization is a key factor that drives conversions this is definitely an area worth spending time and effort.

CRM tracks all information related to the customer giving you a 360 degree view that allows you to plan your communications accordingly.
You can use CRM data such as demographics, buyer journey position, requests, or meeting notes to plan the type and frequency of content you send to contacts.

Personalization creates an enjoyable customer experience because customers appreciate receiving communications that are both relevant to their specific situation and tailored to their needs. It's a great way to establish links with customers and build long-term business relationships.

Creating personal and emotional connections with your customers will grow loyalty and trust in your brand.
Keeping in mind that 65% of a company's business comes from its existing customers, personalized communications are an essential aspect of your overall customer experience.

4. Effective Lead Nurturing Processes

The 360 degree view of each contact provided by CRM software enables you to fine-tune your lead nurturing processes, thereby optimizing customer experience for leads at each stage of your buyer cycle.

Lead nurturing is the process of transforming your captured leads into paying customers by developing relationships and providing relevant information throughout the buyer journey.

So, what does lead nurturing look like in reality?

Let's say that one of your leads has downloaded a copy of your ebook. To feed their interest, you decide to follow up by sending them some blog content on the same topic. This is an example of lead nurturing.

The added-value of CRM for small businesses here is that you can use it to carry out lead scoring. Lead scoring is about assigning your leads a number or value based on the level of interest they've shown in your product or service.

For more information on lead-scoring, check out our blog post.


The other advantage of CRM in this case is that you have the option of creating custom segmentation fields that are going to further tailor your lead nurturing processes.

Pair your CRM with marketing automation software (or just use the Sendinblue platform which includes both functions), then you'll be able to set up and send automatic emails triggered by lead scores and lead behaviour (for example, sending a welcome email to a new subscriber).

Lead scoring essentially helps you assess just how "qualified" a lead is. Once the lead is suitably qualified, it's time to contact them. You can assign this task to one of your sales representatives directly in CRM.

CRM software will simplify lead management for your small business and allow you to optimize your lead nurturing processes.
Thoughtful, tailored content is going to interest and engage your leads, increasing the likelihood of conversion.

5. Leveraging the Success of Marketing Campaigns

By using a tool like Sendinblue that combines marketing automation and CRM for small businesses on the same platform, you can leverage the success of marketing campaigns and highlight where customer engagement is at its highest.

For example, knowing which campaigns a specific customer has engaged with can be quite useful the day you want to contact that customer with a personalized message.

Tracking your contacts' clicks, visits, and downloads in a CRM system will give a clear indication of your contact's preferences in terms of type of content and channels of communication.
Use this data to inspire your content strategy and tactics, by creating more content on related topics or pushing other existing content towards the contact on the topic that interests them.

Creating more compelling content and digital experiences that customers enjoy will boost your customer experience and in turn, your company's bottom line.

Try out the Sendinblue CRM for small business

Interested in getting CRM software for your small business?

Sendinblue offers CRM for small business as part of its all-in-one sales and marketing toolbox.

Discover how easy it is to set up and track all your customer interactions with Sendinblue by signing up for a free trial.