Reading time about 10 min

Guest post by Ben Cahen, CEO of WisePops, a tool for building website popups. This article explains how to use WisePops to grow your Sendinblue email list.
What if you could collect hundreds of emails and phone numbers in a way that's easy to set up, easy to maintain, GDPR-compliant, and cost-effective?
Introducing website popups!
In this article, we'll explain why website popups are the best way to build an email marketing list. We'll then share a step-by-step guide to using WisePops with Sendinblue to supercharge your email list.
Ready? Let's dive in.
What's a website popup?
First things first, let's define what we're talking about.
What is a website popup?
A website popup is a small window that appears — or pops up — while browsing a website.
Marketers use them for all sorts of things: from collecting emails (the subject of this article) to reducing abandoned carts, collecting feedback, and sharing important messages with their audience.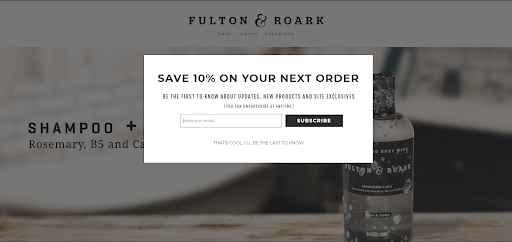 A popup on Fulton & Roark's website (source)
Two important things to know about popups:
They're highly visible. Popping up in front of the website, they immediately catch a visitor's attention — which is why they have to be used carefully.
You can set them up so that they only display for a specific segment of your audience. For example, new visitors or mobile visitors.
Are website popups still effective today?
Far from being a new digital marketing tactic, popups have been around since the early days of the internet.
So why are marketers still using them today?
Reason #1: Popups work
Popups work wonders to build an SMS or email list. One website reported collecting 6 times more emails after activating an email popup:
"Using exit-intent popups on only single posts and not site-wide on every page they saw an increase of sign-ups by 600%. They went from typically 70 – 80 daily new subscribers to 445 – 470 new subs per day." – CXL
Faguo, an ethical fashion brand, reported the same kind of results after displaying a popup on their website:
"Popups help us collect more than 3,000 new emails per month. We then add all these contacts to our email list and nurture them with a dedicated CRM program to activate them." – Martin Charousset, Ecommerce Manager at Faguo
Reason #2: Popups can be easily segmented
Like emails, popups can be tailored to your different personas to maximize efficiency and relevance.
This is what the mattress brand Leesa is doing with their exit intent popups.
If you try to leave their website while browsing a product page, you'll see a popup that matches the product you were browsing. In this example, both the headline and the visual refer to the product being viewed.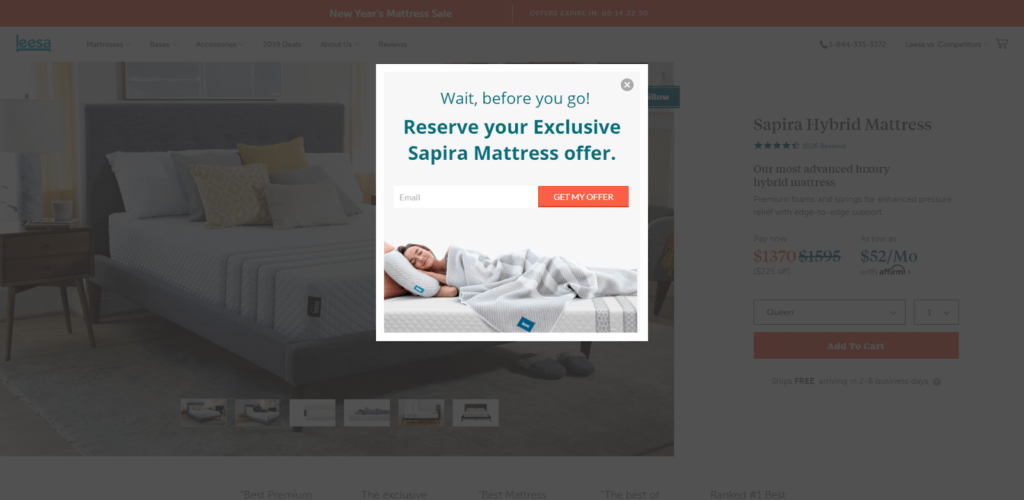 And further down the purchase funnel, they use a different incentive and a different layout when the visitors abandon their cart.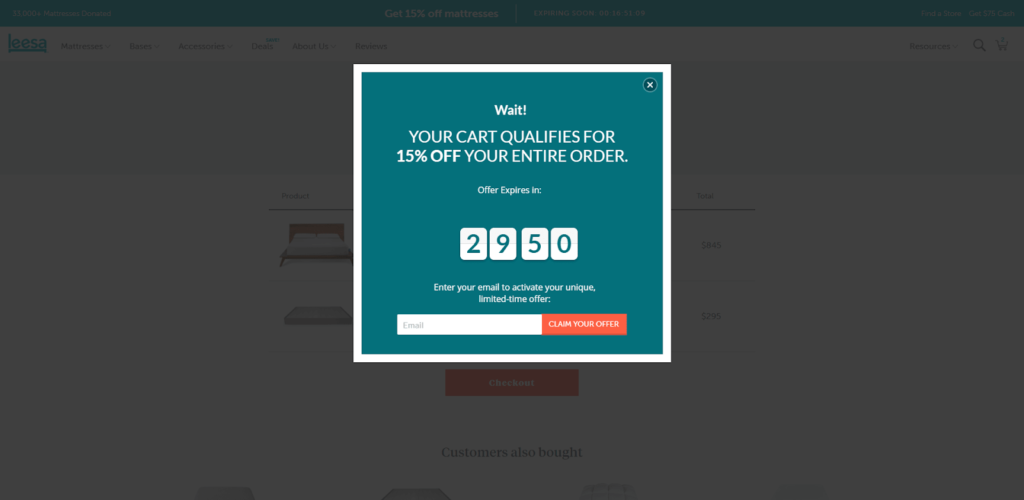 By matching the buyer's intent, popups can produce powerful results.
They also help send more targeted emails by feeding the collected email addresses into different lists, each corresponding to a different stage in the purchase funnel.
The bottom line? Personalized emails and texts generate more engagement and revenue for your brand.
Reason #3: Popups are versatile
Another major advantage of popups compared to other ways of collecting emails? They're extremely versatile.
They offer lots of customization options when it comes to design and placement.
Want to use an image to draw visitors' attention to your popup? Easily added.
Wondering if full screen popups work better than smaller ones?  Simply run an A/B test to find out.
Plus, analyzing the uplift generated by your changes is easy. WisePops has an analytics dashboard to track the number of displays and conversions.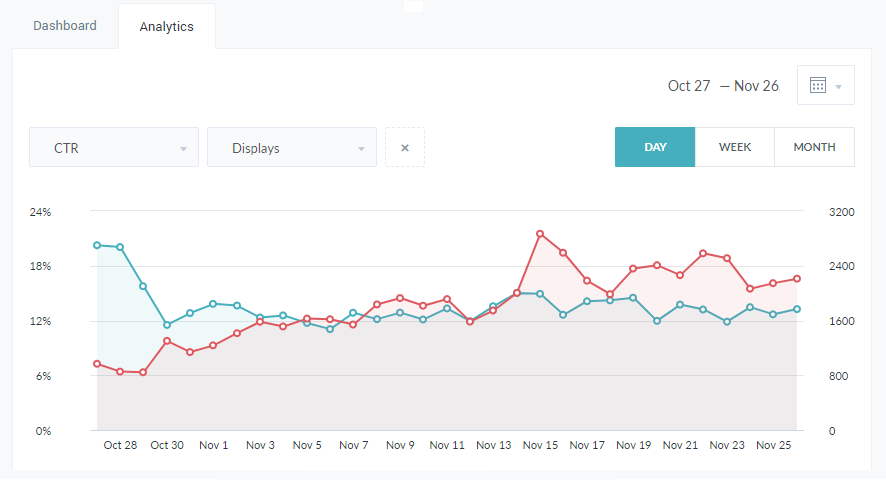 An overview of the performance report in WisePops
Here's an example of an online retailer, MyJolieCandle, who wanted to experiment with a new incentive to drive email signups.
They were able to quickly install a popup that offered the chance to win a free candle. Within a matter of days, their email subscription rate had skyrocketed.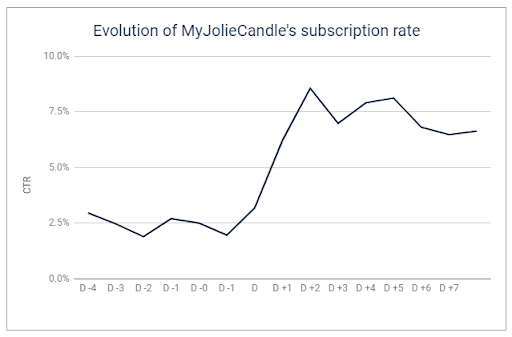 Now that we've covered the basics, let's look at how you can create a high-converting website popup using the WisePops plugin for Sendinblue.
Not a Sendinblue user yet? Get started on the free plan with 300 emails a day and unlimited subscribers. No credit card required.
Tutorial: How to create a popup campaign for Sendinblue with WisePops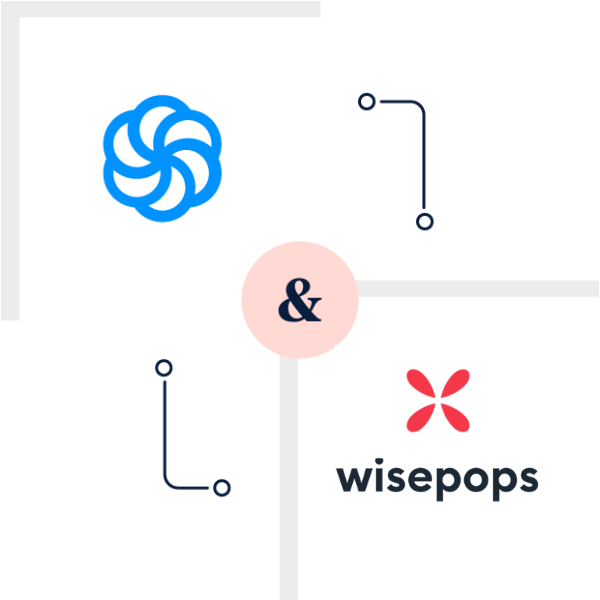 Step 1: Choose an opt-in incentive
Every popup campaign needs an opt-in incentive — something that'll make subscribers want to join your list.
This can be a content upgrade like a free ebook, a discount code for new subscribers, or a free gift. Explore all the possibilities in our email list building guide.
You'll put this incentive front and center on your popup copy as the hook to bring people in. You can pair the copy with a visual to make it even more appealing and attention-grabbing.
If you're serious about building your marketing list, we strongly suggest including an opt-in incentive on your popup forms.
At WisePops, we recently studied a sample of 54 popup campaigns totalling more than 56 million displays. Popups that included an opt-in incentive had an average conversion rate of 4.6%, whereas those that didn't had an average conversion rate of 1.2%.
Pretty convincing, right?
In terms of incentives, sweepstakes usually perform best, followed by discount codes and free shipping offers. But it's up to you to choose an incentive that's in line with your budget and sales strategy.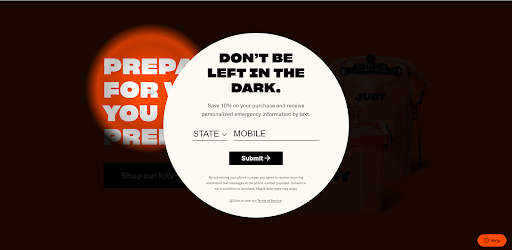 An sms popup offering a 10% discount to new subscribers (judy.co)
Step 2: Create an eye-catching design
Popup design can be boiled down to a few simple rules:
Align popup design with your brand. Use the same font family and colors as your website (here's a handy Chrome extension to identify fonts on web pages)
Make sure your popup is visible: use contrasting colors for your popup's background and/or activate an overlay to make sure it stands out against your website's content.
Try to design a popup that's original and catchy: use transparent images and/or unusual shapes.
From an easy-to-ignore popup to a an eye-catching overlay in 20 seconds
Step 3: Create Your Popup Form
Once you've laid the foundations of your popup, it's time to work on the form itself.
The main question at this step is: how do you want to contact your leads —email, sms or both? And what would you like to know about them?
Once you've answered these two questions, you can start working on your form.
To create the form, select an email or a text block: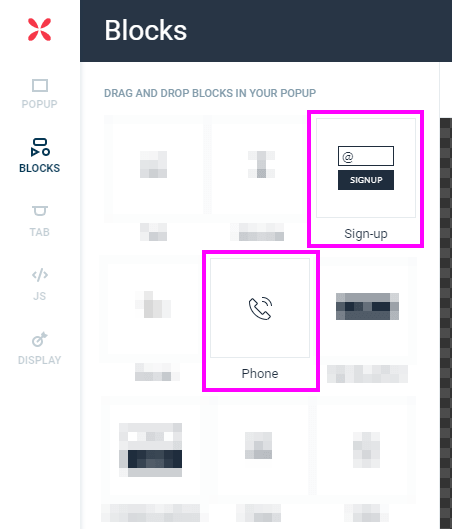 And drag and drop it in your popup.
Next, click on the "Fields" section in the left column. Add extra fields (if you like).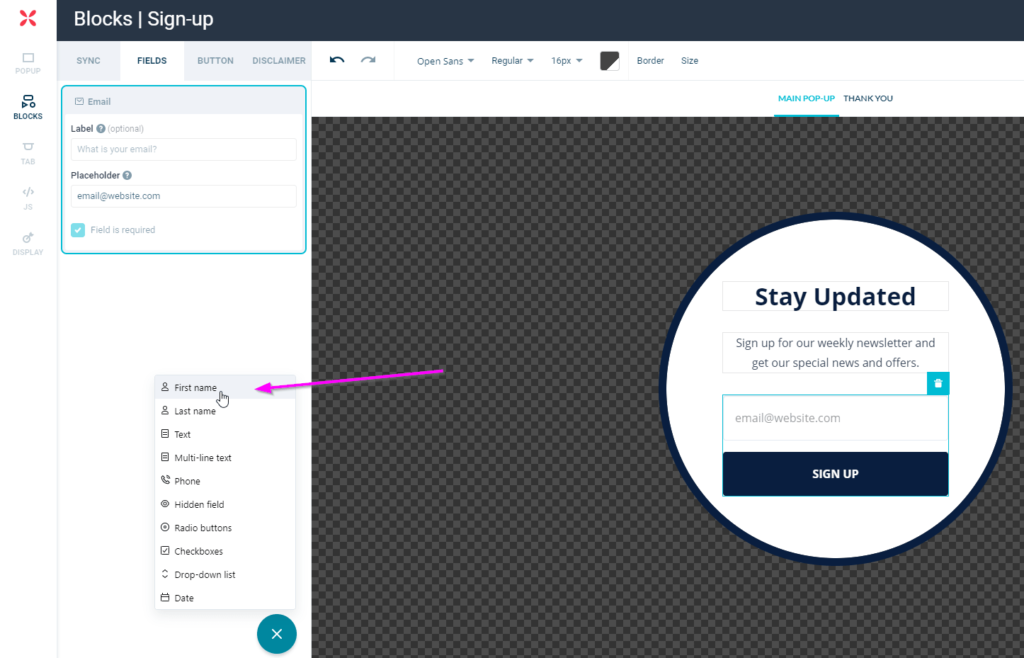 Adding a first name field to my popup
Step 4: Connect Your Popup with Sendinblue
Once you've configured your form on WisePops, it's time to connect it with Sendinblue.
(There's no point to collect leads and let them sit on a server, right?)
To do so, click on your form and, in the left panel, click on "Sync."
Click on the Sendinblue icon and enter your API key.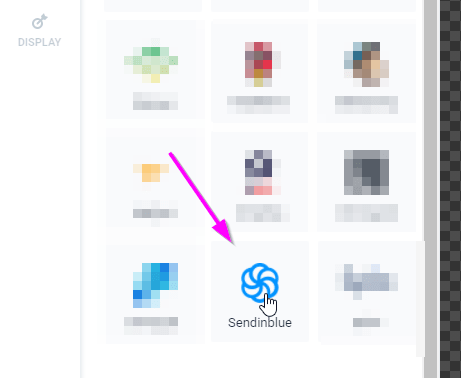 All done. Your new contacts will be synchronized with your Sendinblue account.
Step 5: Configure Your Display Scenario
Now it's time to adjust the timing and audience of your popup.
First, let's talk about the timing. We recently analyzed 2,906 email popups totalling 296,050,112 displays.
The results were pretty clear: popup conversion rates are much higher when displayed after one or more page views. To maximize your popup's conversion rate, we recommend displaying it after one or more pages have been viewed.
If you don't want to wait that long for visitors to subscribe, you can also activate your popup to display as soon as they hit your website.
But at least give your visitors some time to read and scroll down the page first. Don't just spring it on them after a few seconds, this'll make for a poor user experience.
To activate the one-page-view delay, click on "Display" in the left column, then click on "After delay" and set your value.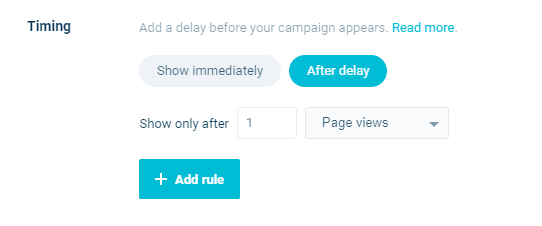 Lastly, to avoid spamming your existing subscribers, you can exclude them from your popup's audience by using a UTM exclusion rule.
To add the rule, click on the "Audience" tab and scroll down to Traffic. Click on "UTM" and select the following parameters:

And that's it, you're all done. You've now got a website popup ready to skyrocket your Sendinblue email list. 🚀