Reading time about 10 min
You see no light at the end of the Twitter marketing tunnel despite implementing the best Twitter practices? We feel your disappointment.
But before you decide to give up on the platform, remember this:
Twitter is more than tweeting at the 'supposed' right time or frequency. It's a social platform that—like any other marketing channel—demands you to socialize and nurture your audience before asking them to buy.
To get your motivation back, we put together three underused Twitter marketing strategies. Dig in.
3 Underused Twitter Marketing Strategies for an Enviable Social Media Presence
Building a community is a long haul game. People come to admire you for your genuineness and choose you over several others. But to reach that top spot, you'll need to do some legwork.
Twitter Marketing Tip #1: Participate in Twitter chats
Twitter chats are discussions between like-minded people on a topic of common interest. They usually gather around at a specific time and use a chat-specific hashtag while answering questions.
#CMWorld, for instance, is a weekly Twitter chat hosted by @CMIContent. Those interested in getting better at content marketing join the chat every Tuesday at 11 am CST.
Benefits of Participating in Twitter Chats
…are hard to overlook.
Amplify your Twitter presence
When you frequently participate in Twitter chats you get noticed. With time, you create more engagement/interaction opportunities during the Twitter chat you participate in and outside it too.
Establish a solid reputation as a thought leader
Twitter chats happen around specific topics. If you join those where your audience hangs out, you can prove your expertise. Ultimately, people begin to view you as an industry thought leader and follow your advice.
Grow your Twitter following
When you're seen as a thought leader or an expert, chat organizers might request you to co-host their chat. As a result, your brand gains more exposure and amasses recognition. The best part is that it's through a platform built by someone else. 😉
Again, Twitter chat hosts post a recap of Twitter chats, so retweet it if they've featured you on it.
Best Twitter chat practices
…to do well during Twitter chats:
Stay on topic.
Humour others using fun GIFs.
Don't argue. Show maturity and have healthy discussions.
Show up consistently so that people notice you.
Be genuine and give helpful and actionable advice.
Comment on other chat participants' tweets during the chat.
Network with fellow participants outside Twitter chats.
Don't promote your brand out of context.
Appreciate folks for their insights.
Twitter Marketing Tip #2: Use Twitter Lists To Network Better
On average, around 6,000 tweets get tweeted every second. Add to that the number of people we follow. To catch up with everyone is impossible. That is when Twitter lists come in handy.
A Twitter list is a curated list of accounts of your choice. When you click on a particular list, you see tweets stream but only from the people on that list.
You can keep your Twitter list either private or public. Anyone who follows your public list will be able to see the members and their tweets. And when you add people to your public list, they get notified.
You'd much rather follow a Twitter list? Twitter suggests some based on your interest: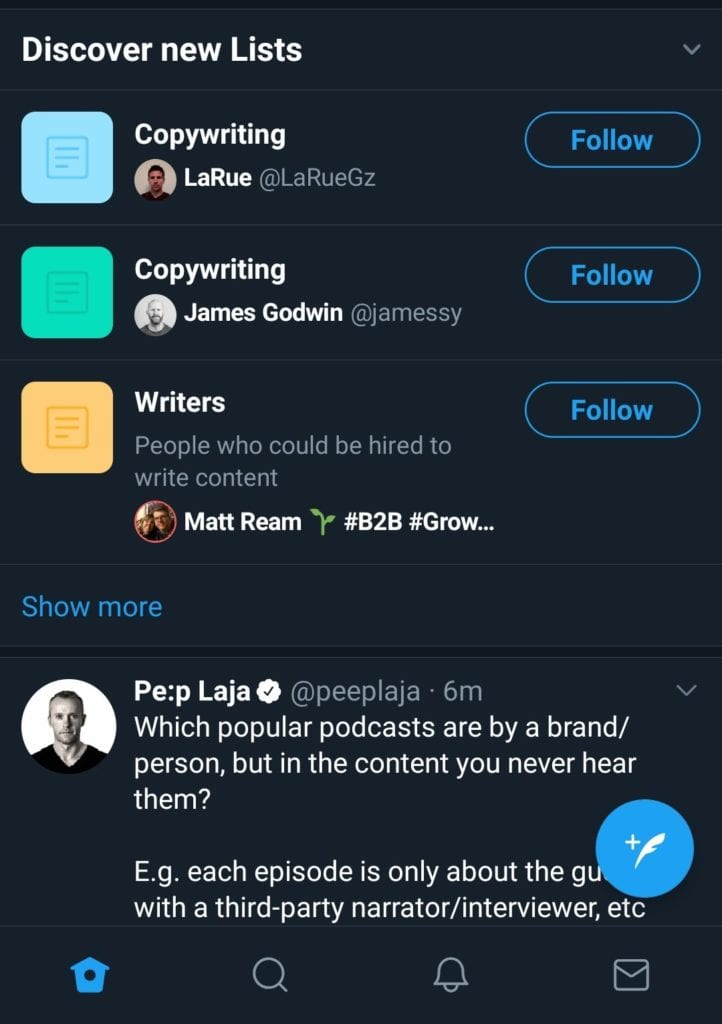 Alternatively, you can find lists by visiting Twitter profiles.
Step 1: Go to their profile.
Step 2: Click on the more icon (three dots)
Step 3: Click on view lists.
Step 4: Follow a list of your choice.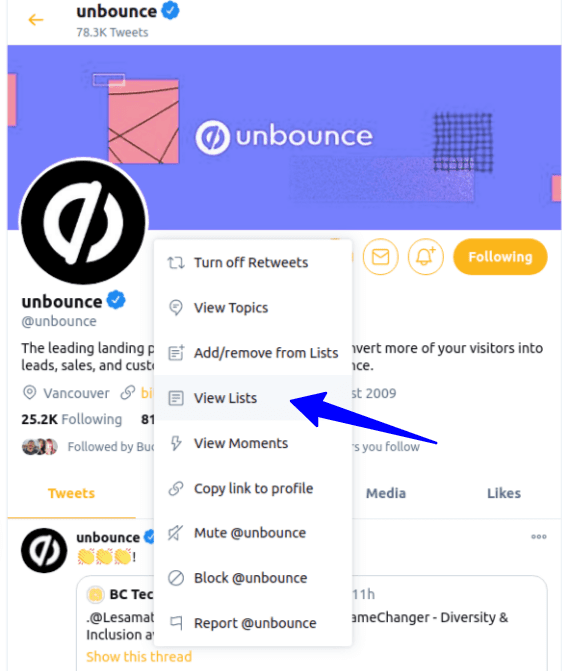 Benefits of using Twitter lists
…are several, and once you start using them you won't stop.
Gain control over your Twitter home feed
With Twitter lists, you can keep track of important conversations without having to doomscroll. Here's Buffer's list of social media thought leaders helping them stay on top of crucial insights and shares:
Make genuine connections
With people of your choice added to your list, you can spend time building quality one-to-one relationships. But again, remember: help selflessly instead of seeking favor for a favor.
Track and generate leads
When you have a Twitter list of your potential leads, you can stay on top of their pain problems and understand their interests better. You also get more content ideas from them that you can use to fuel your blog strategy as well as improve your website copy and product.
Next, to discover leads on Twitter:
Search hashtags popular among your target audience.
Analyze your competitors' followers and Twitter lists, and
Use tools, such as Followerwonk, Audiense, and Sparkscore.
After adding them to your list, actively listen to, and engage your target audience. Over time, they'll likely show interest in your brand. So that they stay interested, optimize your profile. Here's what you need to do:
Upload the same profile picture you use on other social accounts.
Write a strong summary of what you do.
Add a link to your website. If your goal is email signups, include the email signup form link.
Speaking of newsletters, you can send 300 emails/day and access 40+ newsletter layouts with Sendinblue's free plan. Give it a try.
10 Twitter list ideas
These Twitter lists ideas would help you with relationship-building.
Your team members
Your other business accounts
Potential clients and customers.
Existing customers who champion your brand
Thought leaders that inspire you
Influencers in your industry
Twitter chat friends, guests, and participants
Past and upcoming event/conference attendees
Competitors
Partners and affiliates
Journalists and PR folks
Local businesses.
Twitter Marketing Tip #3: Provide an active customer support
Compared to time-consuming traditional support channels, it takes a customer a mere tweet to get your attention. So it makes sense for you to pay attention to what they're saying—good or bad.
Benefits of providing active and delightful Twitter support
…and why you should get started right away.
Impress potential clients
The #1 reason customers reach out to brands on Twitter is to ask questions. Use this opportunity to nurture a relationship. Data shows that 21% of consumers prefer to buy from companies that are easy to reach on social media. Be that brand. Plus, don't be afraid to show some personality: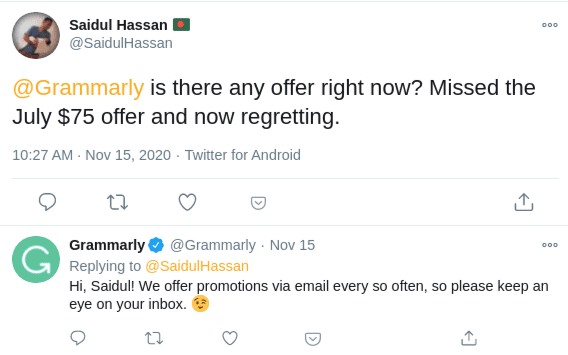 Another thing worth doing is signing-off with a name so customers feel there's an actual person looking out for them. Sample this tweet from Buffer: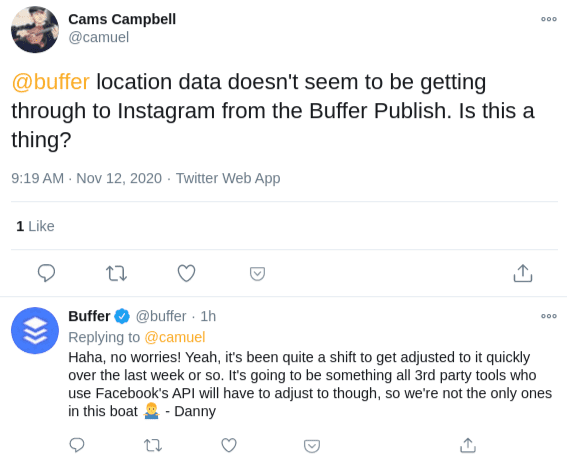 When you respond to customers on social platforms it can trigger a 20% increase in customer advocacy. So you see—it's more a necessity than an option.
When you actively address customer dissatisfaction and also share positive reviews, you simultaneously create and use social proof. The best part is that everyone sees it, your potential customers included.
Trello here, when shown some love by their customer, sent some love back: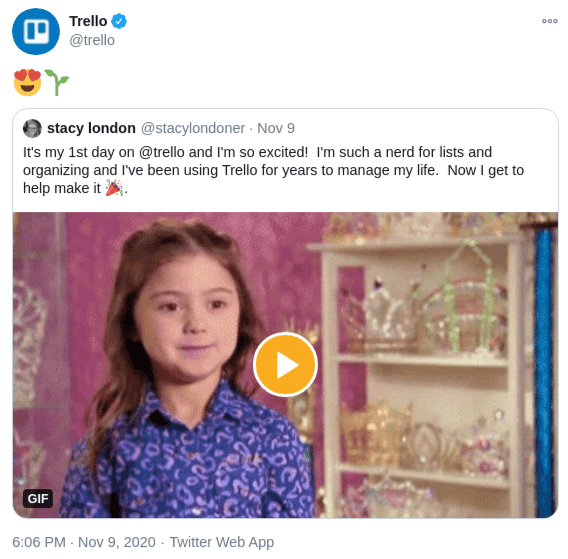 Best Twitter customer care tips
…because there's always room for improvement.
Improve your Twitter average response time. 79% of customers expect a response within a day from brands. Not everyone can nail that, but you can at least try.
When you respond proactively you gain a competitive edge and customers' perception of you changes. They see you as a brand that values their customers. Here, have a look at how Sprout Social's quick response earned them praise.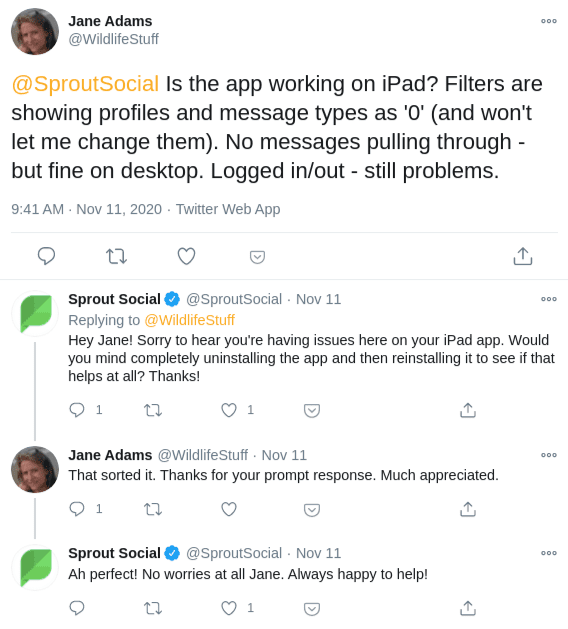 Track mentions of your company by activating your notifications and also using Twitter's analytics tool, Tweetdeck. Search for your handle and add a column for ease of access.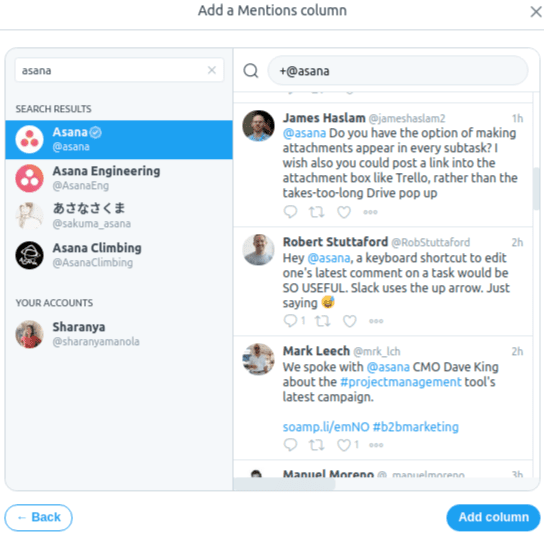 You could opt for paid social media listening tools too. With Awario, for instance, you can sort mentions based on reach so you can prioritize the most critical discussions first. You can also conduct a brand sentiment analysis by checking tweets' positive, negative, and neutral quotient.
Search your brand's name because not everyone tags companies or knows how Twitter works. Next, track common misspellings. It's likely that an annoyed customer, in their moment of fury, might have made a typo.
Monitor your Twitter lists of customers and hashtags. Again, you can use Tweetdeck and add lists and hashtags in separate columns and monitor them regularly.
Create a separate handle for customer support. It streamlines the process of managing customer concerns. And don't forget to add the handle to your main profile bio, like so:
Take it off Twitter because not every customer issue can be resolved via tweets. Check out Asana doing their thing: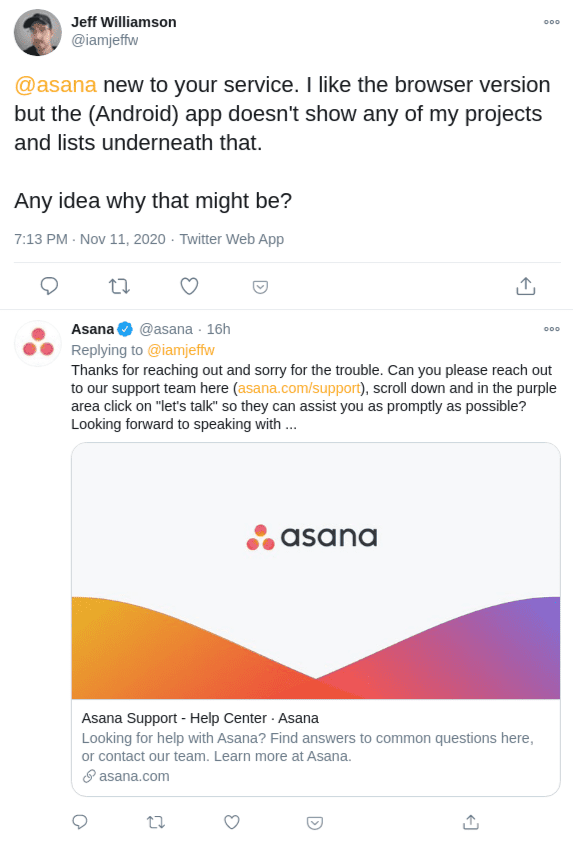 You're now ready to ace Twitter Marketing
With these Twitter marketing tips, you can get in front of your audience and go from zero to hero.
To recap:
Join Twitter chats that are your customers and potential leads participate in.
Make Twitter lists to stay on top of conversations, and
Monitor Twitter mentions to discover conversion opportunities, build social proof, and actively resolve customer issues.
Think these Twitter marketing tips will change how you approach Twitter? Let us know by giving us a shout out @Sendinblue. 
By Sharanya Manola, freelance writer for B2B SaaS.