PieSync is one of the best reviewed Integration Platforms as a Service (iPaaS) available. It connects multiple businesses applications to keep their customer data in sync.
In January 2018, PieSync announced that Sendinblue users could keep in sync their favorite marketing app with other 90 applications. Two years later, the service has evolved greatly.
Now you can connect Sendinblue with more than 200 business applications: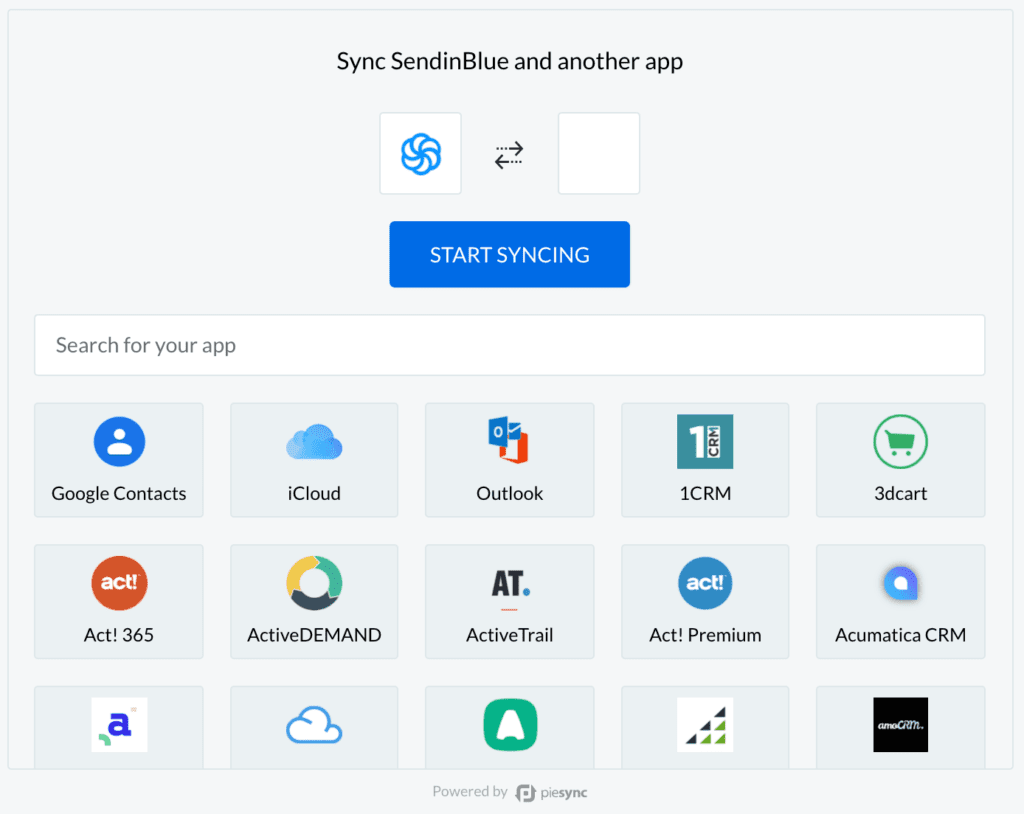 Plus, new features have been added to the solution:
Custom fields mapping: to choose which contact fields should be in sync between the applications.
If-this-then-that rules: to decide which contacts to sync and how according to their particular attributes (tags, lists, labels, etc.)
Health Dashboard: a detailed dashboard of your sync activity
Here you'll learn more about the benefits of synchronization, how other Sendinblue users are boosting their productivity with PieSync and easy steps to set it up.
The benefits of synchronization
Sendinblue is a toolbox with all the elements you need to communicate with your customers through personalized messages and ultimately, convert them into customers and brand ambassadors.
But as your business grows, you need to add new applications to your software stack. Next to Sendinblue, you might be using Google Contacts, an e-commerce platform, a lead generation app, an accounting tool, and many others.
Every application you use gathers valuable customer insight. What happens when you keep them all together? Here are some immediate benefits:
No more importing & exporting
Manually importing and exporting lists of contacts is not only time consuming, it's also inefficient. Your contacts are never really up-to-date and you leave room for manual mistakes in data.
PieSync is constantly scanning Sendinblue's database and your other connected app for changes. If you choose to sync two-way, whenever there's an update in either application, that change will be available in the other one in real time.
Maintain your segmentation across tools
The backbone of segmentation is data. Grouping your contacts according to their interests, lifecycle stage, type of customer or personas, it's only possible if you have the right data available.
But going through the manual process of collecting the pieces of data that might be relevant for segmentation, it's not always easy. Having your marketing tool in sync with your other business applications is a way to automate your segmentation and maintain it across tools.
Using if-this-then-that rules, you can establish a workflow between Sendinblue and your connected apps to make sure the right contacts endup in the right list.
Enrich your customer data
You are using different apps across the customer's journey and each one of them gathers little fragments of data. But if that data is isolated, it won't show you a complete picture of your client. Synchronization helps you put all those little fragments together to have rich databases.
Let's say you collected a customer's email address in Sendinblue, their phone number in Google Contacts and their billing address in your accounting app. By having these three apps in sync, you are enriching each database. Plus, you could access that complete view of the client from any app.
Have your teams aligned towards the same goal
When your teams are working from separate business tools and managing different data, communication between them can get pretty difficult. If internally your teams are not aligned, the customer will feel it.
As a customer, there's nothing more frustrating than having to repeat your story every time another person from a company contacts you. It's also pretty frustrating receiving communications that are not made for you.
Data integration is a solution for isolated data and disconnected teams. Having a single source of truth, can be a way to have your teams aligned towards the same goals and help them offer a better experience across the customer's journey.
You can easily add your entire team to your PieSync account so they can all access up-to-date and rich contact data whenever they need it.
How to sync?
You don't need to download PieSync or have a team of engineers to set it up. It's all cloud-based and very easy to set up. Here are the basic steps:
Sign up for a free trial with PieSync.
Authorize Sendinblue and your other apps
Set your If-this-then-that rules if it's necessary
Check the contact fields that were mapped by default
Add whichever custom field you need to have in sync.
Forget about import/export ever again!
Learn more about it in PieSync's help center.
Use cases for Sendinblue users
Sync Sendinblue and your lead generation tool: to detect hot leads on time and convert them into clients with awesome marketing.
Sync Sendinblue and your phone's address book (Google Contacts, iCloud, etc.): to access up-to-date contact info from wherever you are.
Sync Sendinblue and your customer support tool: to have a complete view of your client.
Sync Sendinblue and your CRM (if you are not using Sendinblue's CRM yet): To align your sales and marketing teams.
Sync Sendinblue to any other tool: Because there are hundreds of options!
In sum
Sendinblue and PieSync are working together to keep your entire software stack together. Customer data integration will help you get the most out of Sendinblue and the rest of your tools.
Data integration is one of the biggest challenges companies are currently facing, but it doesn't have to be a hassle. PieSync offers a simple solution to keep your tools together, according to your needs. It is powered by an intuitive dashboard that you can set up yourself in about 5-minutes.