As Ken McCarthy, the founding father of internet marketing once said, "trust may be the single most important word in business." Whether or not a customer thinks you're worthy of their trust will eventually determine whether they would decide to do business with you.
And what's more effective at communicating your trustworthiness than a long list of past customer experiences, online reviews, testimonials, etc? Many established businesses rely on their positive track record to acquire and retain their customers.
But what if you're just starting out and don't have a strong positive track record yet to win your customers' trust. How do you build the same trust and reassurance with new customers?
Here are a few tips to help you overcome this hurdle and build up a reputation and track record that will help you continue to grow as your business matures.
1- Map out your customer journey
As Consulting.com explains in its guide on establishing yourself as a freelance consultant, the whole point of starting a business is to help people solve their problems and achieve a desired goal. The more desired that goal is, the more people are willing to trust you if you can help them achieve it.
Understanding your customer journey is the most essential step for building a business that provides customers with this type of solution. Once you know how your customers get to know you for the first time, what makes them consider your product, how they research to learn more about you, and what makes them buy from you, you can speed up the buying process by optimizing each of these steps.
An HBR article explains that you need to consider the following framework in your customer journey map:
Actions: What is the customer doing at each stage? What actions are they taking to move themselves on to the next stage?
Motivations: Why is the customer motivated to keep going to the next stage? What emotions are they feeling? Why do they care?
Questions: What are the uncertainties, jargon, or other issues preventing the customer from moving to the next stage?
Barriers: What structural, process, cost, implementation, or other barriers stand in the way of moving on to the next stage?
Needless to say, all of these questions should be answered according to actual data rather than hypotheses– you can't over-complicate your customers' journey. For starters, try to break down your customers' interactions into three general categories:
Awareness
Purchase
Post-purchase
Then, figure out how your customers enter each of these phases and how they can successfully pass through them. If your customers spend most of their time on Twitter, it makes more sense to focus on a strong content strategy for Twitter, and you might consider spending more on Twitter advertising. Get to know your customers better by talking to them, taking surveys, using social media monitoring tools (such as Google Alerts) and web analytics tools, competitive analysis tools, etc.
To give you an idea of what this should look like, here is an example of a customer journey map by Dapper Apps, an Australian-based mobile app development company.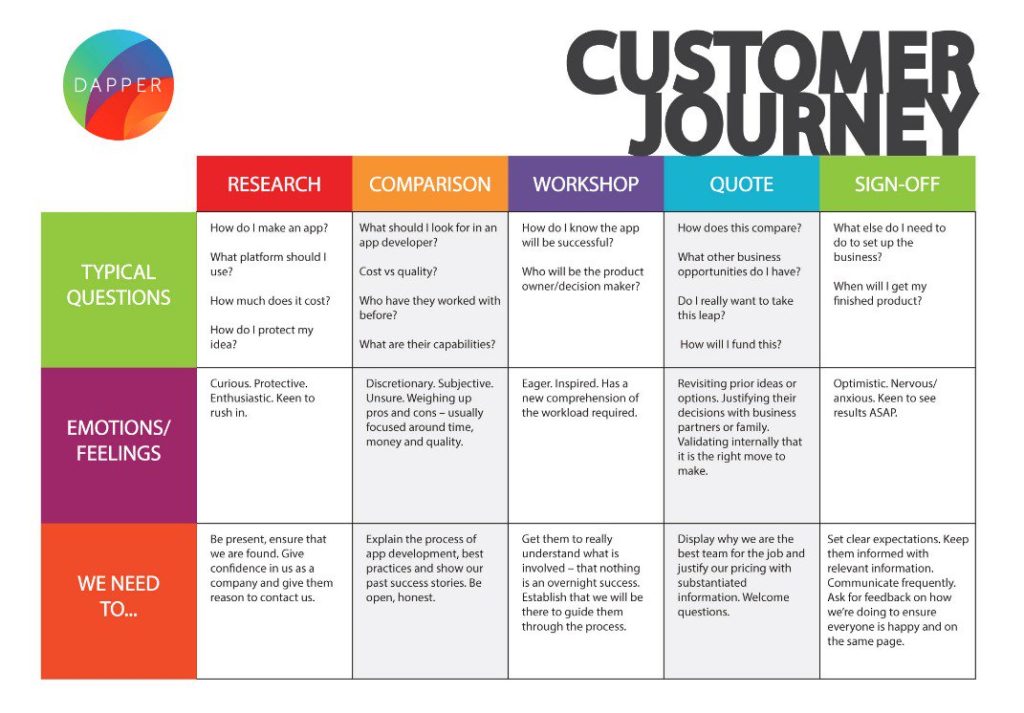 2- Be responsive
One of the most important aspects of a trustworthy business is reliability — especially in times of trouble or technical difficulty. Reliable businesses are human and responsive. Your salespeople and customer service are at the forefront of this part of your business, representing your reliability as a whole. The more human (read: empathetic/understanding) and responsive they are, the more reliable and trustworthy you'll be in the eyes of your customers.
To give you an idea of how important this is, just take one look at the data. According to Customers that Stick, 82% of consumers in the US said that they stopped doing business with a company due to a poor customer experience.

However, improving your customer service is not necessarily limited to teaching communication skills to your sales and support reps. What if your employees are nice enough, but they're not well supported or equipped to address your customer's needs and issues at scale?
Although the behavior of your employees is an undeniably important factor, creating a culture of problem-solving and support among all of your employees is the master key to providing a superb customer service.
Identify where exactly in the buying process you're experiencing the most churn, identify the reasons for the exodus, and work to systematically address the issue. Eliminate the siloed organizational approach by sharing your business's objectives and customer personas with all the departments or roles, and align their activities. Value your customers' feedback (feedback management software such as Osifeedback are great for collecting and managing your customers' feedback). Finally, make sure your employees are satisfied and able to collaborate more easily by providing the necessary tools and education to do so.
3- Show your human side
At the end of his presentation for the 2015 World Domination Summit, Derek Sivers reveals a couple of secrets that he and his team used to grow CDBaby. And guess what? The first secret he mentions is the fact that they actually answered the phone (for which he gets a round of applause from the audience!).
Answering the phone and talking directly with customers is a great way to prove to the customers that your business is made up of real human beings; that people across the table are capable of understanding their interests, problems, and complaints, rather than just a part of some faceless revenue machine. It actually goes without saying that pleasant human interactions help build trust and increase customer retention.
The second secret Derek used to scale CDBaby was turning the seemingly mundane things about the business into something more fun. For example, he used personalization in his transactional emails to show the name of the recipient as part of the sender name, meaning Sarah could receive an email from the sender "CDBaby loves Sarah." This seemingly small tactic was a cool way to connect with customers in a new and unique way.
They also had fun with customer funny customer requests, like ordering pizza every time an album by a customer (singers of course) was asked to be replaced or responding to a customer jokingly asking for a plastic squid. When the customer saw a real plastic squid in the package with his order, he went nuts and posted this video on Youtube, leading to awesome word of mouth and organic engagement.
4- Look professional
Unless you're a very popular brand in your niche, people still judge your credibility based on your looks. And with the explosion of online shopping over the past decade or two, people are very adept at telling whether or not your website is professional and credible. A study shows that high prototypicality of a website (i.e. a website that includes many of the "standard" elements customers expect from a certain type of site) boosts credibility among visitors.
According to GoodFirms's web design research, "flat design, expressive typography, broken grid layouts, virtual reality video, voice user interface and search" are all trends that are getting more and more popular for internet users. They also go on to explain that low conversion rates are often a strong signal of poor website design: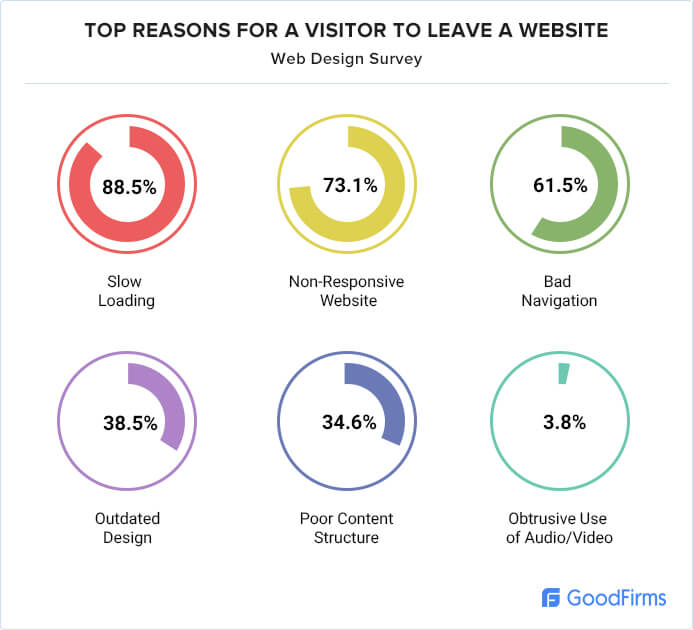 Check out their detailed analysis of the latest web design trends that can improve conversions and try incorporating them with your site using A/B testing to see how they affect performance. Implementing common web design trends like this is a great way to improve your website's conversions: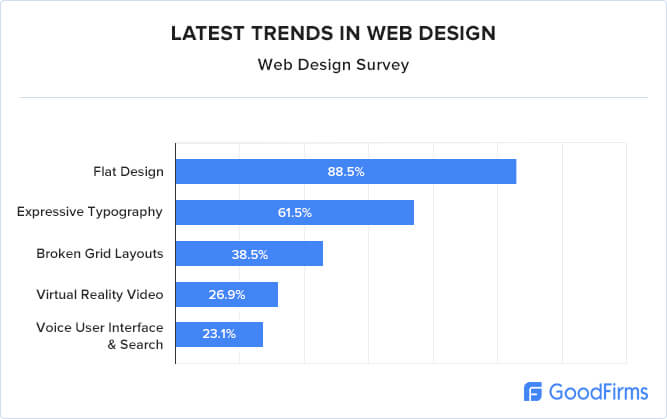 You can either hire a good web design company to do the designing for you, or you can dip your toe in and do it yourself with the help of an intuitive WordPress page builder such as Thrive Architect.
To conclude:
Digital Vidya explains that digital marketing departs from traditional marketing because it provides a two-way communication channel where "businesses can communicate with customers and customers can ask queries or make suggestions to businesses as well." But many businesses fail to take advantage of this essential element when launching marketing campaigns. Trust almost disappears when we fail to listen to customers and identify what matters most to them. At the end of the day, what determines the success of any business is whether we can be a trustworthy companion of our customers or not, so it's in our best interest not to forget about this in our marketing.
Although different tools and tactics like bulk email marketing campaigns have made marketing at scale much easier — particularly with the advent of advanced features like marketing automation, businesses still need to put the work in if they want to gain their customers' trust.
But unlike established businesses, new businesses don't have the privilege of a solid track record or social proof to bolster their credibility. That means they need to do everything they can to prove themselves trustworthy to customers and leads. This trust can still be earned by following the steps mentioned above, ensuring that, above all else, you're putting the customer first.
About the author:
Mostafa Dastras has been featured in many leading digital marketing blogs, including HubSpot, WordStream, SmartInsights, and MarketingProfs. What keeps him up at nights is how he can help his clients increase sales with no BS content marketing (or how people can grow an
email list
). Visit his blog,
LiveaBusinessLife
, or connect with him on
LinkedIn
to get him to write for you.