What's the difference between Marketing Automation and CRMs? Which solution should you be using for your business? We've got the answers!
Marketing Automation vs. CRM
Marketing Automation refers to software that allows you to automate certain marketing tasks using predefined conditions and triggers. For example, you can automatically send an email to a user (i.e. the marketing task) when they abandon their eCommerce cart before making a purchase (i.e. the predefined condition).
CRM (Customer Relationship Management) refers to software that's designed for storing, processing, and analyzing data about customers and leads in order to facilitate better relationships throughout the purchase cycle and customer lifetime.
Although there is some crossover between the two solutions, the term CRM is often incorrectly used to describe them both. Much of this confusion is due to the fact that many solutions that fall under these two categories include in varying degrees both CRM and Marketing Automation features together in one tool.
For many enterprise organizations (most notable B2B and SaaS companies), implementing a CRM solution is a necessary right of passage for refining and tackling the complex sales and marketing process for their business. But, a less expensive marketing automation solution can be just as beneficial (and much more cost-efficient) for small and medium-sized businesses looking to get CRM functionality without paying a steeper price tag for the advanced features that they don't need.
The goal of this article is to explain both of these tools — their similarities and differences — in order to give you a clearer idea of which tool or solution is best for your business needs.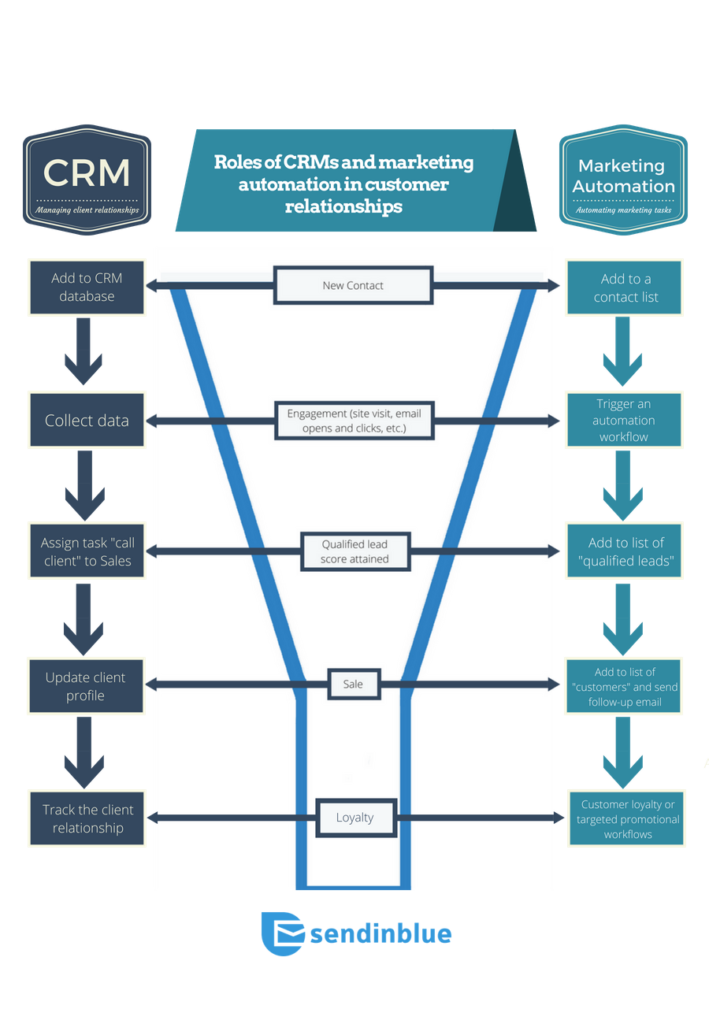 Two tools, two separate use cases
Because marketing automation and CRMs are often confused for one another or grouped together in the same software platform, it's important to understand the different functionalities that separate the two solutions:
Marketing Automation allows you to better manage and essentially automate your marketing campaigns. All you have to do is set up the workflow and let the software do all of the work.
CRMs help you manage complex sales processes and better manage the corresponding tasks that arise. It keeps your sales team organized by providing a database that stores contact information and automatically assigns tasks to sales reps as leads move through the sales funnel.
Marketing automation: A tool for automating your marketing communications
Marketing Automation lets you save time by automating repetitive marketing tasks, including:
Targeting and sending marketing communications (email campaigns, text messages, Facebook ads , etc.)
Dynamically segmenting your email contacts based on their behavior or characteristics
Lead scoring and lead nurturing to build a more effective marketing funnel
As mentioned in the intro, this automation is accomplished by setting up "marketing automation workflows," which are essentially just a set of rules, predefined conditions, and actions that you define in your marketing automation software. These rules and conditions trigger specific actions that accomplish whatever actions or tasks you include in the workflow. For example, you can set up a simple workflow that automatically sends a welcome email to your customers when they sign up for an account or subscribe to your newsletter.
With advanced automation tactics like lead scoring and dynamic segmentation, you can easily develop a sophisticated marketing strategy with campaigns that target your leads and contacts with more granularity based on their characteristics (age group, gender preference, geography) and behavior (purchase history, website activity, previous engagement with your campaigns, etc.). The more targeted your message, the better engagement you'll see with your campaigns overall.
This illustrates why marketing automation is particularly effective during the lead qualification phase in addition to being very helpful for building customer loyalty down the road. It's a very versatile solution for scaling your tedious (but still important) marketing messages and targeting.
For example, you can program campaigns that only target contacts who have completed a certain number of purchases, or perhaps a re-engagement campaign that is automatically sent to contacts who have been inactive for a certain period of time. The possibilities are endless!
CRM: A tool for streamlining the sales process
CRMs are, first and foremost, databases that store all of the information you have about customers and potential customers that can be used to better understand and improve the relationships you have with them.
The most notable CRM functionalities include:
"Profiles" for each contact in your database
Historical data about all the past interactions you've had with each contact
An overview of your conversion funnel and sales process
Mapping the steps of your purchase cycle and a list of contacts who fall in each of these steps
While Marketing Automation takes up the mantle of sending communications on your behalf when contacts meet certain criteria, CRMs act as an informational relay to enable sales reps to establish contact with individuals once it becomes relevant to do so (e.g. setting up an initial sales call, scheduling a sales demo, re-engaging inactive leads, etc.).
More generally, CRMs allow you to visualize your sales process and conversion funnel to prioritize and streamline your operations and be more efficient with handling leads at different stages of the purchase cycle. Depending on how you organize your sales team, this could enable you to, for example, assign small but qualified leads to a newer salesperson, while larger and more challenging leads can go to a more experienced executive on your team.
Nowadays, there are many CRMs that integrate aspects of marketing automation into their solution, but these tools are much more expensive and less user-friendly than a dedicated marketing automation tool.
Quick recap:
Marketing Automation
CRM

Marketing tool
Automates marketing communications
Not built for individual contact management
Enables dynamic contact segmentation
Very useful for eCommerce businesses, B2C companies, and blogs/media websites.
Less expensive than a CRM solution

Helps manage customer relationships

Allows for individual contact management

Based on a model of your sales process

Provides visualization of your sales funnel

Very useful for SaaS and B2B

More expensive than marketing automation
Which solution is best for you?
Choosing the ideal solution will depend on your purchase cycle and how your customers interact with your business:
Short purchase cycle: Common for B2C and eCommerce businesses, this type of business doesn't usually require extensive contact with customers before they make a purchase. If this is your business, you'll benefit more from using a marketing automation solution.
Long purchase cycle: Common for B2B and SaaS companies, longer purchase cycles usually call for a more direct approach involving intervention from a sales team to convince buyers to convert. This system is much more suited for a CRM.
Marketing Automation: Best for eCommerce businesses and bloggers
If you're not selling a product or service that requires a significantly large financial investment for the customer, marketing automation will likely have a much greater impact for your organization.
That's because marketing automation workflows are great for handling simpler problems or goals that arise from common scenarios and behavior occurring over the course of your customers' journey. While the approach is more targeted than sending out a standard email marketing campaign, it cannot replace a human for more complex scenarios that usually come with expensive and comprehensive products that you see in the B2B and SaaS industries.
Abandoned cart emails are an excellent example of this concept in action. By setting up an automated email to follow up with shoppers who abandoned a cart on your site, you can win back a significant amount of revenue that you would've otherwise lost — all after just a few minutes of setup and little to no maintenance afterwards.
This automated approach works well because the reasons people abandon carts can be easily addressed at scale without requiring too much individual attention. The same cannot be said for a customer who is on the fence about signing up for an expensive monthly subscription to a SaaS product.
But marketing automation isn't just reserved to revenue-related tasks like abandoned carts. If you're a blogger, you can set up an automation workflow that sends welcome emails to your new subscribers and uses their behavior to learn more about their preferences. This ultimately enables you to tailor the content of your emails to each individual subscriber based on the things they find most interesting, providing a better reader experience and leading to more engagement and loyalty in the long run.
CRM: Best for B2B and SaaS enterprises
Adopting a CRM solution should be a priority for any business that deals with a prolonged purchase process, or those for which intervention from a sales rep is a must for successfully completing the sale.
This is often the case for businesses in the B2B sector, especially companies that provide SaaS (software platforms that are available online rather than installed locally) tools.
Investing in an expensive software tool comes with many consequences and a deeper time investment for the buyer. That's why these types of businesses usually require a sales person to guide prospects and leads through the final steps of the purchase process, providing any information they might need and reassurance that it's the right solution for their business.
With this type of sales process, CRMs are extremely useful for keeping things organized. They allow you to easily visualize where each contact or lead lies in your sales funnel and know exactly which steps your sales team should take for each of these contacts in order to maximize conversions.
Integrating Marketing Automation with your CRM
For more advanced businesses, the ideal solution might still be combining the functionalities of both of these tools with the help of plugins or software integrations.
The advantages of linking marketing automation and CRM are undeniable: you can cover your entire conversion funnel, from collecting contact information from new leads to building more customer loyalty after they've made a purchase.
In this case, the goal of your marketing automation strategy would be to funnel in new, "qualified" leads to your CRM, passing the torch to your sales team so they can finish the process.
Luckily, Sendinblue offers integrations with many of the most popular CRMs on the market, including Salesforce, Everwin, CXM, Intercom, and more.
Advanced Marketing Automation features in Sendinblue are available for free in all plan levels for the first 2,000 contacts. Why not try it out today?