Many small business owners make the mistake of thinking that their website's homepage can also act as a landing page.
Myth busted: it can't!
Your website's homepage is simply the digital storefront that conveys how you want your brand to be visually represented online. A landing page, on the other hand, is a page that is designed for a very specific purpose. The name can be confusing though… Landing pages aren't simply a place where visitors"land." They're also a place where visitors are supposed to complete a specific action.
Take a look at giant retailer Amazon's homepage:
Looks like a warm and friendly way to get in the mood for shopping, doesn't it? That's all it is! The face of the online store that gives you an overview of what people are talking about, what they are buying, and other how-to's and interesting content.
Now, here's one of Amazon's landing pages: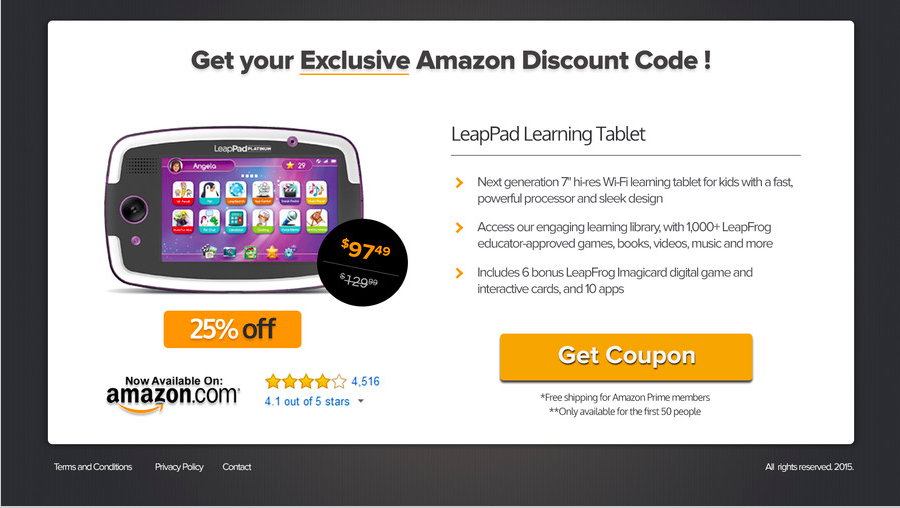 As you can see, this landing page has a much more targeted purpose. It isn't merely a page that we look at, but one that calls for engagement. Visitors on this page are meant to do something… Take a particular action: like downloading a coupon to get more perks (in this case, a tablet, access to the Amazon library, and free digital games and apps).
A landing page is built to convert. Not American dollars to British pounds or inches to centimeters; but visitors to subscribers – or customers. In other words, any page that asks for the visitor to take action in order to convert them.. THAT is a landing page!
Can a Landing Page Help Grow your Business?
By using educational, and even entertaining landing pages, you can convert casual shoppers or people who click on your ads into paying customers. You need to create a place that pushes your visitor to make a purchase decision, and bringing them to a page with a call to action (CTA) is how you make that happen.
Let's refer back to our example above. Look at Amazon's landing page: the moment visitors arrive at the "Get Coupon" button, they're prompted to make a decision – should I click on it, or should I leave? It's the marketer's job to understand how to get these visitors to a 'Yes, I want to do this!' That means, that the better you are at understanding the needs and concerns of your customers and communicating how your product or service aligns with those, the more conversions you'll get.
There are countless tactics businesses use to acquire more customers: multichannel marketing, social media marketing, inbound marketing, etc. And, landing pages? Well, they are a powerful conversion tool that when effectively executed, work to enhance these tactics and generate more sales for your small business.
Let's explore 4 reasons why small business landing pages are such a great tool for growth.
1. Measurable
Measuring the effectiveness of your small business landing page gives you a "big picture" perspective on how well you are doing at converting visitors.
This is beneficial because it enables you to see changes in performance in very clear terms. If you notice your numbers drop from one month to the next, you'll know that there may be something wrong with your page and it could be time for a refresh. Are the graphics in the wrong place?… Is there too much text?… Are there too many form fields? The great thing about landing pages is that they can be tweaked and tested in order to determine the format and content that gets the most clicks and conversions.
2. Easy to test and iterate
Conversion research makes it possible to dig deep into analytics, and crunch numbers to determine where your biggest conversion lift opportunities lie. This comes from running split tests. But only 52% of companies that use landing pages actually run tests to find ways to improve conversions. By running different pages with varying layouts and content, you can get a better understanding of which landing pages outperform others. Iterative testing is also effective in helping measure different elements of a landing page against one another to optimize results.
But, before running any test, you need to figure out the goal of your testing: what is it that you're trying to achieve. Combining split, or A/B tests, with an iterative approach to optimizing your pages over the course of your testing timeline will yield the best results.
3. Create a more targeted conversion funnel
Building unique landing pages for different offerings or limited-time promotions will allow you to create a more targeted experience for your customers. By establishing different funnels for different products or offerings, you can segment customers into smaller groups. Then, you'll be able to more easily optimize campaigns for those segmented groups. Creating a more targeted conversion funnel like this will increase sales because you're providing a more personalized and tailored customer experience.
4. Learn more about your customers
Adding additional form fields to your landing pages in order to collect more information from a contact when they sign up or contact you lets you know more about their needs, allowing you to further personalize their shopping experience. The more personalized the experience, the greater the chance you have to get the conversion.
Tips to Optimize Your Small Business Landing Page
Establish a clear goal
You should always be approaching your landing page game with specific objectives in mind. For example, maybe you're trying to:
Generate leads for your sales team?
Get more visitors to download an eBook?
Sell more of a certain product?
Each objective calls for a different strategy in creating the content, design, and CTAs for your landing pages. If you want to capture the attention of your visitors and encourage them to take the next step, you need to establish what it is you're trying to achieve. A one-size-fits-all landing page is not a solution. Each should be unique, clearly conveying the desired action or outcome that you want from the visitor.
Avoid creating too much friction
An important question arises when trying to build an effective small business landing page – how many form fields should be included to maximize conversion rate? Forms allow you to collect useful information about a visitor. But, visitors will often abandon a page if they think it has too many form fields. That's because it can feel invasive to give too much personal information on the internet, or it can also simply be the result of a visitor not wanting to put in the amount of effort it takes to fill out a few extra boxes.
Either way, if you find yourself in a situation where you have a landing page, plenty of traffic, but no conversions, the number of form fields may be causing the problem. Keep in mind that the optimal number of form fields for the most conversions from your landing pages is three, though this may be different for your specific audience.
Adding too many form fields creates friction to the conversion process, which reduces the success rate of your page. Be sure to only collect the information that you need from your page visitors to make it easier for the contact to interact with your small business landing page.
Don't forget to follow-up
In sales and marketing, the follow-up can make or break your success. If you're collecting email addresses from your landing page visitors, be sure to establish a relationship with them through a follow-up process. Send your visitor a welcome email to continue the engagement.
This is where marketing automation comes in. Once you have a lead, you can use lead scoring and lead nurturing to continue building that relationship and moving leads closer to a conversion. Client relationships are essential for small businesses, and using a marketing automation tool to scale one-to-one communications with new leads and customers is a great way to start off on the right foot.
To Conclude…
A landing page is essentially a puzzle. The right pieces have to come together. All the elements should form a page that guides the visitor toward conversion.
Companies see a 55% increase in leads when increasing their number of landing pages from 10 to 15. So, focus on your conversion rates and study the landing pages of your competitors. This way, you'll know where to invest your time on getting more clicks and conversions – all while spending less money!