Want to launch your first email marketing campaign? Or are you looking for a watertight process to improve your strategy? This 20-point email marketing checklist is your ticket to campaign success. 🚀
Dodgy design, broken links, vague CTAs, wrong recipients…
A lot can go wrong in an email. And jumping into campaign creation without a clear strategy makes costly errors more likely.
That's where the email marketing checklist comes in.
It'll walk you through how to prep your email list, create click-worthy content, craft killer subject lines — and everything in between. Plus, you'll learn the must-have checks for your email QA and sending.
The 20-point PDF checklist takes you through each step of launching an email marketing campaign:
The Ultimate Email Checklist for Campaign Success
1. Clean up your contacts
Successful email marketing starts with the list. So that should be the first thing on your campaign checklist too.
When it comes to email lists, it's quality over quantity. There's no use sending out a mass campaign that goes straight in the recipient's trash — or worse junk mail.
So, your first task is to clean your list of contacts you shouldn't be sending to. This includes:
Non opt-in contacts — those who haven't explicitly agreed to receive your marketing emails.
Invalid email addresses — often due to typos. Most email service providers automatically remove such addresses when they can't deliver messages.
This will not only save you wasted email sends, but it will also aid your deliverability. Those who haven't chosen to hear from you will likely unsubscribe or even mark your email as spam. This harms your sender reputation. As does a high bounce rate — when emails fail to deliver.
2. Prime your list
Once you know who you're not sending to, you need to decide who you'll target — and how.
The most effective campaigns tailor content to different groups of subscribers, or segments. This will improve your click-through rate as the email will be more relevant to the reader.
An email marketing tool with contact segmentation features will make your life easier here.
3. Define your goal
After deciding on your target audience, the next question to ask yourself is what value they'll get. This could be special offers, a solution to a problem they face, or simply interesting content.
While your email needs to be packed with value, you should only ask the reader to do one thing. This is your call-to-action (CTA).
You may think offering multiple options will up your chances of clicks. But you'll risk overwhelming subscribers, causing them to switch off completely. So, to maximize your conversion rate, put your CTA front and center and make sure every link and button leads to this aim.
4. Perfect your copy
Next up on your email checklist: the content.
The key to effective email copy is keeping it short and simple. Avoid long sentences and complicated terminology. Make your text easy to read by breaking it up with headings, paragraphs, and lists.
Simple doesn't have to mean soulless though.
While the tone should depend on your brand, the best email copy is personal. One easy way to add character is with a well-placed emoji.
You should also keep the focus on the reader, rather than your organization — draw them in with pronouns like "you". You can even address the reader by their name if your email marketing tool has personalization features.

5. Follow design best practices
Then, you need to catch your audience's eye with an appealing design. Use a newsletter layout that draws attention to your CTA to maximize clicks. Images also have the potential to enhance your email — so choose wisely!
Your design should look as good on the smaller screen of a mobile device as on desktop. An easy way to ensure this is by starting from a responsive HTML email template. You might find your email marketing service comes with ready-to-use, free templates. All you have to do is simply adapt your chosen template to your brand's colors, fonts, and logo.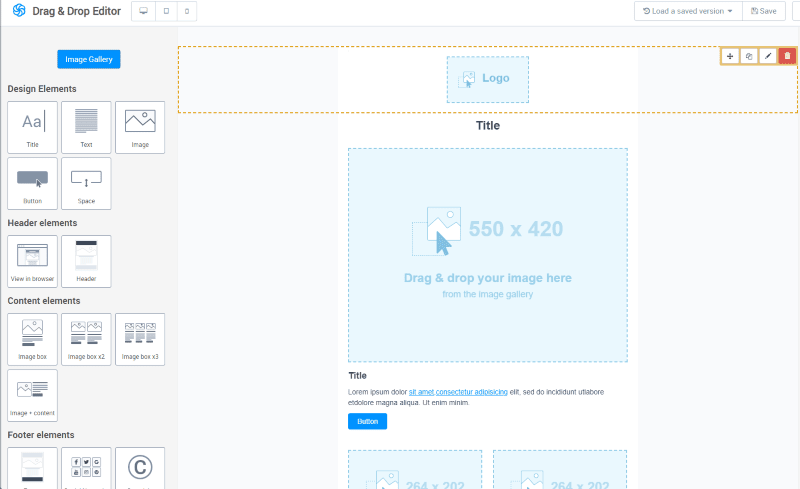 6. Package the email for opens
After spending time perfecting your email content and design you'll want to make sure subscribers open it.
For the best first impression, your email QA checklist should also include:
The email subject line — use this to tell recipients why they should open.
The preview text — this should complement your subject line with extra details.
The email sender — the "from" name and email address should be recognizable and instill confidence.
Following best practices for these three elements will seriously boost your campaign's open rate.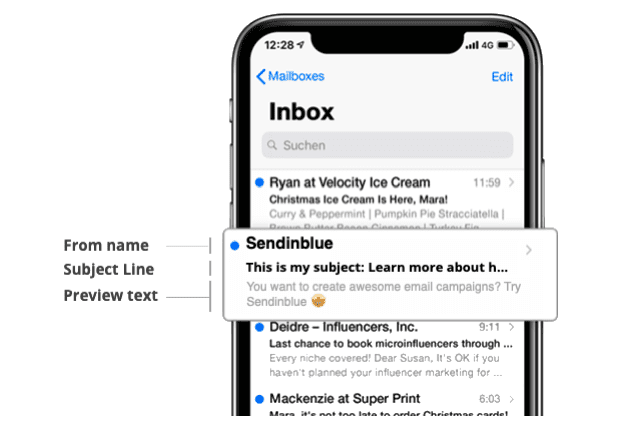 7. QA your final email
Once your campaign is ready, next on your checklist is to audit your email and proofread for any mistakes.
Key things to always double-check before sending an email include:
Typos, spelling, and grammar errors
Broken or incorrect links
Personalized content not working
Preview your campaign in your emailing platform, but also send a test email. This is the time to check how your email looks on different devices (mobile, tablet, desktop) and email clients (Gmail, Outlook, IOS Mail…).
8. Hit send on your campaign
But wait, not so fast.
In email marketing, timing is everything. So think carefully about when subscribers should get your message. Most platforms will let you schedule your email at the time and day of your choice.
Many factors impact your ideal send time, from whether your subscribers are businesses or consumers, to their timezone. What works for one person might not for the next. So even better if you can use a send time optimization tool to tailor to each recipient
Download Your Checklist for Flawless Campaigns
Ready to try this process out on your campaigns?
Get the full 20-point checklist in handy PDF format today — simply fill out the form below to receive yours via email.
Free Email Marketing Checklist
By downloading the free checklist, you agree to receive monthly marketing tips and exclusive discounts from Sendinblue.*