Marketing to millennials is tough, but Sendinblue's new consumer survey reveals a massive opportunity for retailers to understand millennial shopper behavior and preferences in order to better connect with them this holiday season!
At Sendinblue, we know the holidays are a critical time for marketers—particularly if you work in retail. A large chunk of the year is spent preparing for those last couple months that can make or break your annual revenue goals.
On top of this regular pressure, we already know holiday ecommerce sales for 2017 are expected to increase up to 4% over last year. So, it's never been more important to nail that holiday marketing strategy.
To help retailers properly prepare for the upcoming season, we conducted a survey of 750 US millennial consumers to remove the guesswork.
Our questions focused on uncovering key insights like how and when consumers plan to do their shopping and which communication channels and types of marketing content they prefer to receive from retailers.
If you want a blueprint to holiday email marketing success, here are the details:
Is Timing Everything?
Timing emails for certain hours of the day is less important for the younger generation of consumers. With 68% of millennials checking email at least 2-5 times a day, they'll see your message.
When asked about the specific times that they check email, 33% of respondents (more than any other category) indicated that they check email at all times throughout the day — from when their alarm goes off, to when they're at work, all the way until they're about to get some sleep.
As for traditional shopping holidays like Cyber Monday and Black Friday, millennials indicated these terms don't mean much.
The largest group of respondents (31%) are planning to do their holiday shopping in the first half of December rather than during these specific promotional periods.
Online Shopping: So Hot Right Now
In a new twist on the desert island question: If millennials had to choose only one method of shopping this holiday season—between online and in-store—they'd ditch the in-store experience to keep their digital options open.
And that makes sense since the majority (66%) of millennials noted that at least half of their holiday shopping will be done online this year.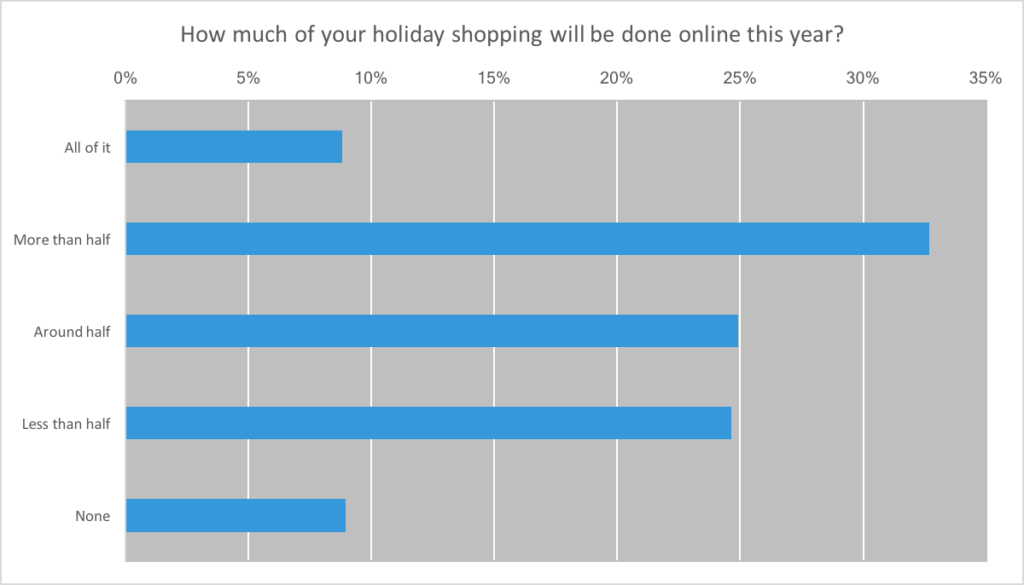 While more millennial consumers prefer to shop online than in store, at the end of the day, it really depends more on what they're buying needs dictate.
For example, how soon can they get the item they need and will the shipping costs outweigh the convenience? If it's too expensive to ship, or more convenient to buy in person, they'll likely opt for in-store purchases.
In fact, that scenario plays into another survey insight: millennial shoppers want to see email perks such as free shipping or two-day delivery from brands in their marketing promotions. While they may prefer online shopping in most cases, millennial consumers still like immediate satisfaction (or close to it!).
Seal the Deal
Millennials may be more skeptical when it comes to marketing than generations past, but they still appreciate a good deal!
The majority of millennials — almost 60% — said they will take action from email marketing content that promotes site-wide or product category sales or promotions.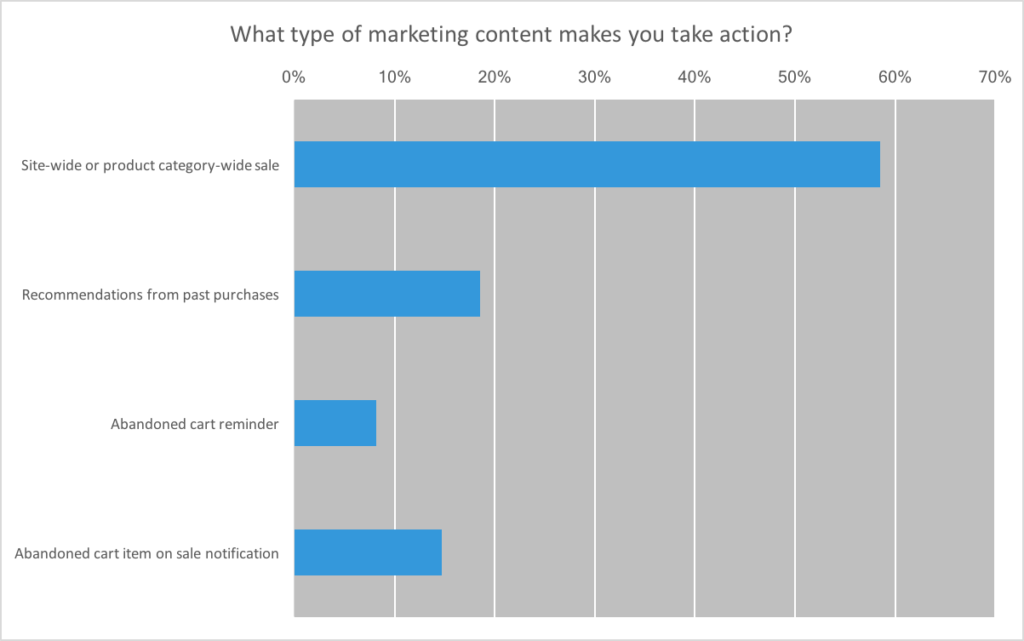 Retailers also shouldn't hesitate to send coupons via email—it's the number one way millennials will leverage the email you sent them when in a physical store. In short, when it comes to the Internet, it may be out of sight, but it's never out of the millennial mind.
Email: A Missed Opportunity
Email was the overwhelming winner when millennial consumers were asked about their preferred channel to receive marketing communications from brands, receiving over 60% of the vote. The next two channels, text message, and social media, were neck and neck at 13% apiece.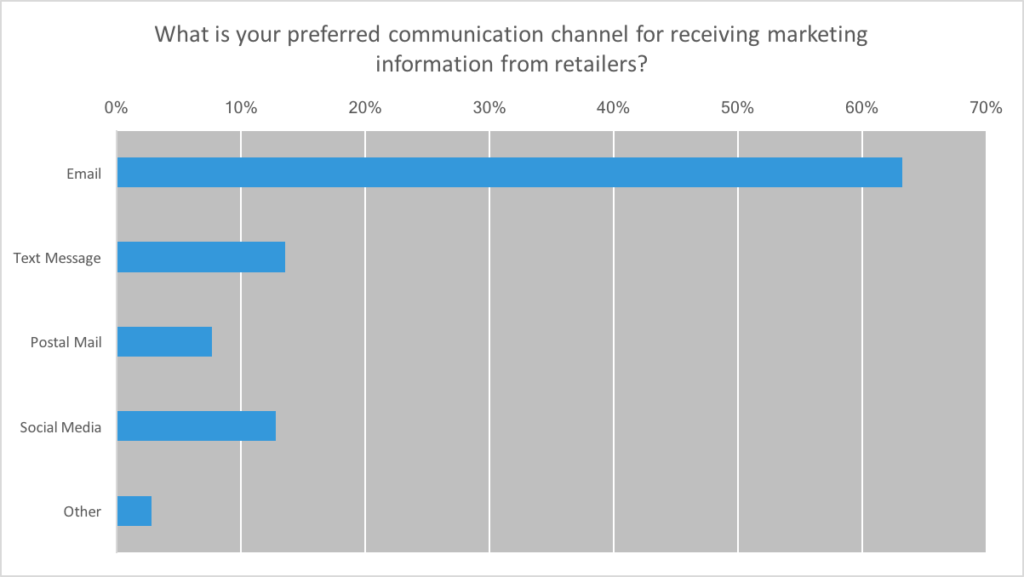 So, despite millennials being blamed for the death of all things good, email should not be added to that list.
But, those numbers aren't just good news for email — They also pose a massive opportunity for retailers.
Our largest group of respondents (35%) said they're currently only receiving 1-5 emails from retailers each day. That's not per retailer — that's the total number they receive across all businesses they engage with via email.
So, brands need to find better ways to encourage younger consumers to sign up for their emails so they can start sending messages more frequently and avoid missing out on this valuable channel.
Find the Sweet Spot
We know that the modern consumer is quick to pull the plug on a business that does them wrong.
In fact, their tolerance for customer service and marketing mistakes is nearly zero. So how do you ensure you're not walking, or crossing, that thin line?
Know the email marketing sweet spot.
We know millennials want you to engage with them in their email inbox, but they also don't want you to abuse the channel. Otherwise, you'll come off looking like spam.
55% of millennials said that the number one mistake retailers make is sending too many emails. So, if you flood their inbox, it'll be a quick trip to the trash bin, or worse, the spam folder.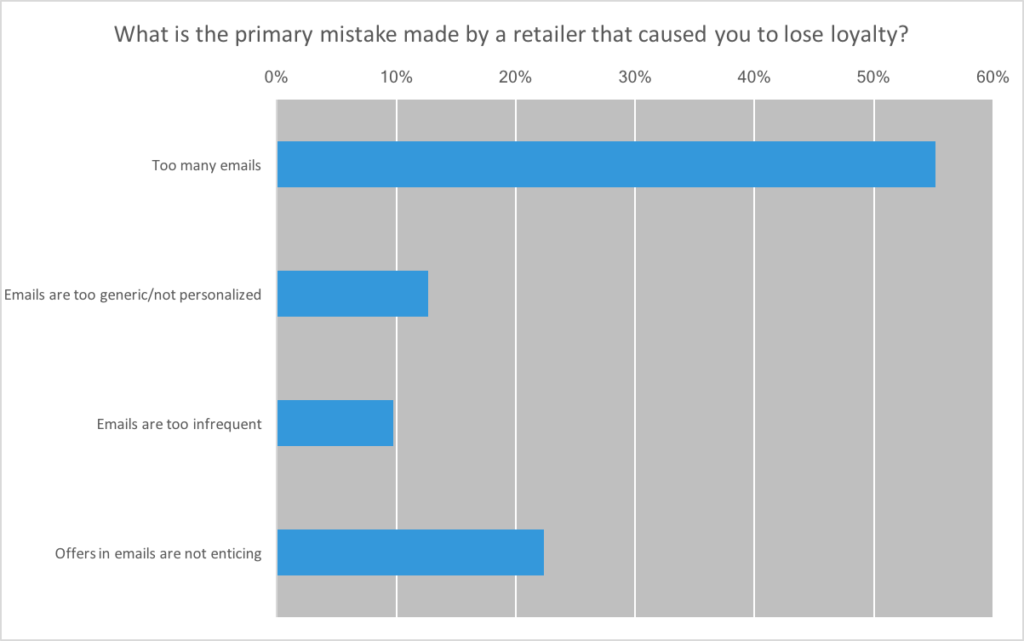 What this means is you should use email, but use it wisely. Give them what they want: promotions, coupons, and the occasional free shipping, but be upfront about frequency and always monitor engagement and make adjustments if you're readers aren't happy.
---
Now you've got the knowledge, so use it as a power tool and smash your 2017 numbers out of the mark. Happy holidays!
If you want more content like this, subscribe to our newsletter below and follow us on Twitter!