Reading time about 13 min

Facebook Ads are an effective way to market your business, boost traffic to your website, generate subscriptions, and ultimately fulfill your marketing goals.
In this complete guide, discover how to create a Facebook ad and manage your Ads using Sendinblue, with all the tips and best practices you need to make the most out of it !
Create Facebook Ads on Sendinblue >>
What are Facebook Ads?
Facebook ads are targeted to users based on their location, demographics, interests, and behaviours. They allow you to get your message in front of the people who are most likely to want your products or services.
Facebook is a powerful medium to connect and engage with your audience, particularly when used alongside email marketing as part of a wider omni-channel strategy.
Read on to discover why and how small businesses can leverage Facebook ads with SendinBlue to drive more conversions and boost ROI.

Why should small businesses use Facebook ads?

Did you know that there are about 1.52 billion daily active users on Facebook?
Facebook has a greater reach than any other social media channel, meaning it's highly likely that your target customers are amongst this user base.

Facebook ads are an effective acquisition and growth tool for small businesses looking to drive awareness.
They help companies to generate high-quality, low-cost leads, which is why SendinBlue have integrated a powerful Facebook advertising management tool into the platform.

The ability to create and manage Facebook ads directly from your email marketing tool offers two key benefits:

Target contacts from your SendinBlue mailing list to nurture your relationships
This omni-channel approach works to build a stronger and more consistent experience for your audience and higher conversion rates for your business.
Target similar contacts to those you already have
Creating 'look-alike audiences' that resemble your target list is an effective method to expand your target audience with people who are likely to be interested in your product and service.

More and more businesses are recognising the importance of an omni-channel marketing approach.
Instead of thinking of an email and social media experiences separately, finding a way to link your touchpoints makes for a far more cohesive and holistic experience that your customers can tap into wherever and whenever they want.

How to create Facebook ads with Sendinblue

Getting your Facebook ads set up can seem daunting at first, but fear not, our step by step guide to creating your first Facebook ad will have you up and running in no time.
1. Connect your Facebook Ads account with SendinBlue

First of all, you'll need to connect your SendinBlue account to your Facebook business page.

Log in to your SendinBlue account and from your dashboard, click on "Facebook Ads" in the left column.

Then click on "Create Facebook Advertising" to get started.

On this page, you will select the Facebook page that your ads will be connected to and give your campaign a name.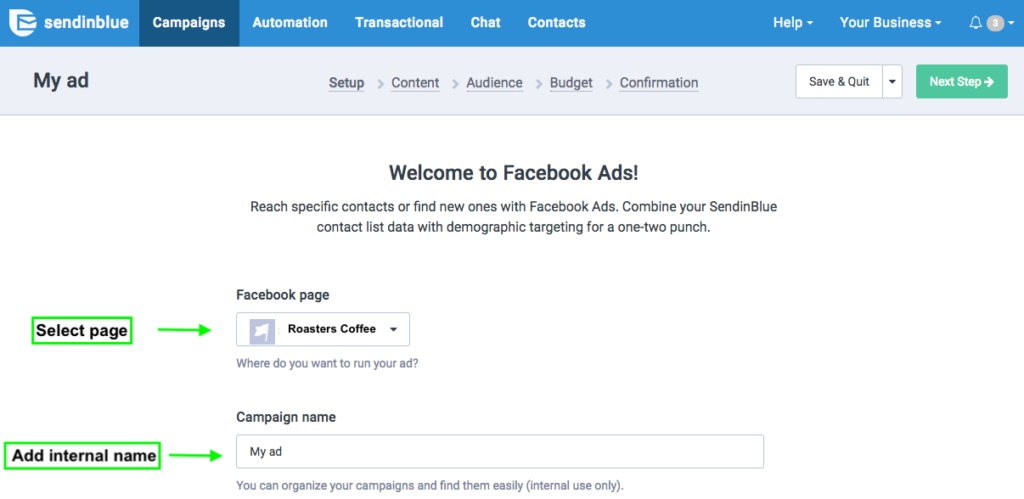 If you manage multiple pages, you can select the desired page by clicking on the drop-down menu.

If you're a first-time user, you'll need to click the 'Connect to Facebook' button and follow the steps on-screen. Then on returning to SendinBlue, you can confirm the Facebook page to promote in the campaign.

It's as simple as that! Now you're ready to create a Facebook ad campaign.
2. Create a Facebook ad content
Here comes the fun part! Now it's time to start creating your Facebook content.

To get started, choose the type of ad you'd like to run: single image or carousel (multi-image).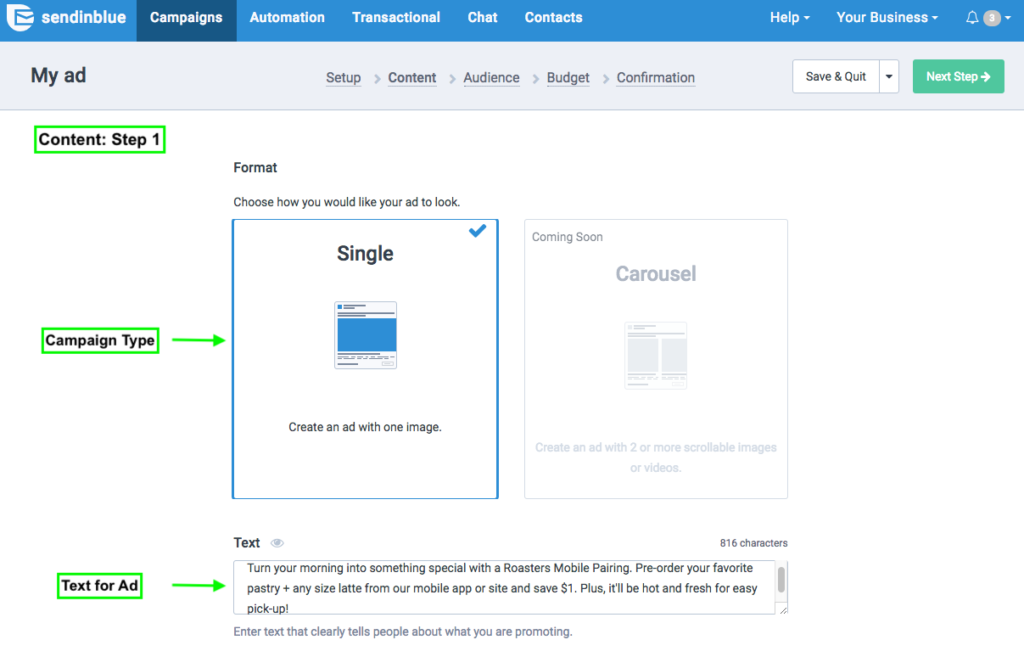 Then you'll need to add the copy you'd like to appear on the ad in the text box. This text will appear above the image in your ad.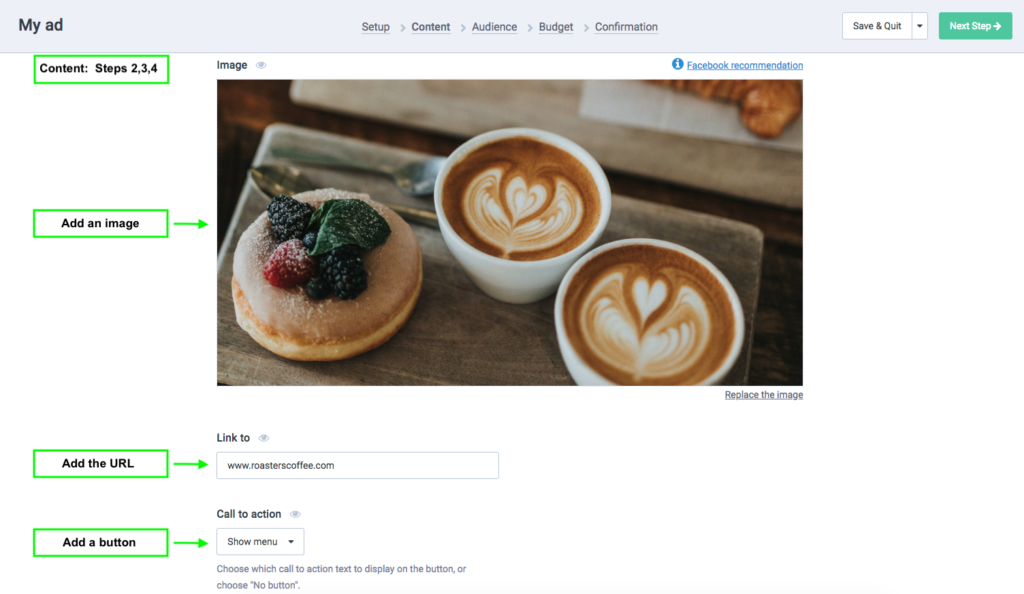 Next, you'll need to import the image by dragging and dropping it into the block provided or by clicking on the "Import an image" button.

Make sure you choose a high-resolution, eye-catching image to attract your audience's attention.

Note: The ideal dimensions for the image of your Facebook ad are 1200 x 628 pixels. Check out this Facebook Ads Guide for more recommendations on the creative specs.

Then you enter the URL you want to link to. When your prospects or customers click on your ad, they will be redirected to the page you specify here.

Next comes the call-to-action button. CTA buttons are optional, but it's a useful feature to give your audience a full understanding of the necessary action they should take. Here are some of the CTAs that Facebook offers:

Learn More
Sign Up
Download
Contact Us
Shop Now
Book Now
Watch More
Apply Now
Then you have the option to edit the title and description of your ad, which appears underneath the image in your ad.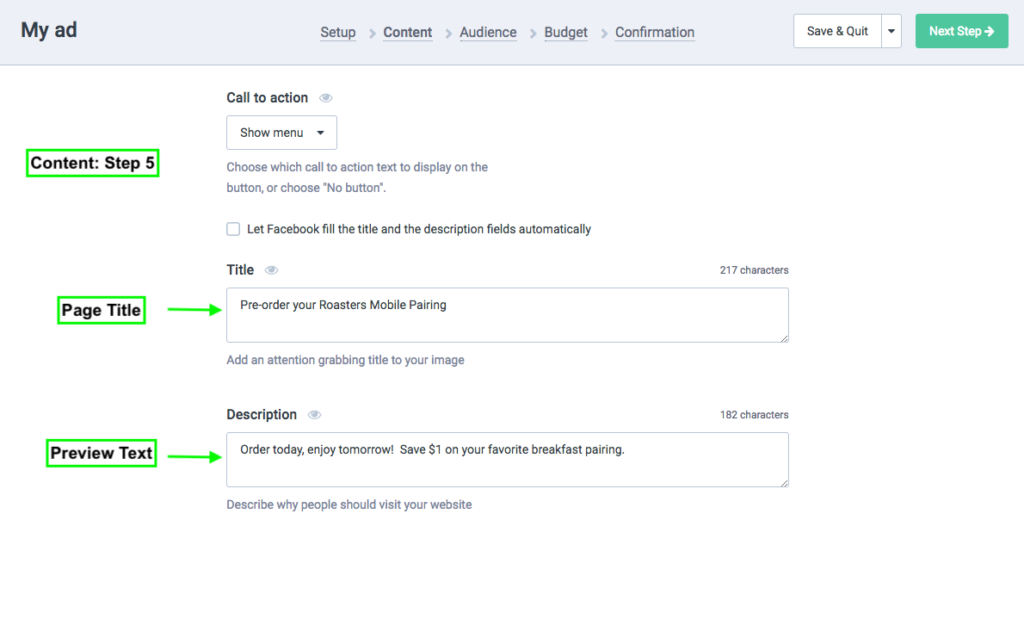 By default, the option to "Let Facebook fill the title and description fields automatically " is checked. This is what we recommend to optimise your advertising on Facebook.

If you'd like to customise these fields, just uncheck the box and add your own copy to the relevant text boxes.

Once the ad is saved in this step, you will be able to preview it exactly as it will appear on Facebook.

3. Define your target audience
Now it's time to build out your target audience. Targeting is one of the most important elements of a successful campaign. If your ads aren't getting in front of the right audience, there is no point in creating them in the first place. Getting your targeting right leads to higher engagement and higher conversion rates.

When it comes to defining your target audience, you have two main audiences to choose from. You can choose one or both options:

People who are already in your SendinBlue contact list(s)
Facebook users who are similar to the people in your SendinBlue contact list(s)

One of the major advantages of using your SendinBlue account to manage your Facebook Ads is the ability to target your existing subscribers. You can also expand your audience using your mailing list to create a lookalike audience on Facebook. This is a powerful tool to find people who are likely to be interested in your business because they're similar to your best existing customers.

If you choose to target people similar to your existing contacts, you can then you'll also need to select the country in which you want these people to targeted.

Note: If you choose the first option to select users in your contact list, you need to select a minimum of 20 contacts in your list. If you choose to create a lookalike audience, you need to select 500. You can select these contacts by clicking on your list in the box at the bottom of the page.
4. Set your budget
Setting campaign dates and a total budget is important to control your advertising spend.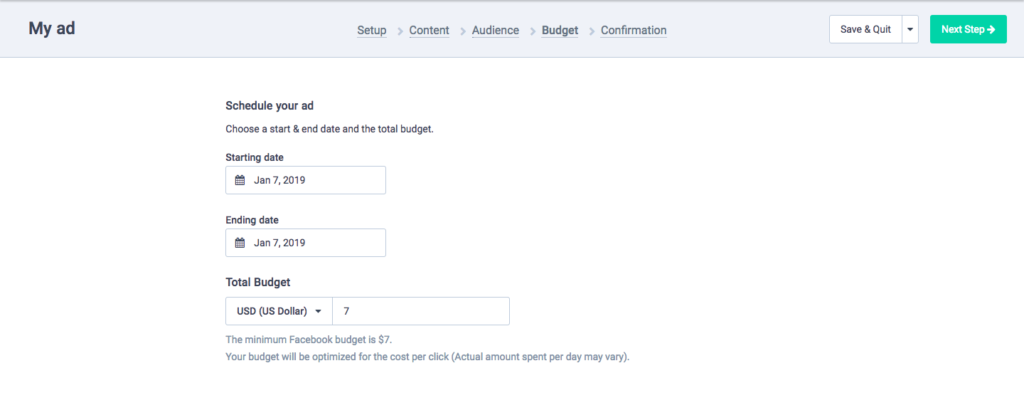 Depending on the selected period, the platform will display the minimum amount accepted by Facebook.

Facebook will optimise how your campaign budget is spent to maximise your results and keep your cost per click as low as possible.
While the daily budget may vary, the total spend will not exceed your total budget set.
If there is any unspent budget, it will be credited back to your SendinBlue account balance after the campaign is completed.
5. Confirm your ad and publish
Before setting your campaign live, you will be brought to a confirmation page where you can review all elements of your Facebook Ads campaign.

You can click the content drop-down menu to preview how the ad will appear in all formats (Desktop news feed, Mobile news feed, etc.).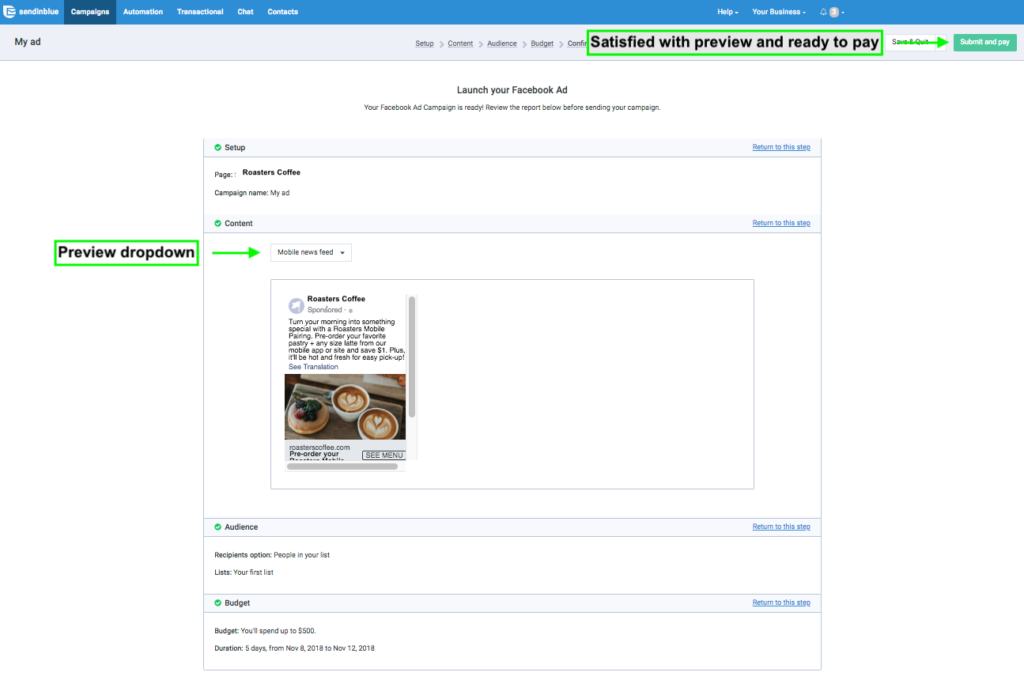 To revise any element of your ad, simply click the 'return to this step 'link next to "Setup", "Content", "Audience" or "Budget". After saving your updates, you can return to confirmation page.

Once everything is in order, you're ready to click the "Send and Pay" button at the top right of the page to confirm you're satisfied and ready for your ads to start delivering to your target audience.

Congratulations, your campaign is now ready to go live!

7 tips to optimise your Facebook Ads and drive more conversions for your business

1 – Showcase your value

People don't want to just be sold your product or services, they want to understand the benefits you can bring for them and how you can make their lives better.
Use your Facebook content to focus on your target audience and highlight the value you can provide.

2 – Use striking visuals

Include strong, eye-catching images for your ads. The image is the first element your audience is likely to see and your best chance to catch their attention. Images of people work well on social media as it helps your users relate to the ad. When you create your facebook ad, make sure not to include too much text on the image. Images that consist of more than 20% text may be rejected or experience reduced delivery.

3 – Make your ads engaging

Invite your audience into the conversation with questions and include images and scenarios they can relate to. Try calling out your target audience directly to make your content immediately relevant for them. You should also use your copy to create a sense of curiosity and intrigue to entice them to click through!

4 – Include a compelling call to action

Make sure your audience knows exactly what you want them to do when they see your ad. If you want them to sign up for your newsletter or your next event, tell them! Unclear copy can lead to a wasted click or no engagement at all.

5 – Test, learn, and optimise

Never assume you know exactly what makes your audience tick! The results may surprise you. Create multiple variations of your ads by tweaking the images and copy so you can test what your audience responds to. Use performance analytics to track your ads closely and optimise towards the creatives that are meeting your objectives.

6 – Analyse results

Creating campaigns that drive strong results require close assessment and continual optimisation. Facebook offers a host of metrics that you can track to analyse the performance of your campaign. Here are some important metrics to monitor the impact of your ads:

Frequency: The ad frequency metric shows you the amount of times each of your advertisements have been seen by a unique user.

Usually, your audience needs to see your ad more than once to be able to recall it, and to take action. But, naturally the higher the frequency gets, the less effective your advertising is going to become.

There's no hard and fast rule for the ideal frequency as there are a host of other factors that play into your frequency impact. This article from Facebook can help you to determine the right frequency strategy for your business.

Click-through rate: Click-Through-Rate (or CTR): The number of unique clicks your ad or campaign received divided by the number of times it was shown (impressions). This is an important metric to benchmark your performance and you want to keep it as high as possible.
Cost per click: Cost per click (or CPC) shows, on average, how much each link click costs you. It's calculated as the total amount spent divided by the number of link clicks. You want to keep this metric as low as possible.

If it increases over time, it's important to revise your strategy and monitor CPC closely.

Relevance: Facebook has recently released three new metrics to replace relevance score and help advertisers a greater level of granularity when it comes to measuring the relevance of your ads to your audience:

Quality ranking: How your ad's perceived quality compared with ads competing for the same audience.
Engagement rate ranking: How your ad's expected engagement rate compared with ads competing for the same audience.
Conversion rate ranking: How your ad's expected conversion rate compared with ads that had the same optimisation goal and competed for the same audience.
These relevance diagnostics are especially useful when it comes to testing and optimising campaigns. They can help advertisers to understand whether changes to creative assets, audience targeting, and even the post-click experience might improve performance.
Wrapping up
In order to run a successful Facebook advertising campaign, you need to be fluid with your strategy and use real metrics and insights to guide your approach. High-performing campaigns aren't based on assumptions, they are based on data. You need to constantly test, learn, and, optimise your ads to drive the best ROI for your business.

Now you know how to create a facebook ad and you're ready to unlock the full potential of your omni-channel approach! Get started on your first Facebook ads campaign in just a few clicks from your SendinBlue account.