Getting tons of traffic on your website is fantastic, but it doesn't matter after a certain point of time. What really counts is turning visitors/lurkers into customers. To do that top marketers turn to lead magnets through which they are able to demonstrate that they understand their audience's struggles and give them suitable solutions.
And so, in this blog post we will discuss three such lead magnet ideas that you can use to impress your audience and convince them to give their emails. Right then, let's get started.
What is a Lead Magnet?
A lead magnet is a resource that a website visitor receives in exchange for their email address. This lead magnet could be an e-book, email course, cheat sheet, webinar, etc.
Now here's the deal: free as a lead magnet might sound, unless website visitors believe it's valuable enough to barter their emails they won't budge.
Why are Lead Magnets Important?
Lead magnets are important if you seriously want to build your email list. And email marketing, as you know, has an unbeatable ROI. It's one reason why 84% of B2B marketers have admitted to implementing it as a marketing tactic. Add to that, 31% of email marketers consider it as the best way to nurture leads.
Bottom line: lead magnets and email marketing make a great tag team. So obsess about creating top-quality lead magnets as well as sending personalized emails. As it happens, personalized attention connects you with your audience at a human level and results in more sales opportunities.
4 Features of an Effective Lead Magnet
…that'll make people want to give you their email addresses — no questions asked.
1. Matches customers' intent. Are they still getting to know you? Offer a quick-consumption downloadable lead magnet like a checklist. Or are they somewhere in between? Tempt them with an email course.
2. Solves their one big problem. What do you gain? Their trust in your problem-solving ability.
3. Optimized format. Content should be scannable and easy to understand from the get-go. That way they can get the goods real fast and move faster along the funnel too.
4. Backed by authoritative content. Actionable insights backed by research are more convincing than run-of-the-mill advice that anyone can produce. Another option is to collaborate with industry experts.
3 Lead Magnet Ideas to Get More Email Signups
As promised, there aren't any downloadable lead magnets on this list.
Lead magnet idea #1: Quiz
A quiz is an interactive lead magnet. People love taking them because they get a "buzz from self-disclosure". Think of it this way: Me asking you to answer a few questions so I can tell you something you don't know about yourself. At first, you might think I'm bluffing, but you might as well do it anyway because what's the harm?
Purely from a business perspective, using quizzes is like hitting the jackpot. Prospects, not knowing they're revealing their pain points, answer a series of questions, and often submit their email addresses to see the results. After which, it's your job to segment them based on their challenges and deliver personalized experiences.
Want proof that it works? Using a skincare quiz, Annmarie Gianni generated $200,000 in new sales and 20,258 new leads in a mere two months. The reason this lead magnet idea worked was because of the "I want to educate my client first" approach. Yours should be the same: Educate first, sell later.
How to create a highly converting and engaging quiz lead magnet
Select a topic that addresses your target audience's pain points.
Ask qualifying questions in a friendly tone so that answering them seems less of a chore.
Add illustrations to help users answer better.
Give actionable outcomes that circle back to your product.
Finally, send personalized emails based on quiz results.
ThirdLove has a "Find Your Fit" quiz lead magnet on their website that checks the above-listed prerequisites. The first screen, for example, has me intrigued from the get-go because I'm promised a solution in under one minute.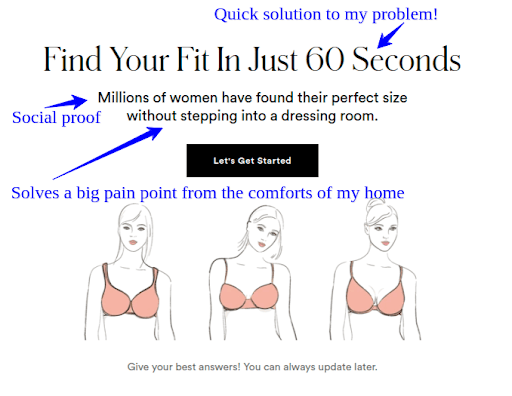 The questions asked are also relevant because to get to the bottom of their audience's challenges they leave nothing to chance. Right from the body build, strap fit, band size to the brands they wear, everything gets asked.
Another thing that stands out was the conversational tone of the quiz, made possible by adding screens spruced with remarks, like so: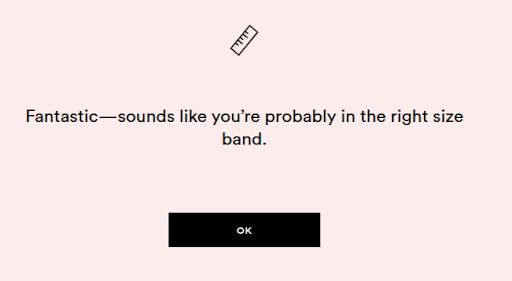 The copy on the results page is also reassuring and makes me want to give them my email address.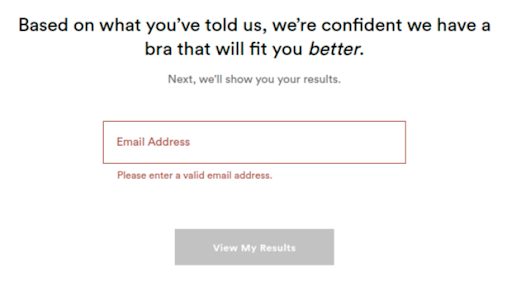 Lead magnet idea #2: Email course
An email course is a series of topic-specific short lessons. People sign up for email courses because it's an opportunity to learn from others' experiences. So here's your chance to use this lead magnet idea to show your fresh take on something that'll sweep your audience off their feet.
As for creating email courses, they are less time-consuming because most of the writing bit, at least in the form of blog posts, has been done by you. All you then need is to look at analytics and cherry-pick a handful of posts that come together as a course. The next steps are discussed below.
How to deliver a stellar email course
Create a landing page that focuses on customers' pain points and why signing up for your course can help.
Tackle one sub-topic every day and give as many actionable tips as possible.
Write email subject lines that spell out what's on the inside.
Write conversational email copy that's formatted for readability.
End every email on a high note so that they look forward to your email the next day.
Talia Wolf is a conversion optimization expert, who's created a five-day email course on conversion marketing. Straight off, the copy highlights marketers' struggles and how the course is going to help them overcome each one. Am I sold? YES.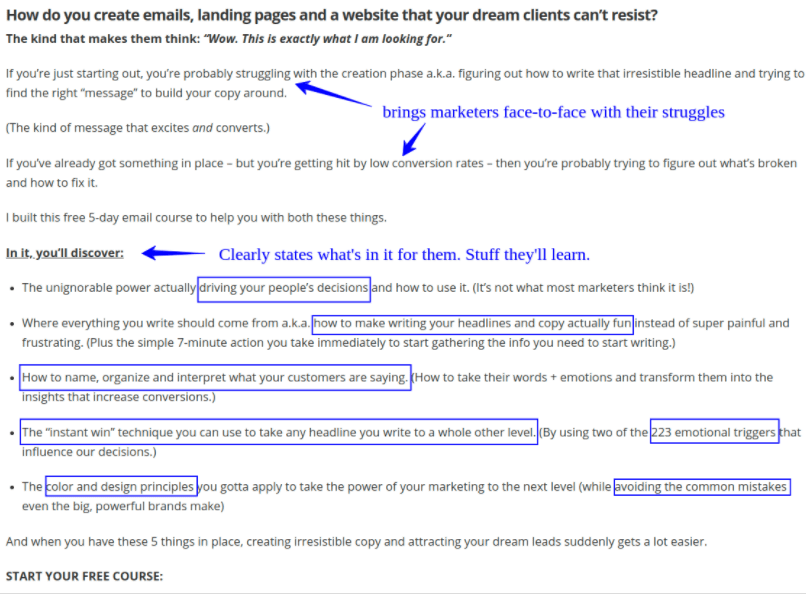 Next, when I signed up, I received a welcome email that hyped me up to learn everything they're itching to teach. Overall, the course itself was brilliant and packed with practical advice. And every email built excitement for what's to follow the next day.
The best part yet? On the final day, I was told to register for another free masterclass. So you see, this is how you build your credibility. Deliver a course that teaches and keeps your audience hooked for more.
Lead magnet idea #3: Case study
Through case studies, you can demonstrate how you helped your customers. They're particularly interesting for your qualified prospects as they discover how someone "just like them" was able to solve their problems using your products and services. As such, they make solid social proof and for that reason are popular among 68% of B2B marketers.
How to write a compelling case study
Focus on your customer and write your success story from their point of view. It'll lend a more authentic tone to your claim and be more relatable for your prospects. They'll also be able to see themselves benefit from choosing you.
Steps before writing the case study
Shortlist clients who've had phenomenal success with your solutions. Think of interviewing those who aren't your typical clientele.
Ask for formal permission to write the case study.
Once agreed upon, send a questionnaire to get the juicy bits out of them:

Their struggles
Products they tried but didn't help
When and why they chose you
How they use your product
What results they've seen and in how much time

Send follow-up questions for clarity and to get the best answers — because only the right questions get you the right answers.
Writing the actual case study
Summarize your customer's problem and the outcome in the title.
Divide the case study into three sections:

Introduction: Spotlight on your client and their struggles.
Solution: How your product made their life easier with the spotlight still on the client.
Result: Stack some stats to show your clients glowing because of your expertise.

Include quotes to show how your product helped them.
Finally, mention their plan on using your product in the future.
Here's an example of a well-written case study on the Databox website. It isn't salesy because right from the start to the end, it's the client's experience that hogs the limelight.
Next up, the title, as you can see, is self-explanatory. And a quote is added right in the beginning — a couple in between as well — for prospects to see the value Databox offers.
As for the format, the case study has three sections to build a strong narrative. Also included are stats that are proof of concrete results and convince prospects to snub objections, if there are any left.
Now for a Quick Lead Magnet Ideas Recap
As you can tell, all the three lead magnet ideas — others not mentioned included — require you to take a step back and assess your customers' struggles first. It's only then that you can convince them that you're reaching out to actually help, not make a hard-sell.
What do you say? Ready to create your library of lead magnets?
If you're looking for a way to distribute lead magnets be sure to check out Sendinblue's customizable email signup forms. Create an unlimited number of forms to pair with different opt-incentives.
Available to try out on the free plan along with 300 emails a day and unlimited subscribers.
By Sharanya Manola, freelance writer for B2B SaaS.