Reading time about 10 min
Good marketers have one thing common with the Stone Age people—an acute awareness of emotions playing a huge role in the survival of the fittest game. How so? Well, trusting their gut feelings, our hunter-gatherer ancestors were able to put food on their tables. In a similar vein, marketers who dish out emotional holiday marketing campaigns can cut through the clutter and push ahead of their competitors.
Which brings us to the question: Why an emotional connection with consumers is necessary.
For starters, if you tug at their heartstrings, they cease to be price-sensitive and become 2 times as valuable as highly satisfied customers. Such individuals are also 8.4 times more likely to trust the brand and 7.1 times more likely to follow your recommendations and purchase more.
Again, even if some don't purchase at all, they still play an important role in helping emotion-laden campaigns go viral.
With this sorted out, hop onto the next section to learn how to gift-wrap emotions in your next holiday marketing campaign.
Let's Get Emotional With These Holiday Marketing Campaign Examples
Proceed with caution: You might have to hold back tears.
IKEA – The Other Letter
IKEA Spain conducted an experiment, asking kids from 10 families to write two letters. The first one addressed to the Three Kings and the second one to their parents. To parents' surprise, the one common and thoughtful gift that kids wanted from them was—time.
This overwhelmed the parents as they realized that fancy gifts are in no way equal to bonding over bedtime stories, small chats, dinners, and games.
Overall, the commercial didn't push any product, rather it makes its audience feel warm emotions during the holiday season. If you see, the comments section has people taking trips down memory lane and sharing their past experiences which testifies that this emotion-packed ad hits home.
Edeka – #Heimkommen
Holidays are when it's #timetocomehome, to reconnect, and reboot, but sometimes we get so caught up in our lives we can forget to do so. This was the premise of Edeka, the German supermarket's emotion-packed ad.
What really packs a punch are the befitting lines from the song that plays in the background:
Home used to be just walls that I know
But the truth is home means nothing without you.
A great reality check, you'd agree?
Unlike IKEA's campaign, even though we see products that Edeka sells, it's done so well—fitting the theme of feasting with family—that we feel the whirlpool of emotions welling inside us, from start to finish.
H&M – Come Together
You might not have the budget to get Wes Anderson to direct your holiday campaigns, but if there's one take away from his genius story-telling, it's how to—as one YouTube commenter says—make people forget it's an ad.
Known for soothing symmetry and pastel hues, Wes creates a fictional world and takes us on a train journey that's delayed due to harsh weather conditions. The train conductor decides to make the experience worth a while by asking passengers—who are already in H&M clothing and apparel—to join him in the cafeteria car for what we come to know is a big surprise for them.
But since we're talking emotions, let's not forget that his usual choice of colors creates a certain mood and sparks feelings of calm and composure. Even in this ad we see his signature style that created an experience for us all. We hope you're taking notes.
Spotify – #2018Goals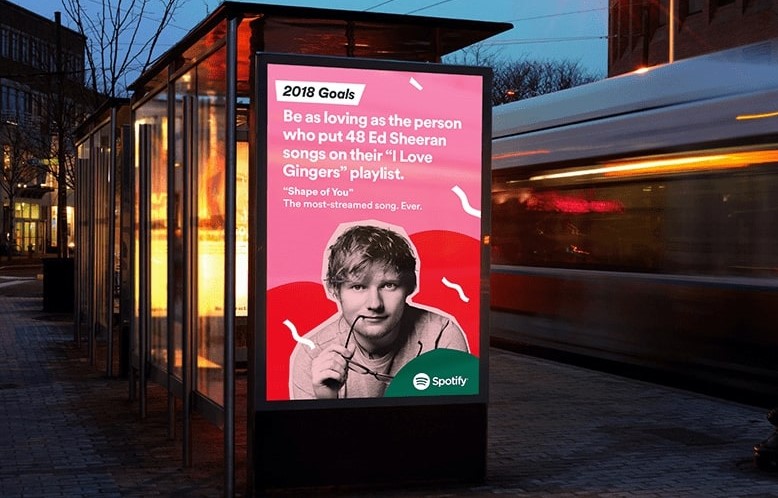 Humor works because it provides comic relief, and surprise works because it breaks the monotony. Spotify leveraged both in their 2017's #2018goals campaign to not only reveal their wittiness but also to stop people in their tracks (pun intended) and give them a moment to giggle alongside.
Without a doubt, this one's gone down in history as one of the most fun holiday marketing campaigns. This was possible thanks to the ingenious use of customer insights and the intention to, as Spotify's CMO said: 'provoke people to strong emotion through music, and to use humor to relieve some of the seriousness.'
But humor aside, the campaign also sparked feelings of hope and optimism as the focus was on the new year.
Doesn't surprise us that Spotify not only reported a massive brand exposure but also revenue tripling in Q1 2018.
HP – Reinvent Giving
Right at the heart of HP's holiday marketing ad campaign sits kindness and generosity. The story is about how a woman using her creativity and some help from her neighbors is able to make a young girl happy.
In a way, she reinvents and redefines gift-giving to show that all it takes is a thoughtful gesture to make someone feel special. Of course, there's an HP printer plugged throughout the ad, but it's done tastefully and doesn't get in the way of conveying the need to unleash creativity and surprise someone in a way they least expect.
Heineken – Holiday Troubles
A little backstory: Heineken APAC conducted customer interviews to get their creative juices flowing and figured that regardless of which part of the world we live in or the cultures that form our identities, all of us want festivities to be trouble-free. And so was born this holiday campaign.
Throughout the commercial, Heineken showed that troubles are a part of the tradition and instead of crying buckets of tears in worry and apprehension, one should sit back and enjoy them.
Can't say they didn't remind us of the various mishaps that have now become dinner table discussions and funny stories, making this holiday marketing campaign a memorable one.
Google – Home Alone, Again
Nostalgia is a powerful emotion. And brands that practice nostalgia marketing know for a fact that it also weakens peoples' desire for money and drives them to make impulsive, emotion-driven purchases.
Speaking of which, full marks to Google for blending old with new and opening up a vault of memories through their mini remake of Home Alone, featuring the now grown-up Macauly Culkin aka Kevin and his new co-actor, Google Assistant. The campaign had a mass appeal because right from baby boomers to millennials, everyone grew up watching it over the holidays.
As the commercial rolls, we're introduced to Kevin's new assistant, who thanks to the smart home features made Kevin's life easier compared to how it was two decades ago. The new-age hero even helped Kevin when the bad guys entered the picture.
Naturally, people can't help but imagine how it could prove to be a worthy assistant in their lives too. Enough to say, this clever product push is noteworthy and you need look nowhere else to learn the ropes of nostalgia marketing.
Macy's – Believe
One of the best holiday marketing campaigns that's been a hit over the decades is Macy's Believe campaign. It aligns perfectly with the spirit of gift-giving and charity during holidays. Believers of all ages write a letter to Santa either in stores or online, and for every letter received, Macy's donates $1 to Make-A-Wish®, up to $1 million, so that wishes of children with critical illnesses are granted.
So far, since 2003 Macy's has donated $122 million. The explanation for their success lies in altruism, which motivates people to donate to charities. Consumers don't directly contribute—it's Macy's that takes care of that—but letter writers feel happy being a part of the cause that promises strength and hope in someone's life. And then, seeing wishes come true warms their hearts and makes them feel proud of having done something meaningful.
Mars – Zombie Skittles
Mars did a fabulous job of combining horror and the psychology of the dare a year ahead of Halloween. The buzz built over time, and finally, in 2019, the "rotten" Skittle flavor was added to Skittle packs.
What we most liked about this campaign was that they looked beyond happiness, sadness, and anger, and capitalized on the frenzy and fear of Halloween.
People were encouraged to shoot videos describing what the Zombie Skittle actually tastes like and post them on social media with #DareTheRainbow. Also roped in were influencers to get more people to accept this test of bravery and experience the frightening surprise in store for them.
More on Halloween campaigns: The Dos and Don'ts of Halloween Email Marketing and 100 Halloween Email Subject Lines to Treat Not (Trick) Your Readers!
Time to work on your next holiday marketing campaign
Now you know why and how putting emotions right at the center of your holiday campaign can earn you some brownie points from your target audience, whether holiday season or beyond. So start planning yours.
Want to reach your audience across multiple channels this holiday season? Test-drive Sendinblue's all-in-one sales and marketing platform on our free plan. Features include Email, Live Chat, CRM, Facebook ads, Marketing Automation, and more.
Don't see your favorite holiday marketing campaign examples on the list? Tweet us @Sendinblue. We're always around for a good chat.

By Sharanya Manola, freelance writer for B2B SaaS.