Reading time about 11 min
Email newsletters are by no means a new kind of marketing. That said, it can be easy to overlook them as an effective business tool. Did you know that 62% of consumers ranked email as their preferred communication channel with small businesses? To help your business make the most of this powerful marketing tool, take a look at these 7 newsletter best practices:
But first, let's explain what a newsletter is and who should use one.
What is a Newsletter?
Newsletters are a multipurpose marketing tool. They help businesses promote products and sales. They also help create natural touch points with clients. Email newsletters are so effective because they give businesses direct access to their customer's inboxes.
Within a newsletter, there are a few moving parts to be aware of. Content is obviously important—be it announcing a new campaign, promoting your social media presence, or even just touching base with your email subscribers. That said, an effective newsletter needs more than just text! Catchy subject lines, slick CTAs, and an engaging format are must-haves too.
In short, writing and distributing a newsletter is an inexpensive, effective way to reach your market. 🚀
Further reading: What Is A Newsletter? Definition, Purpose, & Benefits
Who should use newsletters?
Nearly any type of business, small or large, can launch a successful marketing campaign with newsletters.
Moreover, the return on investment for newsletters is very high—another good sign for small businesses. The Direct Marketing Association UK found that for every £1 spent on email marketing like newsletters, £42 comes back in revenue.
This is an impressive figure and is currently on the rise. Newsletters are here to stay as staples of an effective marketing strategy. That being so, your business should strive to create newsletters tailor-made to your and your customers' needs.
The 7 Newsletter Best Practices You Need to Follow
1. Choose the right newsletter software
To start any kind of newsletter marketing, you need to make sure you have the right tools for the job. That's where Sendinblue comes in. With a variety of marketing tools available to help cultivate your client relationships, Sendinblue's email newsletter software makes it an industry leader in digital marketing.
What sets Sendinblue apart from the rest is its ease of use thanks to beginner-friendly tools such as the drag and drop email editor. Newsletters should be enticing, refreshing and informative for readers, which is exactly what Sendinblue allows businesses to create.
Businesses can create professional newsletters by drawing on a library of email templates or by designing their own from scratch. From there, newsletter content can be easily segmented and personalized to reach different sections of your audience.
Concerned about sending your newsletter? Not much of a techy? With Sendinblue's send-time optimization function, you can focus on strategy and message without worrying about when your campaign lands in customers' inboxes. 📥
Get started today on the free plan with 300 emails a day and unlimited subscribers.
A look at Sendinblue's drag and drop editor
2. Write attention-grabbing newsletter subject lines
The email subject line is the first thing your audience will see from your campaign. For this reason, making it catchy, slick, and enticing is essential to an effective newsletter.
To start, make sure your subject line is not too long. Remember that depending on where your customer sees the email (mobile or desktop), they may only see a snippet. Impactful subject lines place the most important information at the beginning.
To increase your open rate, try writing subject lines that are timely, personalized, and show what value your newsletter has to offer. People's inboxes are filled to the brim with emails they don't open. In order for yours to make the cut, convincing subject lines are a must-have.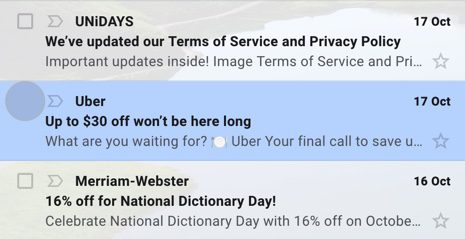 This example from Uber gives the reader an immediate reason to open the email.
Aside from helping open rates, subject lines should give your audience a heads-up of what's to come in the newsletter. Don't be tempted to trick your readers into opening your email with a bait—this won't help you build a trusting relationship. (It may even land your newsletter in a spam folder). 😞
An easy way to test your subject line is through A/B testing. Sendinblue supports A/B testing for subject lines as well as email content, allowing you to maximize your newsletter's impact and make tweaks before it reaches your whole contact list. To learn more, check out this page on creating A/B test email campaigns.
As we'll touch on later, giving your target audience a convincing reason to open (and then read) your newsletter is probably the best tip there is.
3. Make sure your newsletter is mobile friendly
Another one of our newsletter best practices is making your content viewable on mobile devices.📱 When sending test emails, check how the newsletter appears on different screen sizes.
Choosing a font that's not too small and that's easy to read is another great way to help subscribers on their mobile devices. Any photos, videos or GIFs you add should be mid-resolution. For help creating a mobile-friendly design, check out Sendinblue's 40+ free newsletter templates, which are fully responsive across devices.
As for email content, long drawn-out text will only bog down your mobile subscribers. Instead, try writing short concise sentences, with paragraphs of no more than two or three sentences.
Of course, any effective newsletter's got to have a call to action, preferably in the form of a CTA button. The same goes for newsletters viewed on mobile devices, but pay extra attention to the button's placement. Make it easy for smartphone and tablet users to get to your desired landing page by leaving some white space around the link. (And make sure you leave space around the unsubscribe link to avoid any accidentally lost contacts!)
In the end, it's likely that upwards of half your email list will open your newsletter on their mobile device. This is why creating mobile-friendly content is so important. Take a look at this example of a responsive newsletter layout. On the left is the mobile version and right is desktop:
4. Segment your newsletter contact lists
Email segmentation is a way to group contacts and personalize email campaigns. Logically, not everyone in your email list has the same interests or buying habits. So why not target your customers based on things like:
Age
Gender
Location
Profession
Consumer profile (student, young professional, stay-at-home mom, etc.)
If you feel your marketing efforts aren't leading to the results you want, segmenting can help re-engage your newsletter subscribers with targeted email content. As well, segmentation is a sure-fire way to increase your newsletters' open rates and click-through rates. 📈
Another benefit of segmentation is being able to respond to certain customer behaviors. A customer abandoned their cart? Segmentation allows you to send them a follow-up email. A long-time client hasn't purchased anything in a while? Segmentation can help re-engage them with a personalized offer.
5. Add images to your newsletters
This may be an obvious one, but photos and GIFs also add value to your newsletters. Visuals help lighten up a newsletter and give your audience a more enjoyable user experience. That's why optimizing your media is another one of our newsletter best practices.
Translating this into statistics, a study of 5,000 campaigns showed that email newsletters with images had a 42% higher click through rate than those without. 😱
At this point, you may be tempted to add photos left and right to your email newsletters. Before you do so, a word of caution– images don't add value just because they're images. Adding one or two relevant and specific images to your email campaign will lead to far better click through rates than a bunch of generic stock photos.
Think of photos, videos, and GIFs as an opportunity to visually explain something to your customers. Try asking yourself, "What will my customers gain from these visuals?"
How many visuals should you add to a newsletter?
Getting down to the details, you should include 1-3 photos, videos, or GIFs in any email marketing campaign. Of course image content is paramount. But don't forget about image size and compatibility with mobile devices. Oversized media will take longer to load and may lead to problems when viewed on a smartphone or tablet.
Take a look at the example below. As far as email newsletter design goes, this one is pretty simple. But what makes the campaign pop is the use of images. In this case, the newsletter is for a stock photo company. By choosing just a few high-quality images, they both give value to the subscriber and promote their product.
A newsletter by Death to Stock showcasing a good use of visuals (source)
For more details on how to maximize your email campaign's visual impact, check out this article on how to best use newsletter images.
6. Offer your customers something unique
Offering something unique to your target audience is another important email newsletter best practice.
In the end, a newsletter is part of a marketing campaign. Its goal is to convince customers of a product, service or brand. Something that sets newsletters apart from other types of marketing campaigns is the direct access to your audience's inbox.
But this requires consent. Email subscribers sign up to receive newsletters because they expect to gain something from them. (Think: personalized offers, early releases, informative content).
Does your newsletter offer solutions to customers' common problems? Does it tell them something they won't see anywhere else? Apart from announcing a sale, what benefit does it give your audience? 🤔
Creating consistent, valuable, and insightful content is one of the best ways to build a trusting relationship with your audience. Otherwise, you risk your campaign ending up in spam folders or your contacts unsubscribing. 🙅‍♂️
7. Use newsletters as a stepping stone to your website
The last tip on this list of newsletter best practices is arguably the most important. More than anything, the point of an email marketing campaign is to attract customers. The best practices we've already explained all feed into this goal.
What do I mean by "newsletters as stepping stones"? A newsletter is a chance to connect with your customers. But your goal in email marketing isn't only to reach your contacts. You want them to turn into (returning) customers. To get there, you need to optimize your newsletters to include CTA buttons and helpful links to your websites. 🔗
To boost your click through rate, any links or buttons should be clear as to where they'll take your customer. Don't send your subscribers to a landing page you're trying to build up if they think they're heading to their account. The type of content and CTAs in your newsletter should match your website to make for the best user experience and build a trusting relationship.
With Sendinblue, keeping track of metrics like click through rate is easy. Find all your campaign statistics in your account to help maximize your newsletters' impact: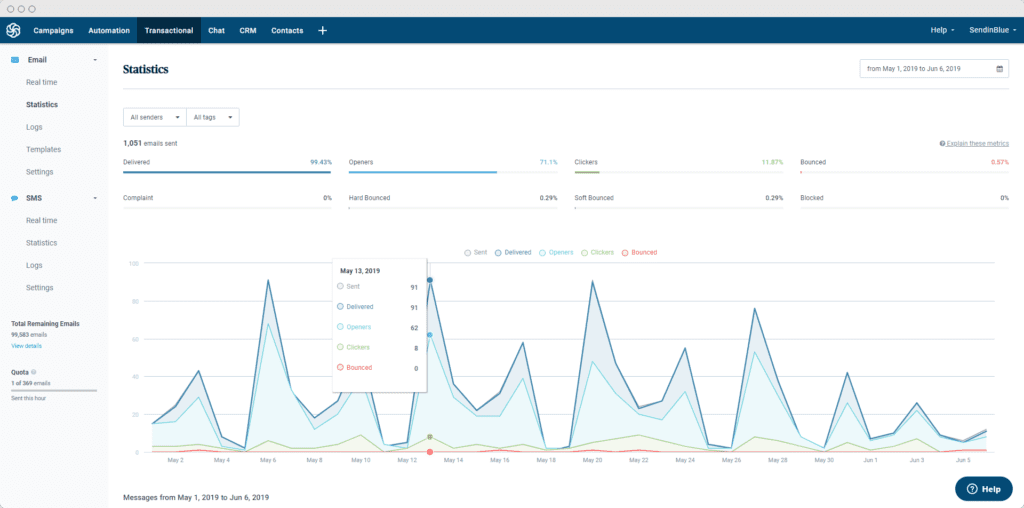 Wrapping up Newsletter Best Practices
Hopefully this article will help your marketing team's email campaigns go from good to great.
Of course, every business has their own needs and goals. But following these seven email newsletter best practices is an excellent way to ensure you're reaching your fullest potential.
Putting these tips into practice will help you boost open rates and click-through rates and build lasting client relationships.
To sum things up, the more important take-aways of our newsletter best practices are:
Give high-quality and valuable content to your subscribers.
Make your newsletter easy to read, nice to look at, and accessible across devices.
Do your homework on what your subscribers want, and set expectations clearly.
Looking for more newsletter tips? Check out this article on 125 Newsletter Content Ideas or this one on 6 Newsletter Design Tips to Keep Your Audience Engaged.
Join our newsletter 🚀
Get monthly marketing tips and exclusive discounts straight to your inbox.*