Reading time about 16 min

In ecommerce, a triggered email runs on autopilot and generates revenue. Keeping track of and engaging contacts takes enormous human effort. Automated campaigns, triggered at just the right time, take care of it so you don't lose sales.
Marketing automation should be part of every business' ecommerce email strategy. Let's go through the basics and examples of triggered emails to use for your ecommerce store.
What is a Triggered Email?
A triggered email is an automated email or an email series that is sent when a predefined trigger event happens.
A trigger action can be website interaction, a milestone reached, a purchase, etc. You select it when setting up your trigger campaign.
Why You Need Triggered Emails
What is ecommerce marketing if not bringing revenue? Let's talk about the benefits of triggered email marketing.
It not only saves time but also:
Helps nurture leads with personalized emails. Email automation lets you align your messages to the buyer's journey. A triggered email is a reaction to their needs and buying habits. It's relevant and timely, unlike blanket promotional emails.
Improves open rates. Better personalization means higher engagement.
Uses every opportunity that people might miss manually. Keeping track of what people do on your site and reaching them on time is impossible without automation.
And that's not all. Email marketing automation serves many more business objectives. 43% of marketers use it to improve productivity, while 37% of companies also expect automated campaigns to be easier to measure.
Triggered Email Types
The available triggers you can use in your ecommerce campaigns are almost countless. Let's start with the categories those trigger events fall in.
Behavior-based triggers
These are your contacts' actions or inactions that you can use to trigger a response. What pages they visit on your site, what products they look at, add to cart or abandon, if they read your blog and emails, what promotions they buy — these are all behaviors you can use to drive extra sales with triggered emails.
Demographic-based triggers
These triggers are based on the information stored in your customer profiles like birthday, location, device type. The most obvious example is a birthday triggered email that each of your registered users gets individually.
Time-based triggers
These are triggered you define like subscription expiration dates, time to reorder, client anniversaries, etc. They offer even more opportunities to engage customers with meaningful offers instead of spamming them all the time.
How to Set up Triggered Emails For an Ecommerce Site
How do you automate your email workflows?
1. Toolkit for triggering emails
This includes a lead capture, tracking, CRM system, and email marketing. If you choose to combine several tools, make sure they properly integrate with each other natively or via third-party tools like Zapier.
With Sendinblue, you don't need any additional tools. The platform allows you to build your email list, keep track of your customer interactions, and set up automated email marketing campaigns in one place. It's all possible thanks to Sendinblue's tracking of trigger events and making them usable for email marketing.
Unlike most email marketing platforms, Sendinblue's triggered email functionality is available on the free plan for up to 2000 contacts.
2. Choose your trigger
To send a triggered email, you need to define that trigger event. Usually, marketing automation services offer templates based on the most common email triggers:
When someone new subscribes for your site or newsletter
When they abandon their shopping cart
When they engage with a campaign
When it's their birthday or anniversary as your customer
When they place an order
You can use them readily or create your own custom workflows based on more advanced events. For example, Sendinblue also tracks and lets you trigger emails on the following events among many others:
A period without a purchase or of inactivity
Buying particular products
Submitting a form
Clicking a specific button on your site
A subscriber's attribute matches a value you choose
3. Adding conditions
Conditions make a triggered campaign more relevant and precise. You can add a simple delay in when the triggered email should be sent. Or take things to the next level with if-this-then-that conditions.
For example, you can trigger a post-purchase campaign only after checking if this is the customer's first order.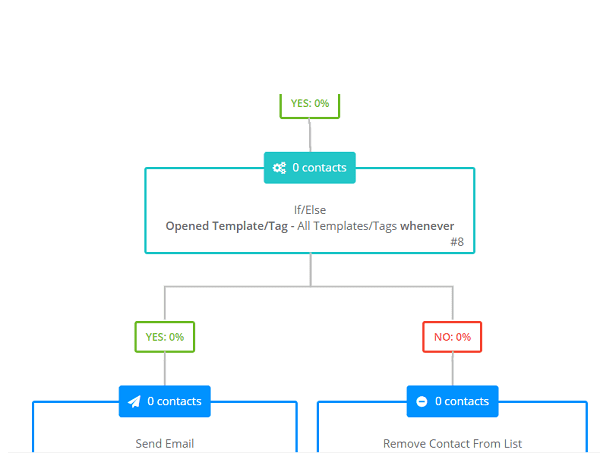 4. Creating your email
Once you've laid out the framework for the campaign, it's time for the actual email message. It should be in line with the purpose and the very specific recipients it's aimed at.
You'd want to talk differently to new subscribers and old, loyal customers. It's best to write it as an one-on-one email.
12 Triggered Email Ideas to Win Ecommerce Customers
So, what triggered emails to send? Below are the top 12 ideas of trigger events and trigger email examples run by successful ecommerce businesses.
Trigger #1: User signs up
Tech-wise, a triggered welcome email is extremely easy to set up. You just use the email list building you're probably already doing and automate a message to be sent to each new subscriber.
Welcome emails generate 4 times more opens and 5 times more clicks than any other promotional email does. So they're a great place to share your brand's values and start building a long-lasting relationship with your future customers.
Let's take a look at a marketing campaign for a beauty brand called Biossance. In their welcome email, the company gives away a 20% discount coupon and introduces the company mission.

Source (this and all other images without a source cited): Really Good Emails
Trigger #2: User views specific content
If a customer views a product page or product category, we can assume a certain level of interest.
You could easily convert them by offering an incentive. A discount, more information, or customer reviews as in the example below can be all it takes.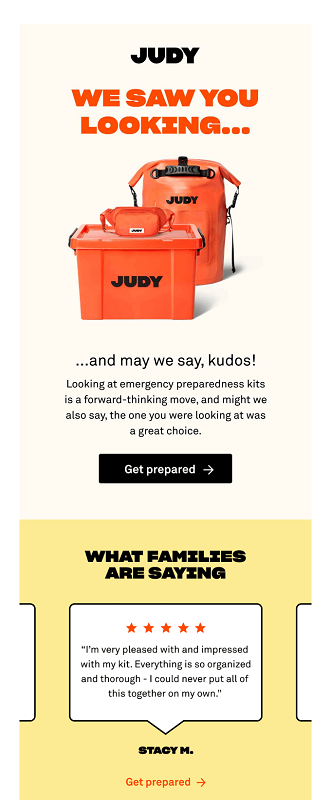 Here are the browsing behaviors that indicate purchase intent and can be used as campaign triggers:
Visiting the same page more than once,
Browsing items in one product category,
Doing a site search for a certain product.
From all the triggered email ideas on the list, this one is the trickiest to implement. But with a proper tracker on your website all the visits and customer actions can be used for automated campaigns.
Trigger #3: User subscribes to your newsletter
When a new subscriber is added to your list, it's good practice to send them an email to confirm the subscription and welcome them.
It's an opportunity to introduce your brand and drive traffic to your website or social media channels.
Related: 9 of the Best Email Newsletter Examples
Tattly, the brand selling temporary tattoos, delivers on their promise to provide a discount code and also sets expectations for future newsletters in their welcome email.

Trigger #4: User opens newsletter but doesn't click
Why do they open your emails but hardly ever click through? Maybe they're not interested in any kind of content but product updates and special offers.
Or maybe they don't want to click away from their inbox and would rather read all the information you want to share in the email body. You'll know only if you A/B test your campaigns.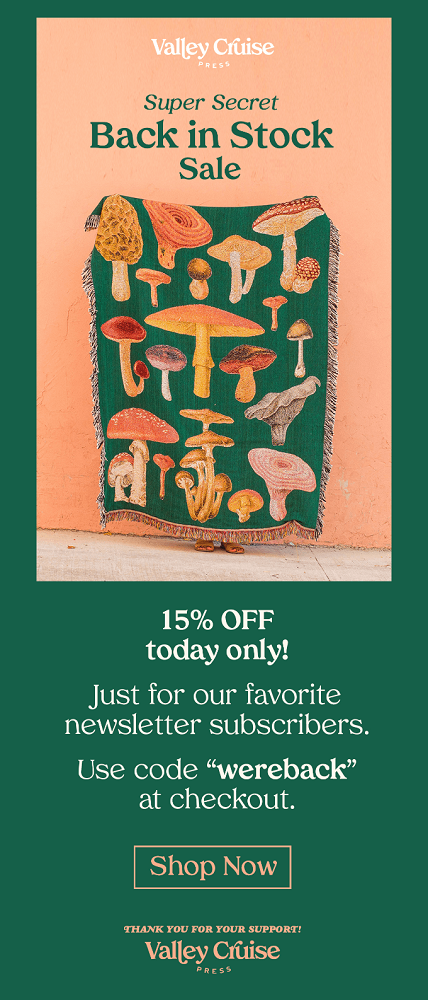 One thing's for sure, you need to set up an automation for sending a separate email series to people who never click any further than your email subject line.
Test out different content formats in the email sequence – from showing your appreciation with an exclusive discount to sharing tips and best practices right within the email body. Measure the click-through rates of each version and see what works best.
Trigger #5: User clicks on a link in the email
Newsletters are great not only for driving traffic to your website but also for getting to know your audience better.
Based on how they interact with the content of the email, you can draw conclusions about what interests them, and what information and products to focus on in future emails.
Let's assume you're running a wellness marketing campaign, just like the one below. Say, in your recent newsletter you've share separate skincare guides for different skin types. Now, you can boost your ecommerce sales by sending out targeted campaigns with the most relevant products to contacts who've clicked through specific articles.

Trigger #6: User does not interact with your emails
With an average email open rate of 25.85%, it's inevitable that some subscribers become inactive. It's easier to win them back than to capture completely new audiences.
Sending emails to contacts that never open them is hurtful for your email deliverability, and therefore, you need to clean up your mailing list once in a while. However, before you remove a contact from your list, it's worth trying one last time with automated reactivation emails.
To avoid doing it manually, define how long you can wait for an interaction before considering the contact 'inactive'. Once the time trigger is reached, set up a triggered winback email with content, new products, deals, etc.
Urban Outfitters has nailed re-engagement emails by creating a design that catches attention and makes you want to interact with the email content.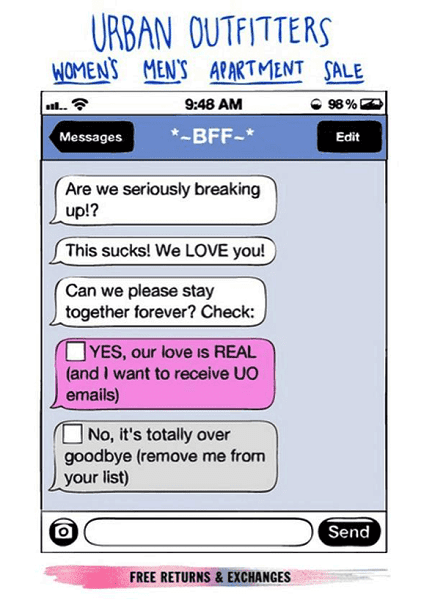 Trigger #7: User abandons their cart
This is the most obvious ecommerce trigger that comes to mind even if you've never built an email automation workflow before.
Abandoned cart emails are messages a customer receives when they put items in their cart but leave without buying.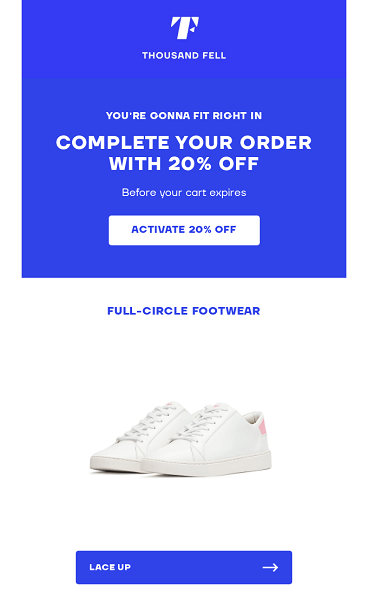 The best way to win those customers back is to immediately reach them with a sequence of emails and remind them they still need to proceed to checkout. Most often, ecommerce marketers offer time-sensitive discounts on the products in the customer's cart.
Trigger #8: User makes a purchase
Order confirmation emails have 8 times higher open rates than promotional campaigns. That's why you should do your best to create effective transactional emails.
When setting up an automation workflow of post-purchase emails, include some of the following items in your emails:
Order status (a link to a page displaying shipping and delivery status);
Information about the maintenance of the purchased product;
A link to a complimentary product.
Email created with Sendinblue
This order confirmation email by Short Story not only gets the customer excited about their coming order, but also offers a referral code to share with a friend and win $25 off your next order. It's great for creating loyalty and getting more new customers at the same time!
Trigger #9: User receives their order
Shortly after people receive their new items, you have the best chances to turn them into repeat customers.
Set up an automation workflow that starts a day after the product arrives and includes a sequence of 2-3 emails that will be dropping into the customer's inbox every 2 days.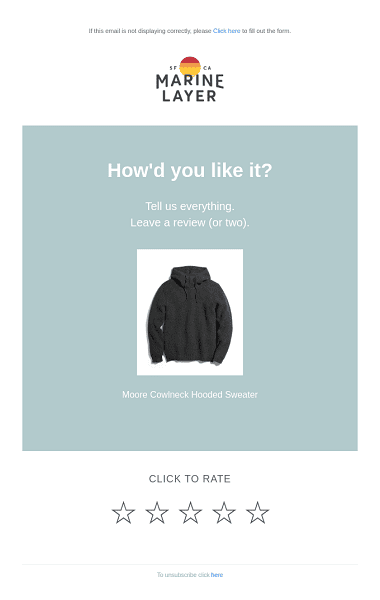 These are just a few ideas for post-purchase email content:
A customer satisfaction survey.
Cross-sell related products that can be paired with the item just bought.
A discount for the next purchase.
A referral link to share with a friend.
Trigger #10: It's time for replenishment
Do you offer products with predictable usage cycles? Food and drink, beauty, supplies, pet food, home consumables all fit here. Then this is the most promising triggered email type for you.
You can schedule this reminder email for a specific point in the future when your data shows they should've run out of it and need a refill. That's a powerful marketing strategy to encourage customer retention.
Trigger #11: User doesn't buy for a long time
If the replenishment emails fail to work and your customers don't get back to you for a long time, it's time to get proactive with yet another triggered email.
It'd be triggered by the time frame passed without an order. You can be more straightforward about what you offer in it.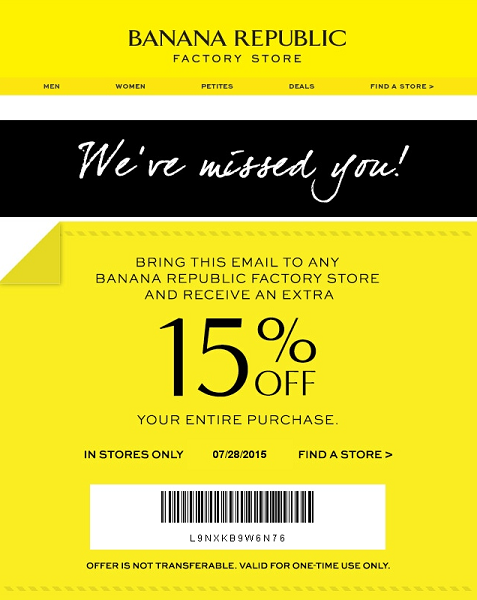 To set up this automation, you need to figure out what "a long time" means for your business.
How long does it take for a typical customer to make a repeat purchase? Is it a month or a year? Jewelry doesn't enjoy the same order frequency as food, unfortunately.
When you assess the average time between repeat purchases and identify what the 'abnormal' behavior is, use the date-based trigger for the automation workflow.
Trigger #12: User reaches a milestone
These emails are the easiest to set up because triggers aren't dynamic but date-based. An anniversary (since they became a customer) or a birthday email is used to thank people for choosing your company and often offer a special perk.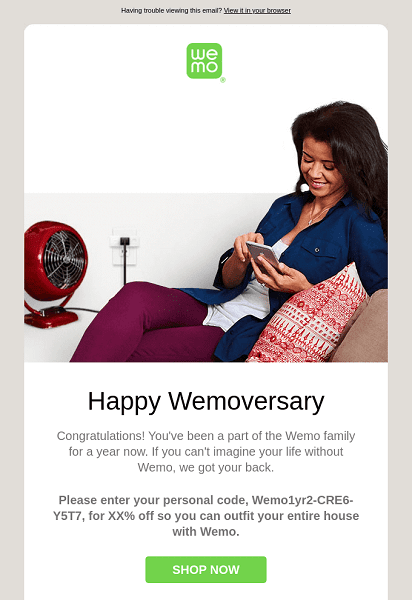 Triggered Email Marketing Best Practices for Ecommerce
As easy as it seems, triggered email marketing isn't just about setting a campaign and forgetting about it.
You need a clear strategy in order to use the data you have in the best possible way. The following best practices will help:
Make every automation for a very specific trigger. Not just "places and order", but segmented by the product ordered as well. This way, you'll create a truly customized and relevant customer experience.
Send email sequences, not just one email. Follow-ups increase your chances of getting noticed in full inboxes.
Think about timing. Some triggered emails should hit the inbox hours after the action (abandoned cart), but others may need to wait a bit longer e.g. months (inactivity).
Keep it going. After a contact interacts with a triggered email, what do you do? There should be a next step in the flow to keep them engaged.
A/B test workflows. Set up several workflow versions for one trigger to better understand your audience and increase conversion rates.
And, of course, if you're new to ecommerce automation, start with the simple campaigns, and add more conditions and elaborate triggers as you find your way with customers.
Send triggered emails that convert with Sendinblue
Automation free for up to 2,000 contacts, integrated tracking, and easy trigger setup. Ready campaign templates. Grow your sales on autopilot.
This article was prepared by: Adelina Karpenkova, who is a part of Joinative, a native advertising agency and SaaS. She's responsible for building marketing partnerships, establishing content collaborations, and developing actionable resources for advertisers.