Reading time about 13 min

15 commercial emails – that's how many emails an average email subscriber gets in a day. Which begs the question: what are the odds your email gets read? Not very bright, if you ask me. Unless, you offer so much value, your reader actually waits for your email to land in his inbox.
But is that even a thing – the reader awaiting your email? Yep. There are plenty of emails that I wait for, particularly, those that speak to me. So, how can you replicate that in your email marketing strategy?
Here's the short answer: by focusing on relationship marketing via emails.
As for the details, let's dedicate this post to giving you the 411 on how you can build meaningful and lasting relationships with your email marketing strategy. We'll look at:
Why relationship marketing is important
How you can build a relationship marketing strategy &
Which best practices you can follow
Along the way, I'll share examples of some of the best ways email senders are nurturing relationships so you can learn by inspiration. But first, let's tackle the elephant in the room – what is relationship marketing?
What is relationship marketing?
Relationship marketing is a customer-centered approach to marketing with a focus on building relationships with individual customers/clients.
Unlike traditional marketing, it doesn't concentrate on the product and selling it once or twice. Instead, customer relationship marketing nurtures lasting relationships that turn customers into loyal brand advocates.
Put simply, you pay attention to:
Customer retention – making sure your existing customers stick with you
Customer satisfaction – solving your customer's issues and providing amazing service
Now that the concept is clear, let's move onto highlighting how you can make a well-oiled relationship marketing strategy.
How to develop an email relationship marketing strategy?
This won't be hard. All you need are clear goals and a mindset refresh. The rest of your relationship marketing strategy will follow.
So, first things first: what is your goal moving forward? Building trust.
The thing is relationship building is based on three stages:
These are the stages a prospect goes through before becoming a loyal customer. Throughout these stages, you need to make your recipient feel special.
Want to learn how to do that? Keep reading as we dig into this in step 3 of building relationships over email. However, top of all – you need a mindset refresh. So here we go:
Step 1: Mindset refresh — why do you need to build relationships
About time you realized how beneficial relationship marketing can be for your business.
Let's get to the meat of the matter:
Building relationships gets you more customers/clients
Fostering relationships works two ways. Either it converts a prospect into a paying customer or it nurtures a prospect into a brand spokesperson. Put another way, the latter helps spread word of mouth of how good your brand is. This, in turn, sends more interested prospects your way.
It enhances customer retention and loyalty
When you do succeed in converting a prospect into a customer though, customer relationship marketing helps retain that customer.
If you're thinking, 'why keep present customers when you've a good number of interested prospects coming in?' pause right there. Because retaining a customer costs way less than acquiring a new one.
Here's proof: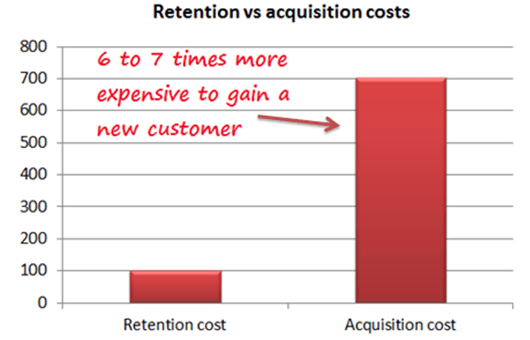 What's more, engaged customers purchase 90% more frequently. They also spend 60% more per transaction. Do you see how relationship marketing can work in your favor?
It improves customer experience
When you've a good relationship with your customer and he feels he's treated well, his experience in doing business with you enhances. This levels up your customer experience – something that 86% (!) of buyers are willing to pay more for.
Lastly, relationship marketing grows your community
When you're on good terms with your customer base and you're sure you're providing them with a lot of value, you can easily ask them for value in return. This makes for a give and take relationship. Not a take, take, take relationship that can quickly result in a divorce!
For instance, the Managing Editor team leverages its community to spread the word about their newsletter:
The Managing Editor newsletter
Now that you're aware of the benefits of relationship marketing, make sure you're clear about one thing – build trust. How? Let's look at that next.
Step 2: Set clear expectations with your welcome emails
Did you know that couples that are honest and open at the start of their relationship are likely to be happy?
It's the same with emails. Your email list is more likely to open your email if you're clear about what they can expect from you. So, if that's building trust for you – tell it to your subscribers.
From the first email you send out to a reader, be sure to share that it's okay to ask questions or hit reply and discuss something. I'm a fan of what Ryan Robinson did in his first email to me:
From the outset, Ryan's clear about being a 'real person,' not a bot. And it's there that we both started talking.
Replicate this.
At the same time, make sure you thank your subscriber for their email. You can do that in your welcome email or separately like Corey Haines does: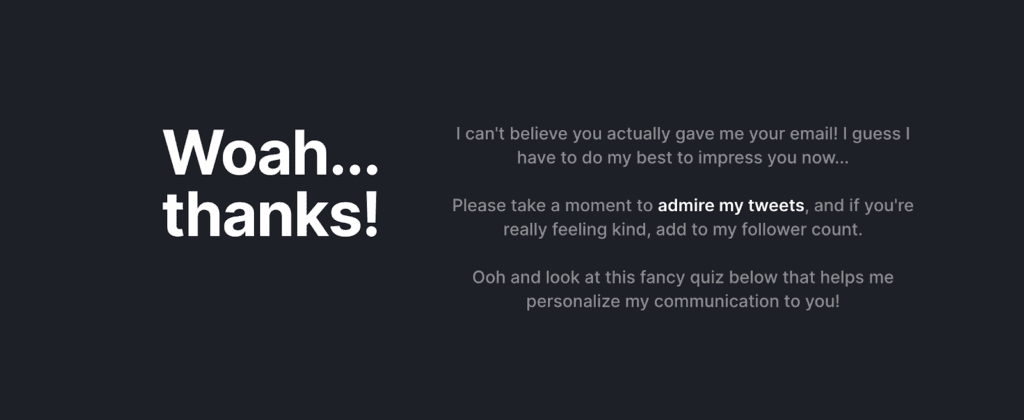 Step 3: Build relationships by gaining trust and opening doors for interactions
Here's my favorite part – building relationships. Follow these awesome tips for stronger customer relationship marketing:
1. Employ engagement tactics
Try interactive email features to get your audience to engage with you. The Daily Carnage newsletter hosts a daily poll for encouraging engagement: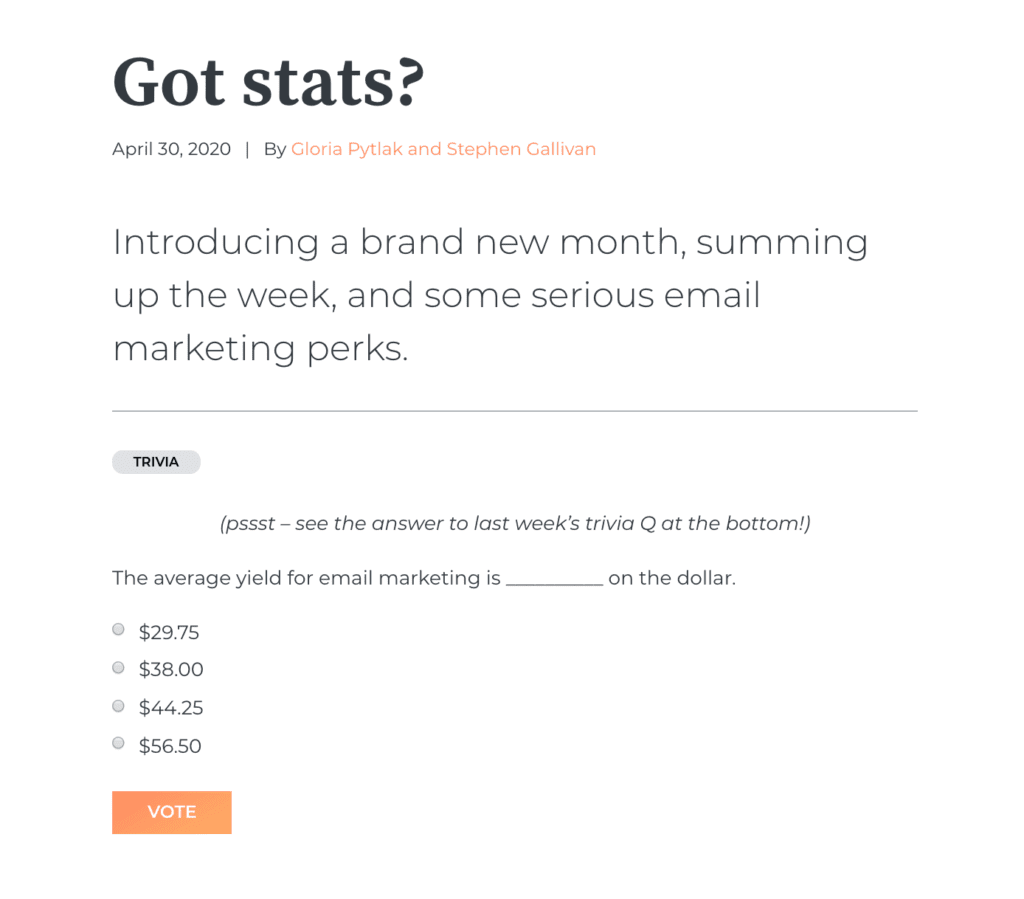 2. Engage on multiple channels
Or, cross channel engage with your customers. This means you interact with your target audience on not just email, but on different social channels.
Both The Daily Carnage and The Latest talk about what's happening in their Facebook groups. This comes with double-decker benefits: you grow your community and build relationships on other channels too.
3. Segment emails
Segmenting email campaigns can boost your email opens by 14.64% and clicks by 59.99%.
Question is – why does segmenting work so well?
When you segment your email list, you categorize recipients into groups. For example, create a segment email group of those who joined your list from the same source like a webinar you hosted or an eBook you gave away.
With Sendinblue you can also segment your list based on your subscribers' activity on your website.
Let's say a contact visits the 'shoes' category in your ecommerce store. With a preset automated workflow (Psst! You can create this with Sendinblue Tracker), you can set this particular visitor to an 'interested in shoes' email segment. From there on, send the segment or group email content that's written specifically with them in mind, so it resonates with them.
Remember when I said, 'emails that speak to me?' This is what I meant.
Bonus: Start segmenting your email list from the start by asking subscribers about their interests and email preferences on the email sign up form. The multi-list subscription forms do this for you. Then your contacts will be automatically added to the corresponding contact lists, so you can send them targeted emails based on preferences.
4. Create videos to show your human side
Showing your business' human side is a given for connecting with your audience. So, why not use the same approach in your emails? Jess Smith, a career coach often shares videos in her emails, which helps her breed trust with her audience: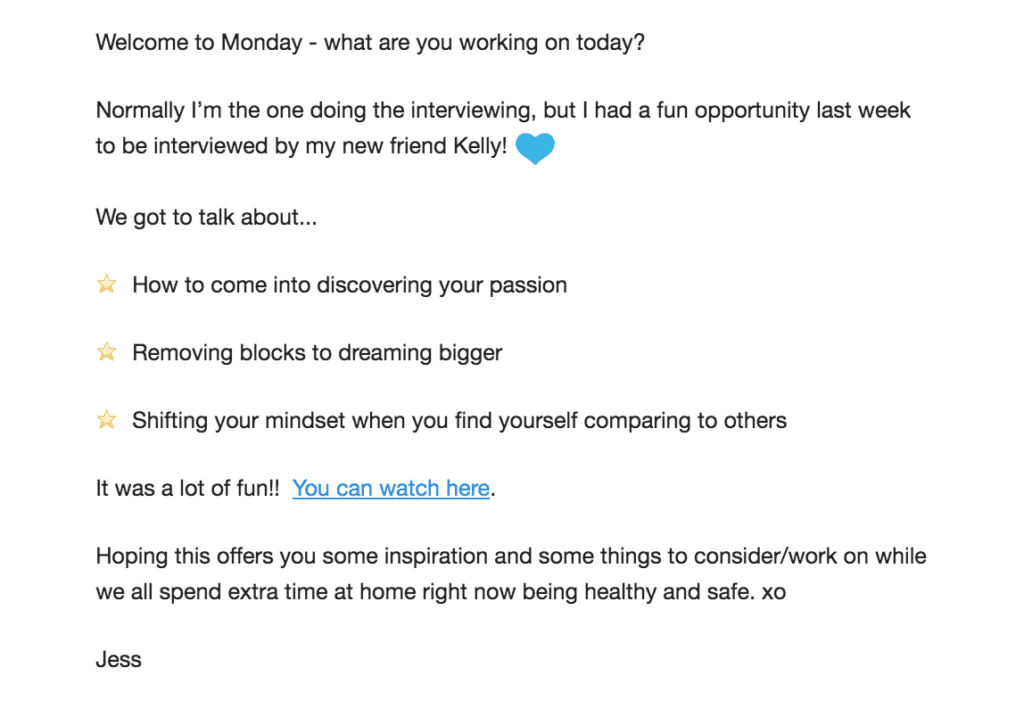 As a team, you can always create videos of your CEO sharing an important message or showcasing an employee's hard work, and so on.
Another way to show your human side is by using your teammates' names. For instance, Ryan sending emails from Animalz is way more authentic than getting an email from Animalz alone.

5. Personalize emails
Lastly, you can easily personalize emails by including your recipient's name:
The SaaS Revolutionaries newsletter
To this end, use meta tags to add recipients' personalized information. With Sendinblue's Dynamic Personalization feature, for instance, you can personalize email subject lines as well as content with contact attributes like the first name or even the last item purchased.
Here's more on how you can go about personalizing emails with Sendinblue.
You can also go a step ahead and be creative. Ann Handley, for instance, starts her emails with a 'singular' endearment such as 'hey, sunshine,' instead of writing 'hey, friends.'
This makes sense as she explains it in Podia's podcast 'I Made It' – she wants the reader to feel like she's talking to him/her, not a community because, of course, everyone reads their emails on their own.
Step 4: Use the ACAF customer feedback loop in your emails
The Ask, Categorize, Act, and Follow-up (ACAF) customer feedback loop is a simple business strategy. But you need to use it in terms of email feedback.
Here's how:
Ask for reader feedback to see what they want to hear from you in your emails. Is there a way you can solve their problem? Is there something bothering them about your emails
Categorize the feedback. If the feedback is repeated often, cover the topic(s) or address the issue recipients have with your emails
Act on the feedback. Implement the changes and then
Follow-up with recipients who shared feedback
You can also send an update-your-email-preferences form to your email list. These Update Profile forms in Sendinblue ensure your email segmentation is always up to date by helping you directly gather feedback on what your contacts are interested in hearing from you.
Email copywriting tips for stronger emails that encourage engagement
The way you write your emails plays a significant role in the response you get on your emails. The takeaway? Pay attention to your email copy.
To begin with:
Write your goal on top of the page
This focuses your attention on writing an email that meets the goal you've set for it. You'd also deliver a clear email to your readers that is easy to understand and simple to act upon.
Use a warm and welcoming tone
This way your readers will know you're genuinely interested in their wellness. See how MeetEdgar does this in their emails:
Use power words in your email subject lines and content
These are words that elicit a response. Be sure to use them smartly from this list.
A CTA is a call to action that tells your readers what to do. So, you could write 'hit reply and tell me…' Take a page from Project.co's email: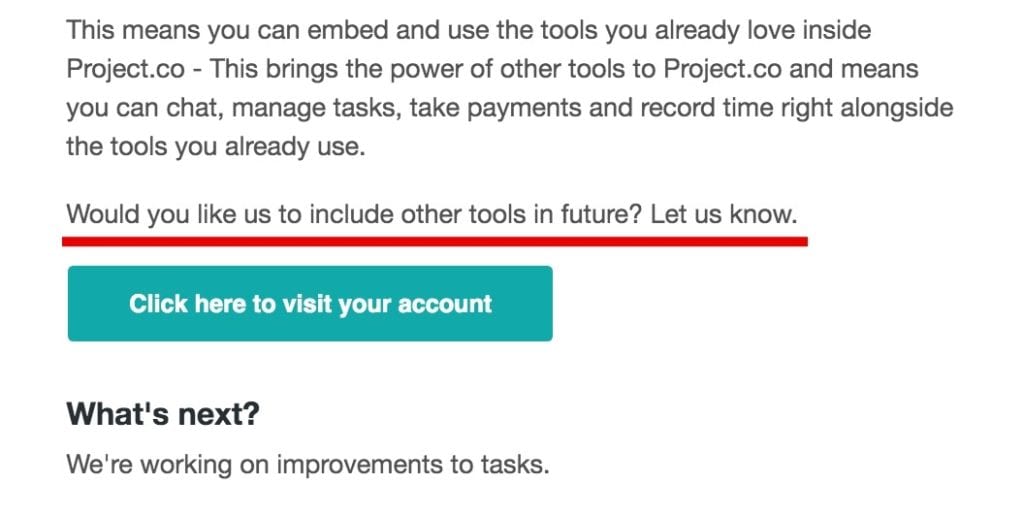 Tip: You can also use a GIF as your CTA.
Describe things while keeping your copy fluff-free
Describing your struggles, environment, or experience helps engage your reader while making you sound more human (read: authentic). Here's how Joel makes his email personable:

Business Casual Copywriting Email
Share updates like humans do, but involve people in them too
The idea is to get people involved, so they don't end up thinking 'what's in it for me?" You can do this in 3 ways:
1) Ask about updates in their life when sharing an update from your end
2) Ask a question that's relevant to the update you share
3) Involve your readers like James Clear did when he was starting a podcast and looking for help for it

Relationship marketing best practices
Now that you have the framework of how to build relationships with emails, let's leave you with these quick best practices before tying it all together:
When you say 'hit reply' do reply.
Don't take only. Your approach to offering value should always be to give, give, give.
This goes without saying but be consistent – consistent in sending emails, writing in your brand voice, and showing brand personality. Relationships are built on this.
Take home message
Emails are a wonderful medium for building relationships with your target audience. Above all that we've discussed – appreciating your subscribers, sending welcome emails, engaging and encouraging engagement, personalizing, and segmenting your list – be yourself.
The more you show your personality, the better you'd be able to build deep connections and loyal fans.
To better relationships. ?
P.S. We'd love to strengthen our relationship with you – hop on to Twitter and say 'hi' to us.
Written by Masooma Memon, freelance writer for B2B SaaS.